A national championship and a newly established equine program are two reasons why the Wildcats celebrated in 2008.
For a team that had only been to the Intercollegiate Horse Show Association nationals for the first time in 2007, winning the following year's national championship was like a fairy tale ending.
"When we went the year before, that was very overwhelming," said Michelle Zimmer, coach of the University of Kentucky equestrian team. "My girls got there and got very star struck. We ended up ninth overall, which if you look at the numbers at the beginning of the year and how many teams start and how many kids start, to even make it to nationals, I was just ecstatic with that."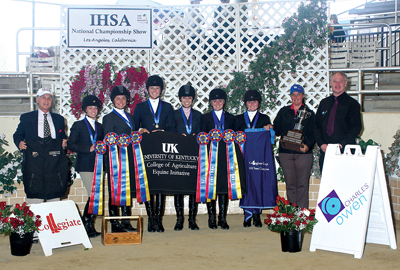 The team went into the following season with high hopes, especially after they came home with high-point honors from every horse show and a reserve championship finish at zones.
When they arrived in Los Angeles, Calif., for nationals in May, they were much more confident than the year before. In addition, all but one team member returned from the 2007 team, so they were hungry to improve their performances.
While teammates Louise Bowden, Sarah Bybee, Allison Davidson and Rebecca Wichard had good rides, Ali Cibon made the difference for the Wildcats.
"You kind of gamble," said Zimmer of Cibon's ride in the intermediate fences class. "Do you go in just to get a ribbon or do you go in and try to win it? Ali didn't go in and ride for second. When there's 18 kids out there, you have to take a little bit of risk."
When Zimmer and Cibon walked the course, they both decided that taking an optional inside turn, as well as performing a long gallop to a single jump, was the key to success.
"When Ali went in and laid down that beautiful trip, Callie [Schott] and I looked at each other and said, 'We have a shot,' " said Zimmer. "It was that kind of feeling that we belonged there. It wasn't just an accident that we were there."
The championship was decided when Schott won her open flat class after winning her open fences, sealing the title for UK.
"Callie didn't go in for second pace either," reflected Zimmer. "She went in to win, and she rode with that presence. Callie put it all together.
"We were looking at the program as they called [riders] out and we're like, 'Oh, my God, we're in the top five. Oh, my God, we're in the top four!' " Zimmer added. "At that point it was very exciting. The kids were ecstatic. Callie's mother was ecstatic, everyone was going, 'Did we really win nationals?' Is that really what just happened?"
More Than A Coach
The University of Kentucky has been at the forefront of the horse industry since the opening of its veterinary science department in 1919, but until about 20 years ago the school didn't have a riding program. Betsy Buchanan Fishback, who died in January, started the program in the late 1980s. Likewise, the school didn't have an equine science major available until 2008 (see sidebar).
Zimmer took over the reins of the riding program about five years ago after she relocated from Florida to Paris, Ky., with her husband. An avid horseman her entire life, she started working at Robert Murphy Stables where the team had just relocated.
Teams, Club And Polo
The University of Kentucky not only has a successful hunt seat team, but they also have competitive western and dressage teams that have been sending riders to nationals.
In 2008, western team rider Emily Gaskin was eighth in her advanced western horsemanship class, and alumni rider Lacey Wercynski took home the reserve championship from IHSA Nationals in Los Angeles, Calif.
Allison Wilaby, Colorado Springs, Colo., won the national championship in the first level division at the Intercollegiate Dressage Nationals in South Hadley, Mass.
In addition to their intercollegiate teams, the University of Kentucky has a wide variety of clubs for students to participate in, including a newly developed saddleseat team, which participates in local horse shows, a polo team and an eventing team.
They also have a horse judging team, which is for students who are interested in testing their judging skills at national competitions or who want to learn more about judging horses. They travel to intercollegiate horse judging contests, at events such as the Quarter Horse Congress, U.S. Arabian Nationals and the American Quarter Horse World Show.
The horse racing club was formed in 2004 to educate students about the horse racing industry. Students interact with the racing industry through guest speakers at regular club meetings and field trips to area farms, horse related businesses, horse sales and race meets.
"The Murphys are incredibly generous in that sense," said Zimmer. "If [the riders] come out and help around the barn they can get some additional rides in. [The equestrian team] truly is a club sport and is not University funded. They don't get to take it as a PE class; it's on their own schedule and their own time. They pay for pretty much everything. All of the girls have been really good about making this their goal and getting out to get more riding time."
The team, generally consisting of 35 to 50 members, is required to participate in two fundraising events per semester, with their main source of funds being a booth at the Rolex Kentucky Three-Day Event. They're also required to take a weekly lesson, but many of the girls ride as often as they can.
"I enjoy having the girls around," said Zimmer. "I like that the girls can come out to the barn and hang out, and if they want to ride they can. If they've had a really bad day at school and want to hang out the barn, they can."
Kathleen Reed agreed that Robert and Marianne Murphy, who own Robert Murphy Stables, have made a huge difference to the team. "They've been very welcoming and so giving and so great in keeping the program there. They have been the most kind, generous people we could have asked for," she said.
Reed, Louisville, Ky., a senior and the vice president of the equestrian team, began riding 13 years ago and has been a member of the team since she was a freshman. She chose the University of Kentucky because of their riding program and plans to continue riding at Robert Murphy Stables after she graduates with a degree in finance and business management
"As a freshman, I was in the advanced walk-trot-canter division," said Reed, who won the national championship in the division that year and now rides in the open flat. "[Zimmer] has completely transformed my position. I've seen myself become a much better rider because of her.
She just knows so much about horses and riding, and I feel I've absolutely benefited from having her as a coach. I feel a great sense of accomplishment in going from walk-trot-canter to open."
Senior Jennifer Gordon competes in the open divisions and the Cacchione Cup and only joined the team a little over a year ago. She credited Zimmer with helping her recover from two nasty falls, one of which left her unable to ride for six months.
"It took me a long time to be able to get back in the saddle," said Gordon, Lexington, Ky., who is studying agricultural economics and business management. "Each time she helped me through that, mentally and physically. She was just there, and she understood what I was going through.
"She gets what she means to say across without being overbearing or super firm and stern," Gordon added. "She's really caring when it comes to her riders. She's always making sure everything is OK. If anyone needs anything, she's there to help them as much as she can."
Triumph Through Tragedy
On April 13, 2008, Connie Michelle Blount, Park City, Utah, was killed in a hit-and-run accident while crossing the street early in the morning. The 18-year-old was a freshman at the University of Kentucky studying equine science, and she was a dedicated member of the equestrian team.
"It hugely influenced the whole team," said team member Callie Schott of the tragedy. "It impacted all of our lives. We dedicated our winning to her. As a team it brought us all closer together and really made us appreciate our friendships and the important things in life. She was just an incredible person."
Blount had taken two horses with her to college, Sam and Luke, and was an accomplished junior rider. Her father, Jack Blount, described her as passionate and committed to excellence, and he believes her positive attitude made an impact on everyone she met.
The Blount family and the University of Kentucky have established the Connie Blount Memorial Fund, benefiting equestrian majors. Contributions may be made to: Marci Hicks, Director of Development, Office for Advancement, E.S. Goodbarn, 1451 University Drive, Lexington, KY 40546-0097.
Zimmer also enjoys helping her team outside the ring. "Two years ago one of the girls totaled her car, and I was the first person she thought to call because her parents were in Chicago," said Zimmer. "That says something when they feel comfortable enough [to call me]. I like that interaction."
Horsemanship And Sportsmanship
While anyone is allowed to participate, Zimmer does hold team try-outs at the beginning of the year.
"A lot of these girls don't have a lot of experience riding different horses," said Zimmer. "Part of my job as a coach is that I get them in a division that's safe for their skill level."
Zimmer said that one of the challenges that many new riders don't think about is the tack.
"I've got girls that are six-foot tall and they've literally drawn ponies and a 16" saddle," she said with a laugh. "The horse is part of it, the saddle is the other part of it. I tell [the girls] to measure their stirrups on their arm and know where they want it to hit. That's the most challenging to me, the saddle and the stirrups! The horse is the easy part."
Before horse shows, Zimmer often has her students change horses during lessons just to get used to riding in different saddles. Before zones last year, she even made her riders use the school saddles, rather than their own.
"One of the funniest comments I get from freshmen after their first show is how much they love their own saddles," said Zimmer. "It's not that the saddles they're sitting in aren't nice saddles, they just aren't their saddles.
"I love that the IHSA really makes the kids be aware and thankful for what people are loaning us to be able to put on this sport," Zimmer continued. "They promote good horsemanship and good sportsmanship. They've all walked out of the ring and been like, 'I can't believe I just had this horrible round.' But we instill in the girls to always thank the holder of the horse because somebody loves that horse. Just because they drew it and didn't get along with it doesn't mean it's not a nice horse."
Looking Forward
For the University of Kentucky's equestrian team, winning nationals gave them a valuable piece of the spotlight.
"We were publicized on various television shows and in the paper about how UK had won the national title," said Reed. "It was great to get our name out there. People have a hard time finding the equestrian team because it gets lost in the mix of UK. [Winning nationals] really set us apart. It was a team effort even though we only had six girls go. I'm so proud of our team for really working hard and pulling through."
Zimmer added, "Our season last year was phenomenal. And this year the girls are riding well. We have a strong team. We'll have some freshmen on the team this year, and it's the only thing that makes me a little nervous!"
Reed said that Zimmer has really transformed the team and shown them the way to the top. "We've slowly done better each year, and winning the national title last year just really put the cherry on top," noted Reed. "She's just done a great job with the team. I'm just really happy that we have her."
---
The Equine Initiative
In 2005, the University of Kentucky launched the Equine Initiative with the intention of creating a competitive equine undergraduate program. The college, although located in the epicenter of the horse industry, had no specific equine major until 2007.
In 2008, 45 students enrolled in the first year of the program, and by early spring of the same year nearly 280 high school students expressed interest in the degree. The new major offers a bachelor's degree in equine science and equine management. Students will participate in a wide range of classes, including animal physiology, reproduction, agricultural economics, tourism, marketing, equine health, horse behavior and handling, anatomy and conformation, and more.
While many colleges have an equine major, the University of Kentucky is unusual in that it's a land-grant university, which is a college that's been designated by its state to be granted federally controlled land. The objective of these colleges, according to the Morrill Act of 1862, is to teach agriculture, military tactics, mechanical arts, and home economics so that members of the working classes might obtain a practical college education.
For the University of Kentucky, establishing a four-year equine major was an obvious need for the ever-growing equine industry.