Will Coleman's patience has paid off with a CIC*** win.
Good things come to those who wait, as the old saying goes, and Will Coleman III has done his fair share
of waiting for his current advanced partner, Twizzel.
He and his father, Will Coleman Jr., recognized the Westphalian-Australian Thoroughbred gelding's talent when they first saw him five years ago, but it took them two years to convince his former owner to sell.
Then, once they got the now-12-year-old home to Charlottesville, Va., Twizzel's American career was just starting—and showing plenty of promise—when he was sidelined by a rare cyst in his shoulder in the fall of 2006.
The cyst required surgery and 11⁄2 years of recovery, so it wasn't until this spring that Coleman was able to bring him back to competition. Twizzel rewarded Coleman's patience with a win in the CIC*** at the Plantation Horse Trials, Sept. 19-21 in Unionville, Pa.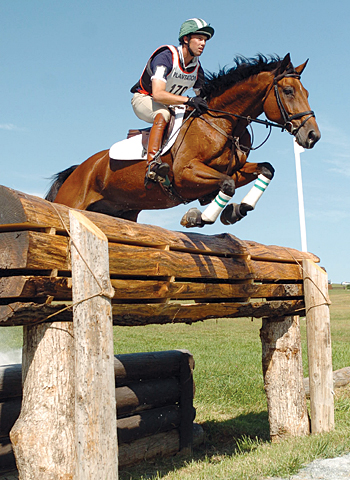 The game is a little different for them now. Not knowing when or if the cyst will return makes Twizzel a less-than-ideal sales prospect, but it also means Coleman and his father have a rare opportunity with a horse they think is extra-special.
"We feel lucky that he came back. He's a little bit of a risky horse," he said. "Now, my dad and I own him together. It's fun for us to have a horse to train, to ride, and for us to make all the decisions with."
Those decisions are paying off: In the year he's been back, Twizzel has moved back up to the advanced level and has been improving steadily over the year. Coleman and Twizzel started the weekend by performing a powerful, fluid dressage test that earned a 38.8 from judges Marilyn Payne and Brian Ross, more than 10 points ahead of their closest competition.
"I thought it was a good test," Coleman said. "He's a good mover, but he can be a little bit of a monkey. He was focused out there; [this time] he got most of it right."
Behind him, on identical scores of 49.2 points, were the Australian power pair of Phillip Dutton, aboard Acorn Hill Farm's Bailey Wick, and Boyd Martin, aboard Kate Ditchey's Belmont II.
A 10-point gap should be a reassuring lead, but with a pair of fast, efficient cross-country riders holding down second place, Coleman wasn't sure his lead would hold.
Plantation Field is known for its hilly terrain, and CIC*** course designer Tremaine Cooper added several new fences and rerouted the course to improve the flow, sending riders up and down the hills even more.
"It was a nice, gallopy course that was pretty confidence-building," Coleman said. "Twizzel ran really well for the first few minutes. He answered all the questions," but tired a bit at the end to cross the finish line with 6.4 time penalties, putting the pair at 45.2.
Coleman went into the ring with two rails in hand. He used some of that cushion to produce a careful round that left all the jumps up, earning them 5 time penalties but prevailing for the win. "He's still young," Coleman said. "Now, I feel like the horse is starting to become not just good but great."
The Robber Baron Steals A Win
The advanced horse trials division, which ran over essentially the same course as the CIC***, boiled down to efficient cross-country riding. Time penalties shuffled the dressage standings considerably, and Sarah Cousins moved up from ninth to the win with The Robber Baron.
Cayla Kitayama and Esker Riada led the division after dressage, but a rail in show jumping dropped them to eighth. A clean cross-country round with just 13.2 time penalties put them back up into fifth.
Plantation Tidbits
• Phillip Dutton and Boyd Martin's close working relationship at Dutton's True Prospect Farm in West Grove, Pa., might be having some strange side-effects: the pair followed their matching dressage scores in the CIC*** division with identical cross-country times, giving both 5.2 penalties and keeping them tied for second place on 54.4.
Their tie was broken in show jumping, where Dutton and Bailey Wick put in a clean round while Martin and Belmont dropped two rails, moving them down in the rankings to finish fourth behind Dutton and his other CIC*** mount, Nina Gardner's Loose 'N Cool.
• Craig Thompson and his own 9-year-old Thoroughbred, Orion, put in the advanced division's fastest time and made the biggest jump in the standings. In 20th place after dressage, they had one rail in show jumping and added just 2.4 time penalties cross-country to finish in third place overall and take home the Area II advanced championship ribbon, a subdivision of the advanced class in which only two horses were entered.
"I didn't realize people weren't making the time, but I did see everyone was jumping around OK, so we went for it," said Thompson, who is prepping Orion for the Fair Hill CCI*** (Md.) in October.
Leslie Law and Evening Shade were standing in second place until they took a tumble at one of the new additions on course, a pair of angled brush oxers on a two-stride line. Cousins and Tsunami III, in third place going into cross-country, were one of several combinations who parted ways at a corner coming out of the water complex.

No one finished under the time allowed, but those who came closest ended up in the ribbons.
Martin and Anne Hennessey's Benwald, finished cross-country tied for first place with Cousins and The Robber Baron. Because The Robber Baron was closer to the optimum time by just a few seconds, Cousins went home with a blue ribbon to counterbalance a sore backside from her earlier fall at the water.
Cousins, West Grove, Pa., is headed to the Fair Hill CCI*** (Md.) with both her rides, she said she was pushing "Robbie" along to make the time.
"If you are going to go to Fair Hill to be competitive, you want to make sure you are carrying the speed here. You need to get a read for how long you'll need to set up, how they'll feel—if you don't, you'll get to Fair Hill a little under-prepared."
She described Robbie, an 11-year-old off-the-track Thoroughbred, as "a bit of a sleeper. He's like a little, grumpy old man, but he's all business," she said. "He's a very good cross-country horse."
She doesn't run him in horse trials very often, preferring to focus on dressage and jumper schooling shows. "The more you run them, the more you risk," she said. "He doesn't need practice with cross- country. He needs practice with dressage and show jumping."

Rosin Moves Up To Blue
Breaking up the list of perennial winners at the top of the leaderboard was Molly Rosin, a California transplant now living in Oxford, Pa., who scored her first intermediate victory in the CIC** about Havarah's Charly.
Rosin found "Charly," a 10-year-old Hungarian Warmblood, four years ago. He had come from a jumper breeder in Hungary and was in the States to make a career change to eventing.
"He was a horse I was supposed to help some people sell, but I really liked him and thought he could be the one to help take me advanced," said Rosin.
Today, he's owned by 11 shareholders in the Minyan Syndicate, and, after several years sorting out control issues at the preliminary level, Rosin moved him up to intermediate last year.
Rosin and Charly moved east so that she could better round out her own education: breaking babies, galloping racehorses, learning more about riding over varied terrain and taking advantage of the wealth of competitions. More recently she began training with Boyd and Silva Martin, who she credited for helping to make Charly more rideable, both over fences and on the flat.
"Both of them have been great in realizing he's a fantastic horse but difficult to ride," said Rosin.
Rosin spent most of the weekend in second place behind Martin, her coach, who lead the CIC** through dressage and cross-country aboard Bellaney Destiny.
But when Martin pulled a rail and Rosin went clean in show jumping, she leapfrogged ahead of him.
"All the work with Boyd and all the work riding a lot of different horses, it feels like it all came together," said Rosin, who is planning to take Charly to the inaugural Fair Hill CCI**.
---
Taking Plantation Field To A New Level
Hosting an FEI-recognized competition required some big changes at Plantation Field's rustic venue—chief among them upgraded arenas and redesigned cross-country courses.
Riders complimented organizers Denis Glaccum and Sarah Connell for taking on the challenge of hosting the new CIC competitions and gave them good marks on the improvements, which included new jumps and a more level, resodded grass area for the dressage and show jumping test.
The extra frills even extended to the competitor's packets, where everyone was treated to a dog leash embroidered with "Plantation Field CIC," promoting the event and giving riders no excuses for the perennial problem of loose dogs on the show grounds.
"I ride here at all the recognized and all the starter trials, and I drove down the road the other day and thought, 'Wow, they really stepped this up,' " Sarah Cousins said. "They did a superb job with the footing, and they made great changes. The jumps are beautiful. I can't believe, all these events later, they can still come up with a new [cross-country] track."
It's been 20 years since Unionville last hosted an international-level competition with the Chesterland three-day, and riders were happy to have the level back.
"I think Plantation is fast becoming one of the biggest and best events in the area," said Boyd Martin, who trains just down the road from Plantation Field at Phillip Dutton's True Prospect Farm in West Grove, Pa. "It's really important, where all these people are riding, to have a showcase event. Unionville is in desperate need of a competition of this caliber."
Glaccum said that was one of the chief reasons they pursued hosting the CICs, along with giving the area's many upper-level riders a place closer to home where they could get needed CIC qualifications for fall three-day events.
Organizers opted to cancel the event's usual lower-level divisions to focus on preliminary through advanced horse trial and international divisions. That cut revenues but allowed the event to have a competitor- and spectator-friendly schedule, he said.
In the future, Glaccum said organizers will continue to level and improve the dressage arena.
"We'd like to find a spot potentially for an all-weather ring," he said. "But I happen to believe that event horses need to handle terrain. Of the three major event championships in the world, two [the Badminton and Burghley CCI****s in England] are held on grass."
Melissa Roddy