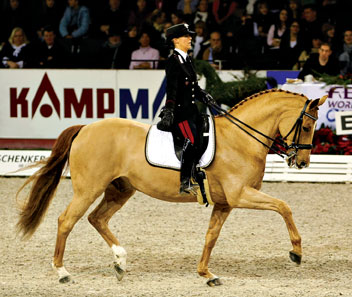 Italy's Valentina Truppa scored a hat trick in the FEI World Cup Final for Young Riders, winning her third consecutive title at the Frankfurt CDI (Germany), Dec. 12-16.
Truppa, 21, serves as a member of Italy's military police and is the daughter of international FEI "O" judge Enzo Truppa, who also trains her. "To win the World Cup Final for Young Riders for the third time was the crowning conclusion of my career as a Young Rider. Next year I hope to return to Frankfurt as a senior to compete in the Grand Prix classes," Truppa said.
Chelsea Seburn, of Greenleaf, Idaho, traveled to Frankfurt to represent the United States for her first time. Aboard her Rolex, a 12-year-old Rhinelander gelding, Seburn placed ninth in the first test of the competition with a 62.71 percent. But in the second test of the competition, she and her horse became nervous.
"I did not really get him in front of my leg and focused on me," Seburn said.
Some mistakes, including some steps of trot in the collected walk between the walk pirouettes, left her score in that test a 58.40 percent. Seburn might have been disappointed, but she did not let it discourage her.
"Certainly I would have loved to do better. And in general this hall is good for Rolex. It has a lot of energy. Normally he is a bit laid back, but this atmosphere spurs him on and with yesterday's performance I was satisfied, but today he was not focused on me. But, better to receive low scores for a bad performance, than doing a good performance and not receiving the marks deserved," Seburn said after her second test.
But the next day told a different story. The six riders who didn't qualify for the A final competed in the B final. There, Seburn showed what she and her horse are capable of. She had him in good self-carriage and showed a fluent, lovely test to a medley of film music composed by Hans Zimmer but still received only a score of 62.90 percent, which placed her third.
Seburn, a student of Ernst Hermann, traveled to Germany with the Canadian rider Alexandra Duncan and the 12-year-old Holsteiner mare Elektra four weeks prior to the final to train with Conrad Schumacher and Ellen Bontje respectively. Seburn plans to stay until February.
Duncan also qualified for the B-final and placed sixth in that.
American riders would also know the Argentinian rider, Micaela Mabragana, who has been living in New York as a working student for Lendon Gray for two years. It was Mabragana's first trip abroad, and she and Granada finished fourth in the B-final, behind Seburn.
"Although I was not able to achieve top placings here, I am very proud to represent my country. It is the first time ever that an Argentine rider is competing in this final. I learned a lot just from being here and watching the other riders," Mabragana said.
Truppa did a little watching of her own. Dutch young rider Lotje Schoots—competing in her first World Cup Final for Young Riders—won the first two tests of the competition, the team and individual tests, aboard the 9-year-old Rubenstein I mare Reine B. It looked as if Truppa's two-year reign over the competition might be at its end.
But in the A-final freestyle, Truppa's Chablis went in a very classical way. Their fluent freestyle test was performed to popular Italian music and was relaxed and expressive. Truppa and Chablis earned 75.25 percent for the test, and then Truppa intensely watched Schoots' freestyle.
Tears of joy came to Truppa's eyes as Schoots' score of 73.00 percent came up and it became clear that she'd earned her third consecutive victory.
The Portuguese rider Boaventura Francisco Freire, who has been training for four years in Germany, placed third. Freire spent his first three years in Germany training with Dolf-Dieter Keller, in whose barn he earned his 'Bereiter,' and now is employed at the Trakehner main centre Klosterhof Medingen.
However, Freire didn't compete a Trakehner but an 11-year old Lusitano stallion from his own country. "I have been riding Peralte Pinha now for seven years, and I am very proud to have brought him as far as he is now," Freire said.
Birgit Popp