The season is cranking up, and we are well under way here at Red Oak down south. We started off the year with the lower level horses running at Sporting Days.
Despite some rain leading up to it, we still had a good time at the event. Indie was in the training level, Grayson in the novice and Dreamboat doing his first event as well. Doug Payne ended up judging Indie's division due to a mishap with a judge, and though it was comical to ride with a fellow colleague judging you, Indie stepped up and won the event from start to finish. Grayson also logged in a great test with a 22 to take the win as well. This lovely horse is for sale, but I definitely wish I could keep him. Dreamboat ended on his score of 34 to take fifth in a bigger class and I was proud of him!
Next up were the training sessions as well as the U.S. Olympic Committee evaluations. I was happy with how Ping went on the flat, and I think Mark was pleased with the progression. We worked on riding better corners to help with the fluidity of my test and controlling his haunches in every movement. I did the ICP jumping symposium as well. Though it was a bit confusing to have two coaches there, and Ping was a bit fresh and nappy, I still learned quite a bit from it. Walkabout made his training session debut, and Mark really helped with his rideability, which I struggle with.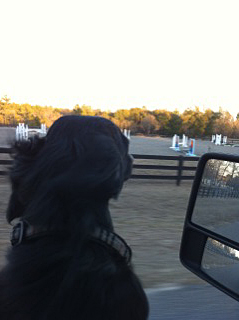 Molly watching the training sessions. Photo by Jennie Brannigan.
I found the USOC very beneficial and spoke with them honestly about what I struggle with, which is always tough to do but will be very helpful in the long run. The fitness test was tough but fun, and after doing 360 squats I found myself in pain for the next few days.
The big boys had there first run at Pine Top in the open intermediate. Ping had to do dressage on the frozen ground, which wasn't optimal, but he was well behaved just not brilliant. He show jumped amazing though and was tied for third going into cross-country behind my fellow True Prospectors Boyd and Phillip. I ran him very slow trying to save his legs, and to be honest I felt a little rusty out there! Walkabout was a bit fresh on Saturday, but on Sunday I had a great cross-country round where I rode him really slowly and just kept him relaxed. He felt great, and I plan on giving him another slow training round at the next Pine Top with hopes to let him go at Red Hills.
Indie, Model Cadet and Grayson all finished on their dressage scores in the top five in the training level, which was great in such a big class.
This weekend is Paradise, and with five horses running there it should be fun. The lower level horses have the next three weekends off after this event due to Pine Top, Derbycross and Red Hills, which will be nice for them to process all the new information they have learned.
Hope everyone is well and is having a good season.
Jennie