Sorry I'm a bit late with my blog—I was so tired when I got home last night I went straight to bed! It was a very early morning yesterday. The U.S. horses had a practice jog at 6:30 and everyone looked great.
The second horse inspection was at 7:30 and I think everyone went through easily. After I rode Cylana, I headed over to my parents' hotel—the breakfast there is so good! Most importantly, it was my Dad's birthday yesterday!!!
I came back to ride Goose during the course walk for the pony class. He is feeling much better and was definitely perked up by the sight of the ponies. Goose LOVES ponies; I think he thinks he is a pony. We still decided not to show him in the grand prix as it was going to be quite big for him to begin with and he hasn't been feeling well this week.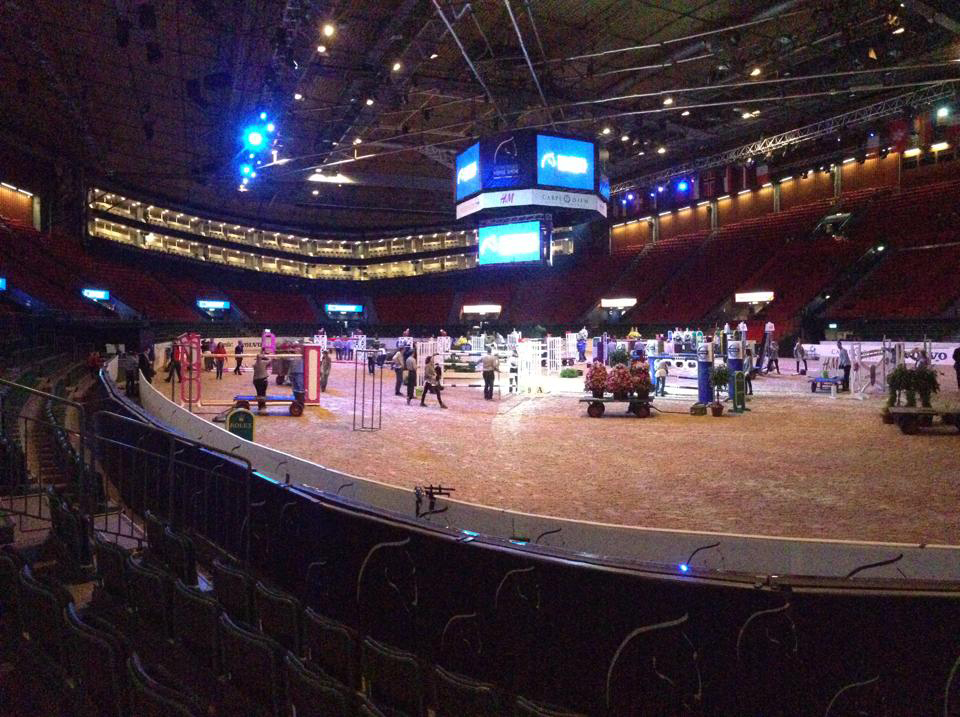 The course being built for the final day of the
Rolex FEI World Cup Final!
My mom and I went on a walk through the shopping district which is very cute—lots of trendy hipsters here in Sweden! I got my Dad a cool pair of cufflinks. After lunch we went back to the hotel and I completely crashed from exhaustion. The classes here end so late at night. After I awoke from my mini coma, I went back to get ready to cheer on the U.S. riders in the grand prix.
Rich Fellers finished fourth with Flexi and Lucy Davis was clear also! Kent Farrington, Christine McCrea, and Beezie Madden all had unlucky 4 faults keeping them from the jump-off. It was a fun jump-off to watch—just when you thought Marcus Ehning's time with Plot Blue couldn't be topped, Ludger Beerbaum laid it down.
After the grand prix finished we had dinner at the Hard Rock and headed to bed! Big work to do today—time to climb up from 10th!!!
Read all of Reed's blog entries from Gothenburg…
See all of the Chronicle's coverage of the Rolex FEI World Cup Final…