They were all in contention until the future professional pulled out all the stops.
Competition for the U.S. Equestrian Federation Show Jumping Talent Search Finals-East was as hotly contested as ever.

The field of 82 was the largest in years, and by the time it was whittled down to the final four, the riders were neck-and-neck. In fact, in the second round of that phase, all four were tied with 176 points and those on the sidelines were discussing whether a tiebreaker would be necessary.
But two more rounds sorted out the placings, as Nikko Ritter managed to pull ahead of Addison Phillips—a six-time veteran of the finals—but only by 4 points.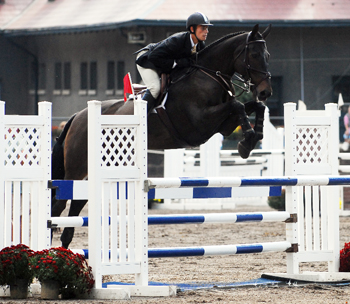 "None of them made major errors. The differences were minute little things—it basically came down to details," said McLain Ward, who judged the class with his friend and fellow grand prix show jumper, Jimmy Torano.
At the U.S. Equestrian Team Foundation's historic headquarters in Gladstone, N.J., on Oct. 6-7, the competition drew riders from as far away as Ohio.
Ritter, 19, placed fifth last year in the USEF Talent Search Finals-East, and while he aged out of the junior equitation finals last year, he returned this year to try at the USEF title again. A resident of Geneva, Fla., Ritter will be working full-time as a professional for his family's horse business and hopes he'll be riding at the grand prix level.
"This was always my favorite final, and I always wanted to win this, which is why I came back this year," said Ritter.
Phillips, 17, from New York City, N.Y., is a Harvard University (Mass.) student who has been a factor for several years in grand prix classes. After being the Talent Search Finals runner-up twice, Phillips has decided not to try again next year and concentrate on show jumping instead.
But Ritter kept going until he got the top prize. This was his fifth attempt at the USEF Finals, and this year he won his USEF gold medal for winning 20 Talent Search qualifying classes. His mother, Wendy Peralta, coaches him along with Stacia and Frank Madden of Beacon Hill.
"We came to win—we didn't come to fool around," Peralta said. "We did it family-style, with the help of Frank and Stacia."

Basic Skills Prevail
Riding Linda Bakker's versatile Irish-bred Clover Count—whose resume includes success in a variety of hunter and jumper ranks as well as in equitation—Ritter got a score of 85 for his flat work, something on which he had been drilled by trainer Holger Hetzel during a summer of working and training in Germany.
In this competitive group, however, that didn't even enable him to make the top 12 in the phase. Kyle Wolf won the flatwork portion with a 92, followed by Maggie McAlary with a 91, and Maria Schaub and Zazou Hoffman, both of whom scored 90, while Phillips was right behind with an 89.
Ritter moved up the ladder in the gymnastics session that followed, however, sliding into third behind Phillips, who took over the top place. Behind her, riding Athlone Partners' Hetoile Platiere, was Kimberly McCormack, whose sister, Kristy, won the finals in 2002.
While previous gymnastics phases at the finals have included some very tricky lines and options that basically judged much of the class for those officiating, Ward and Torano set basic exercises of the type that would be used when training a jumper. Poles on the ground were featured before and after many of the jumps, as an exercise to regulate a horse's stride.
"We didn't want a massacre," said Torano.
The layout was less like a regular course than in the past, but rather, a succession of separate segments. And the judges gave top scores to some riders that had rails, using their discretion about whether the fault was caused by a rider mistake or a horse mistake.
"When we jump gymnastics at home, if a horse touches a jump, it's not the worst thing. You're teaching a horse. There was nothing wrong with touching a jump, but it's different if you blast out the front rail of an oxer," Torano said.
McCormack topped the gymnastics phase with a 141, to 138 for Ritter.

Getting To The Final Four
Sunday morning's jumping test again had no gimmicks, but it was demanding. Among the features laid out in the big sand ring were double liverpools as fence 4AB, four strides from a skinny jump, and a water obstacle as the seventh fence following a jump off of a corner.
Like the gymnastics, it was fair and balanced but did not offer any breathing room for those determined to get it right.
Phillips was at the top of her game on the veteran Flight, earning a 93. Second went to a bravura performance by Jessica Springsteen on the flawless Deneuve, who would wind up getting the Grappa trophy as the best horse of the finals. It was good enough to receive 88 points and elevate her from 10th place into the final four.
Ritter's polished ride earned him an 85. Together with his other scores, it was good enough for third and a final-four berth. Although McCormack only got an 84, combined with her gymnastics and flat efforts, it got her into the final four as she made her debut in a competition she had never even watched.
The totals after three segments put Phillips an impressive 15.75 points ahead of Ritter, who had 395, giving him 3 points on McCormack, while Springsteen was 2.75 back of that.
But the biggest challenge lay ahead, in the final test. All four started equal, with the score sheet at zero, in the final four, modeled on the individual medal test at the show jumping World Championships. Each rider would jump a round on each of the four horses, and the cumulative score would decide the winner.

Pulling Into The Lead
The judges shortened and modified the morning's course.
Springsteen, of Colts Neck, N.J., who rides as a 14-year-old, won the first round with a score of 90 on her own Deneuve. She was 1 point ahead of Ritter and 2 ahead of Phillips. McCormack trailed with an 85 but came back to win the next round on 91 points with Flight, setting up the four-way tie.
"It was great to be on an even keel again after Round 2. It gave everyone a fresh start and made the com-
petition tighter and harder," said McCormack, who lives in Clermont, N.J., and trains with Missy Clark.
The final two rounds, however, belonged to Ritter. He scored an 87 on Deneuve in the third and clinched his title with the highest score of the final four—a 92—on Flight in the last round. He was unflappable and in control at every instant. His total overall was 355 to Phillips' 351, Springsteen's 342 and McCormack's 338.
Springsteen and McCormack plan to be back to try for the USEF Finals title again, and they may well find themselves facing Michael Hughes, a remarkable child who rides as a 10-year-old.
He finished 45th on Show Time, a placing drastically affected by his score of 40 in the flat phase, where his horse picked up a wrong lead. He had a respectable 111 in the gymnastics and an 80.5 in the jumping phase.
The son of professional Eamonn Hughes, Michael has huge potential according to Clark, who trains the New Jersey youngster.
"It was a great experience," said Michael of the USEF Finals, unfazed by facing riders nearly twice his age.
"This year was just a practice year for this horse and me. I think next year he'll definitely be ready for it."

Nancy Jaffer