If you flip through the pages of the Chronicle 25 years ago, today's top professional hunter rider Havens Schatt was just 17, and dominating Devon as a junior.
The Chronicle article in the June 16, 1989 issue of the magazine detailed Schatt's victories, including the grand junior and small junior hunter titles on Smith Watkins' Elfin Magic and the large junior hunter championship on Jane Clark's Nobel. She also won sections of the (then AHSA) Medal and ASPCA Maclay classes and earned the Best Child Rider on a Horse title.
Top show jumper Nicole Shahinian Simpson, then 14, was also a big winner at Devon that year, taking the junior jumper tricolor on Morgan Le Fay.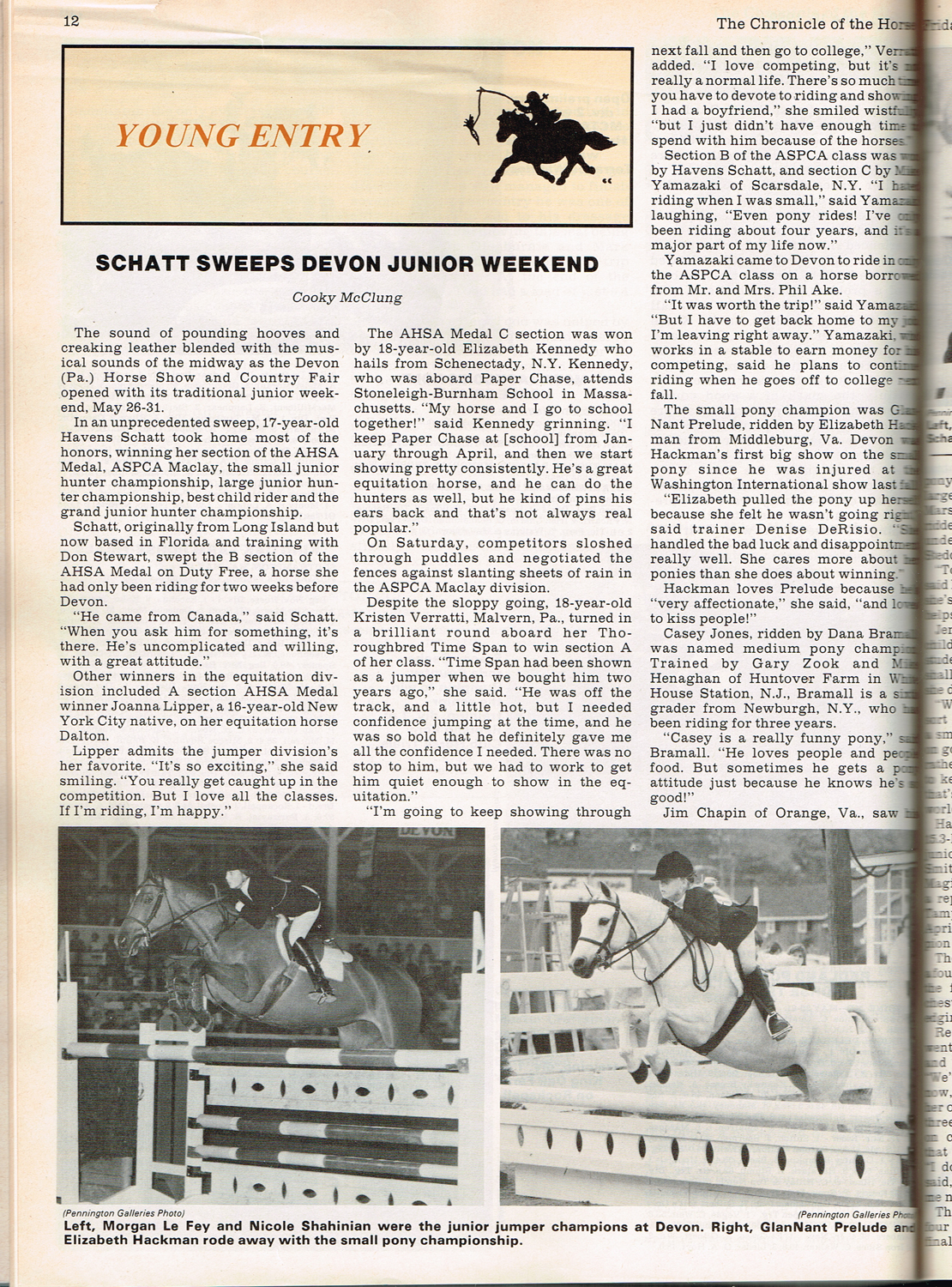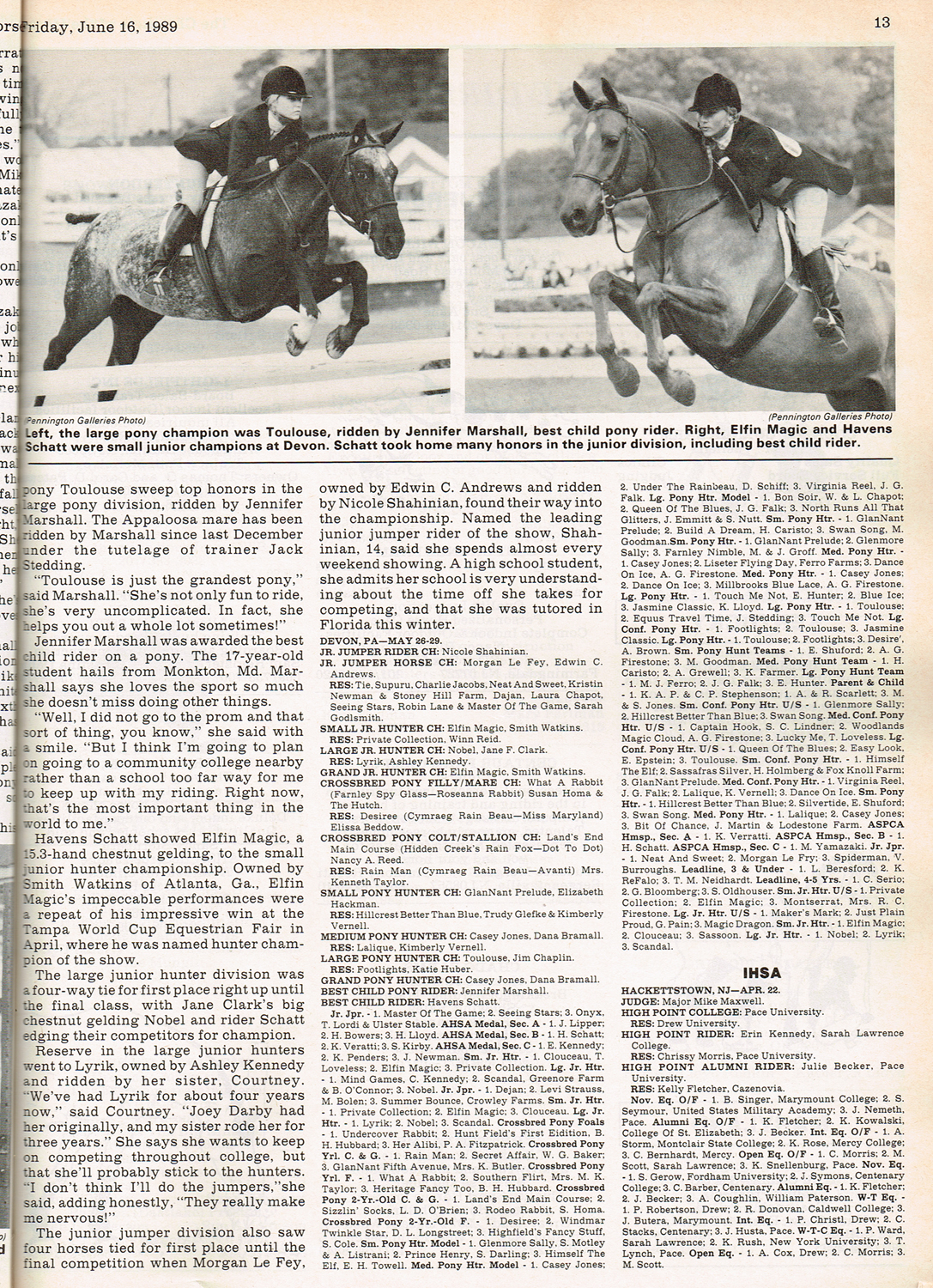 Then, if you go back 30 years, the Chronicle article about Devon Junior Weekend was colorful and vivid in its description of the festivities. It's a testament to Devon that much the same kind of picture can be painted of the current-day show.
The first section of that story…
"What began in 1896 as a one-day horse show to encourage farmers to breed harness horses has become a ten-day drama filled with horses and riders on stage, trainers directing, midway booths and amusements filling in behind the curtain, and small ponies ridden by tiny children next to large carriages pulled by huge horses to entertain every spectator.
"Junior Weekend, held May 24-26 at the Devon showgrounds outside Philadelphia, is a family affair. Mothers and fathers scream for clear rounds and spots of enthusiastic applause locate a rider's cheering section. This year, over 50 of the youngest entries rode in leadline classes. One child rode side-saddle, another was dressed as a polo player, and another rode saddle seat, but the popular hunt seat came out on top, with Elizabeth Supik winning the under 4 years old division and Missy Achenbach the 4 to 6.
"After polishing boots, holding horses, wiping tears, and providing emotional support only parents can give, it is fitting for Junior Weekend to end with a family class. Twenty families ranging in size from two to five members rode their horses and ponies to compete for family honors. Mrs. Frank Chapot and her two daughters, all on matching grays of appropriate sizes, won the blue ribbon this year."
The story went on to describe Jenny Iverson overcoming a phobia of thunderstorms to ride Eldorado 29's Steer Clear to the junior jumper championship. "Lightning broke, thunder boomed, and the grandstand flags blasted against their tethers," the article said of the conditions of the final class.
In the junior hunters and equitation, Karen MacKenzie was quite successful, riding Playing Games, owned by Mr. and Mrs. Paul Newman, to the large junior championship and winning the Medal after a battle with Steve Heinecke.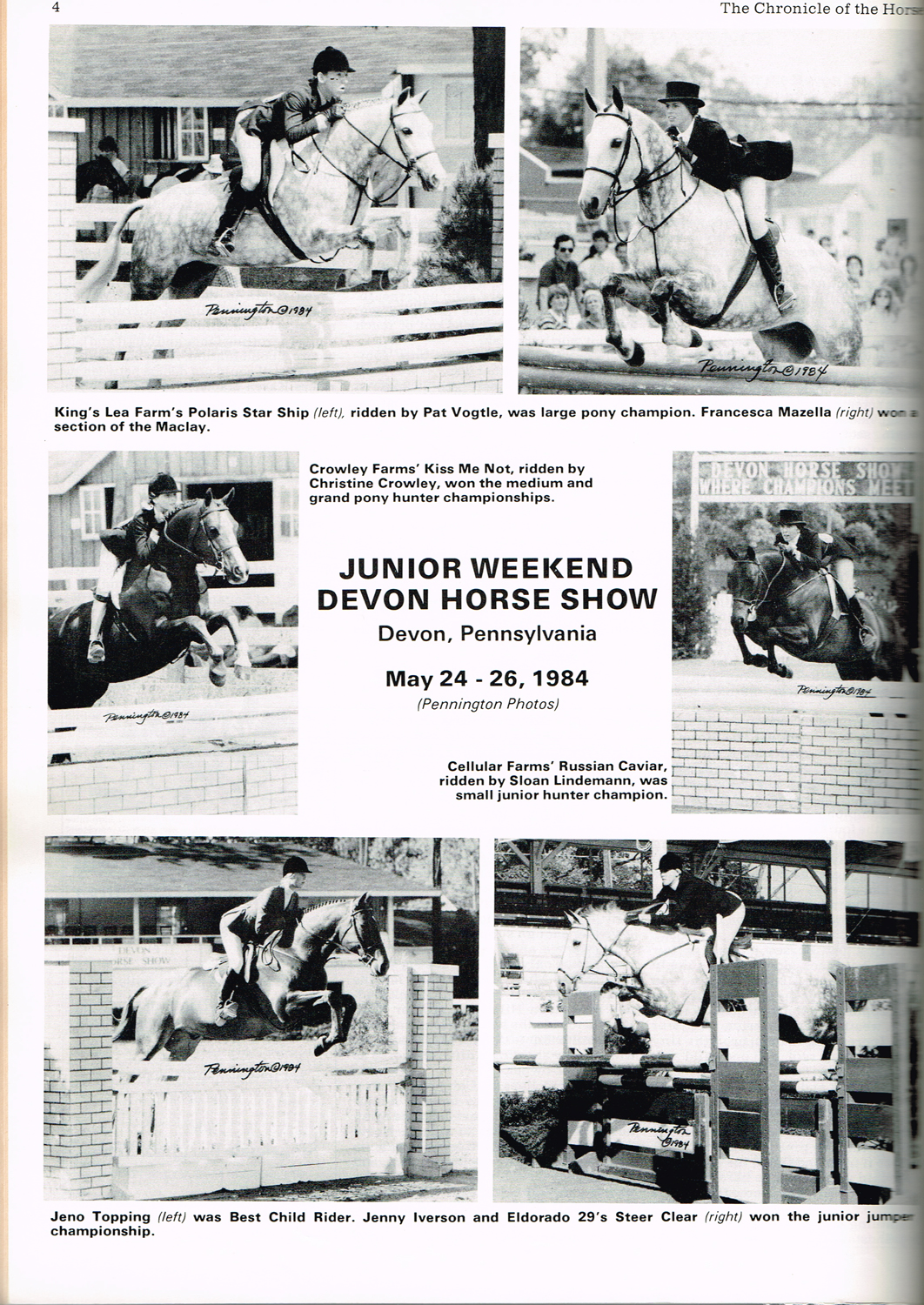 This year, Chronicle reporters will be back at Devon to bring you all the news—the winners, the inspirational stories, the iconic photos. Check in at www.chronofhorse.com and don't miss a thing!