"Anyone know this horse? I can't believe they handed me the rope! I think that was one of the happiest days I ever had!"
That's what Lauren Nelson wrote after posting this photo of herself with a famous grand prix show jumper from the '80s on Facebook. Commenters quickly guessed correctly—the horse was The Governor, a prolific winner of grand prix classes with Katie Monahan (now Prudent). The year was 1986.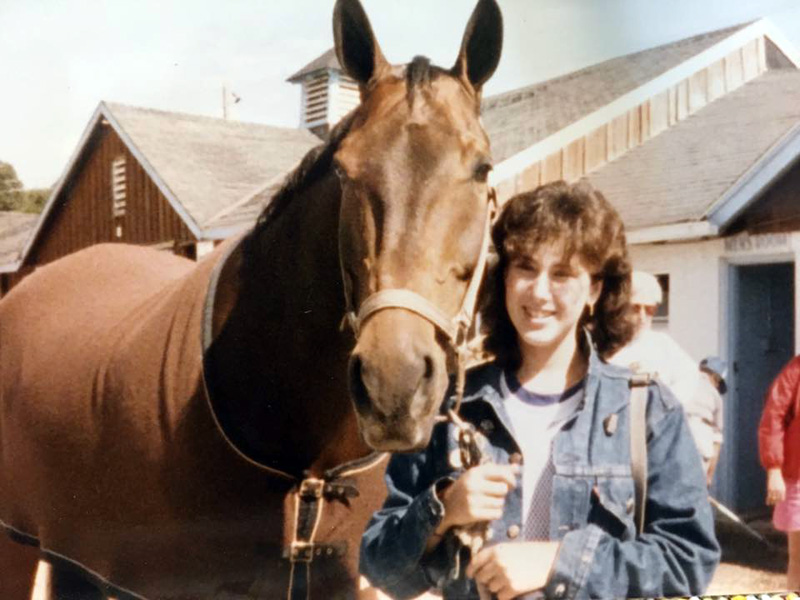 "I was 14. I lived in the area and my folks would just drop me off at the horse show and I'd spend the day and the evening at the show," said Nelson, who lives in Lansdale, Pa. "I was always there for the grand prix, and that year, I decided I wanted to meet all the people I'd been watching on TV and reading about for years. I went back to the stabling area by myself and started talking to people.
"They were all so accepting and welcoming. I met Conrad Homfeld and Rodney Jenkins and Leslie Burr Lenehan, and Katie Monahan.
"I don't know who was holding the lead rope on The Governor, but I wanted a picture with him, and they just handed him to me! And then Katie took the picture for me.
"Things were different back then because we didn't have cell phones or social media. These riders really seemed elusive. You'd see them from afar and think 'Wow!' You didn't see them on Facebook. So to walk up to them and have them accept you and take the time to answer your questions was amazing. And to hand their horse off to a kid who's got stars in her eyes? It was a good day."
Nelson started riding at age 6 at summer camp and continued through her youth, showing locally in the hunters. After college, she took a few years off to start a family. "I had my son, then I decided I couldn't stay away and I got a horse," said Nelson. "Now I have a farm and we do small local shows. I got into low level eventing; I've never done more than beginner novice. I'm 45 now, so chicken comes with the territory."
Nelson hosts eventing derbies and hunter/jumper shows at her EZ-GO Stables in Lansdale, Pa., where 12 horses live on the property and Nelson teaches lessons.