As Polly Savoy unloaded the small grey horse off the trailer at Cedar Lodge Farm in 1965 she said to renowned instructor and owner Victor Hugo-Vidal, "This is a horse that you should buy."
She knew that she had found something special in the 8-year-old Goodboy Dee when she first saw him at the Weston Pony Club. Even though he was just 15.1½, he thought he was a big horse.
A 14-year-old Kip Rosenthal had been taking lessons at Cedar Lodge but did not have a horse of her own. When Hugo-Vidal had Rosenthal ride Goodboy Dee, he knew that it was a match made in heaven and told Rosenthal's father to buy the gelding for his daughter. They paid $6,500.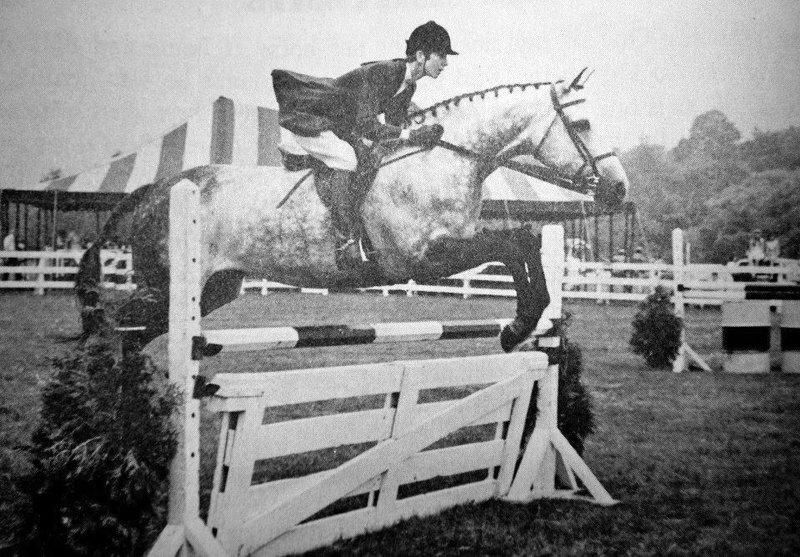 In 1966, Goodboy Dee and Rosenthal made the move to ride with George Morris. This was before Morris had his own farm, Hunterdon, so his students and their horses were stabled at several barns in Connecticut, New Jersey, and Millbrook, N.Y.
Showing at 15 shows in 1966, Dee (as Rosenthal called him) was champion at 14 and reserve at the other one (to Pam Carmichael's Lansonette). They capped the year by being the American Horse Show Association's Small Junior Hunter Horse of the Year.
Rosenthal said, "Goodboy Dee was the easiest horse I ever rode. I'd go into the ring, cluck, pick up the gallop, and he was on. He was a big horse in little horse clothes.
Rosenthal remembered "Dee" as a very kind and pleasant horse to be around. But he had unusual taste in treats. "Dee preferred ham and cheese sandwiches over carrots and apples, but he liked them, too," she said. "Every time he won a class or was champion, he would look for his ham and cheese sandwich."
As the 1967 season started, Rosenthal and Dee continued their winning ways and again were AHSA Small Junior Hunter Horse of the Year. That second year of showing was different though for Rosenthal. She said, "There was so much pressure to be champion again that it was not so much fun."
Rosenthal and Dee starred in a story Morris told in his autobiography, Unrelenting. Morris was discussing the 1967 C.W. Post Horse Show (N.Y.) and the fact that a terrible thunderstorm hadn't canceled the show.
"As a show of protest at having to show in a hurricane, I made Kip Rosenthal ride over the outside course holding an umbrella," Morris wrote. "It was quite a sight, her jumping with the umbrella held aloft like Mary Poppins! They caught a strong gust of wind at one point and, nearly pulling Kip out of the saddle, the umbrella stopped the horse just by sheer force of the wind right in front of a fence.
"Kip's father was irate and read me the riot act, because the stop meant she was only Reserve Champion. The next day, though, Kip's photograph—jumping with the umbrella aloft—was on the front page of the New York Times! Kip's father's friends saw that picture and he called me up and suddenly he was calling me and telling me what a genius I was to have called attention to the fact that they should have canceled the show," Morris wrote.
During the winter, it was decided that Dee would be sold and that Rosenthal would concentrate on jumpers.
In the spring of 1968, Sam Magid bought Goodboy Dee for his goddaughter, Gail Hulick, for the (then) record price of $40,000. Dee moved to the Hulick's farm in Sterling, Mass. Both Hulick parents, Hank and Marion, were professional horsemen so they trained Dee and Gail at home. Hugo-Vidal was once again the trainer for the small grey at the big shows.
Over the next several years, Dee won many more championships (including at the National Horse Show at Madison Square Garden) with both Gail and her older brother James.
After Dee was sold, Rosenthal showed in the jumpers very successfully and is now one of the nation's top trainers, clinicians, and judges, operating out of her Benchmark Farm in Bedford, N.Y.