Caen, France—Sept. 2
As the first half of the speed leg finished up, a 19-year-old Irish teenager sat on top of the standings.
Bertram Allen, competing in his first senior international championship at the Alltech FEI World Equestrian Games, came into the ring early in the order of go with his charming gray mare Molly Malone and just laid down the round to beat.
"I'm delighted. The mare jumped out of her skin. The plan was to have a good, solid round. We took everything in our stride and were able to get a good time in, so I'm over the moon," Allen said.
As the lunch break started, Allen was almost a full second ahead of French powerhouse Penelope Leprevost—77.01 seconds to 77.82 seconds. "She has quite a bit of experience in going fast against the clock, and we know each other well, so we know what we can and can't do. We got the measure right today," Allen said in a non-plussed manner that belied the fact that as a teenager he was beating the world's best.
Allen has been a phenom for Ireland, competing in pony and junior championships with much success. He's lived in Germany since he was 16, running his own training and showing stable and training with Marcus Ehning. In the lead-up to the World Games, he scored a very popular win in the Longines Grand Prix of Dublin in August in front of his home crowd.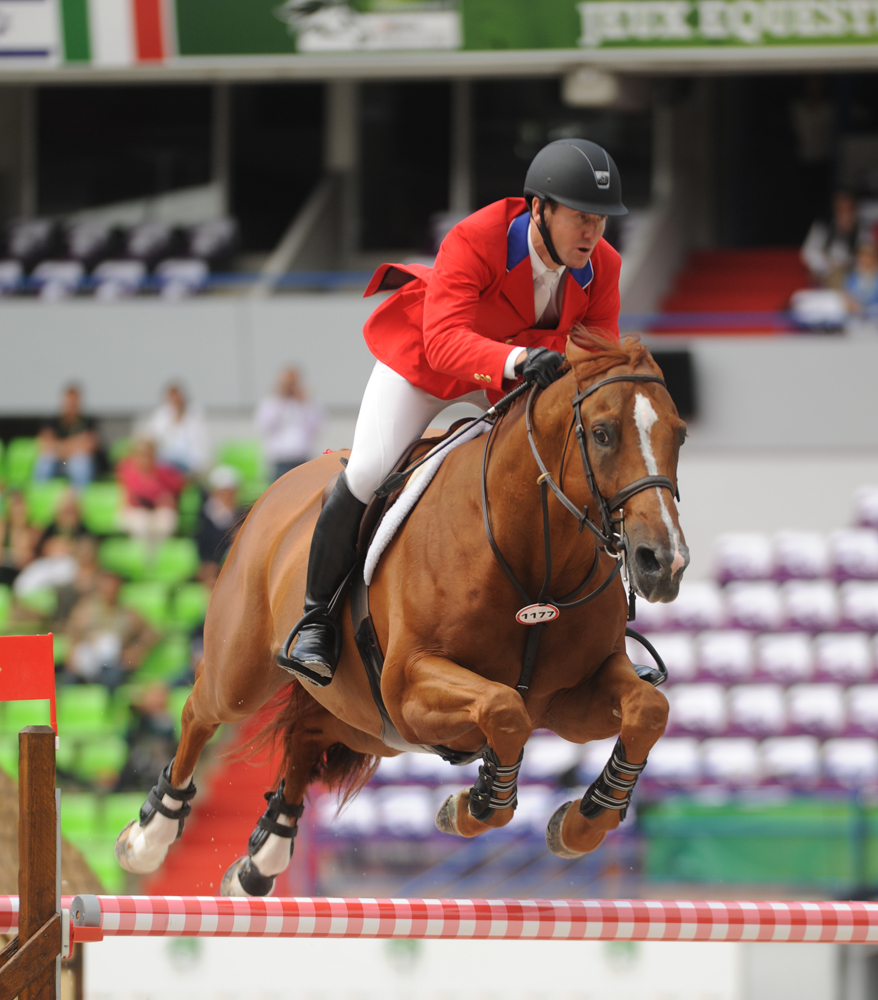 McLain Ward on Rothchild.
Photo by Lisa Slade
The United States is right in the hunt in the first half of the speed leg, with McLain Ward in 11th after a very quick round on Rothchild—one that would have been right at the top of the standing if he hadn't brought a rail down on the way.
"We're going to take a shot, and I got a little too close," Ward said. "He actually jumped high and just ticked the back rail. He didn't hit it very hard. I wouldn't necessarily call it bad luck, but it certainly wasn't good luck. It was a good round, and it's a long week, and I hope it takes the pressure off the other guys just a little bit that they can take a good shot. It's a fast class."
Kent Farrington is in 10th, just ahead of Ward. He also had a very quick round, but a rail added 4 seconds to his time, so he ended on 81.02 seconds. Without the rail, he'd have been in second.
"I thought it was a decent round today, good start for our team. [McLain and I] both had a cheap rail at the same fence," Farrington said. "I thought my horse jumped great today. He went very high off the front rail of that oxer, and I just needed to ride him a little bit more for the width. It was his first time in the ring, and he was a little bit impressed, maybe a bit fresher than I would want, but I'm trying to save his energy. It's going to be a lot of jumping this week."
The U.S. riders know that this is a long haul of a championship—there are no medals awarded for the speed leg alone. All they can do is put in solid rounds and hope it puts them in good position for the upcoming two rounds that decide the team medals. "In general our plan is aiming at 77- to 79-[second] range," Ward said. "I hope with one score in the books that's at least solid, it gives them a little breathing room to take a risk. I think you're going to need to take a bit of a risk today.
"Our horses are physically in great condition. The riders are all top class riders. This is the best field we've fielded since [the 2008 Olympic Games in] Hong Kong if not even before that," Ward said. "It's an exciting group. But like in all these competitions, it's a very fine line between winning and eighth. As the sport grows, it's getting to be a finer line. You definitely need some chips to fall your way."
The speed leg course, over 1.50-meter jumps, has a few crucial tight rollback turns and a testing line of the open water then eight or nine strides to a very delicate one-stride of plank verticals. "Frederik [Cottier, the course designer] is a French rider, a forward-going rider out of the gallop. You see that reflected in his courses," Ward said.
"It's a delicate course. There are a lot of places to have a fence down. On the first day of these championships everything is maximized—the stress, the consequences, things we wouldn't think twice about on a Friday at Palm Beach. All of a sudden the risk and the consequences are heavily weighed."
Make sure to stay informed with the Chronicle's online coverage. You can find all the stories at our main World Games coverage hub, or if you're interested in show jumping only, check out the dedicated World Games show jumping page.