In the early '60s, the great Virginia Horse Shows Association Hall of Fame horseman Delmar Twyman said, "Every great horse has a little rogue in it." Perhaps no champion has lived up to that saying as much as Waiting Home.
Peggy Augustus was just 20 years old when she walked through the stable area of the Keswick Horse Show (Va.) in 1952. Having grown up near Cleveland, Ohio, she was already an accomplished horsewoman and rider on the "A" circuit when she came to Virginia. That day in August, as Augustus came upon the Waverly Farm row of stalls, she saw a beautiful chestnut head with a big white blaze hanging over a door. She knew that she "had to have him," she recalled.
Foaled in Middleburg, Va., and bred by Warren Ziegler, Waiting Home was a Thoroughbred by the great show horse sire Wait-A-Bit and out of Marching Home, by John P. Grier. Racing Hall Of Fame steeplechase rider and top show rider Rigan McKinney bought Waiting Home as a 3-year-old and sent him to his sister Elizabeth McIntosh's Waverly Farm in Warrenton to be broken and shown.
Robert Kerns was riding for Waverly at the time, so he started Waiting Home and took him to one show in Maryland as a 4-year-old, which ruined his green year. The 1952 Keswick Horse Show, in August, was one of the 16.0-hand chestnut's first shows as a 5-year-old. It was there that Augustus first saw him.
As Waiting Home was tacked up for Augustus to try at the show, it started pouring rain, so she didn't get to ride him. She bought him having never ridden him. After the show at Keswick, Augustus shipped her new horse to William Haggin Perry's Beau Val Farm in Charlottesville, Va., to live until Augustus got her own farm.
The first sunny day, Augustus tacked up her new horse. He wouldn't let her mount from the ground or from a mounting block, so she had to get a leg up. As soon as Augustus hit the saddle, Waiting Home started bucking. She rode him through the bucking, and the pair had a meeting of the minds.
From then on, Augustus and Waiting Home were just about unbeatable when he jumped without quitting. Augustus said, "51 percent of the time he didn't quit, and that was good enough for me."
The summer was almost over when Augustus got Waiting Home, so she showed him in just three shows—North Shore, Piping Rock and the National Horse Show at Madison Square Garden, all in New York—in 1952. The pair was champion at all three.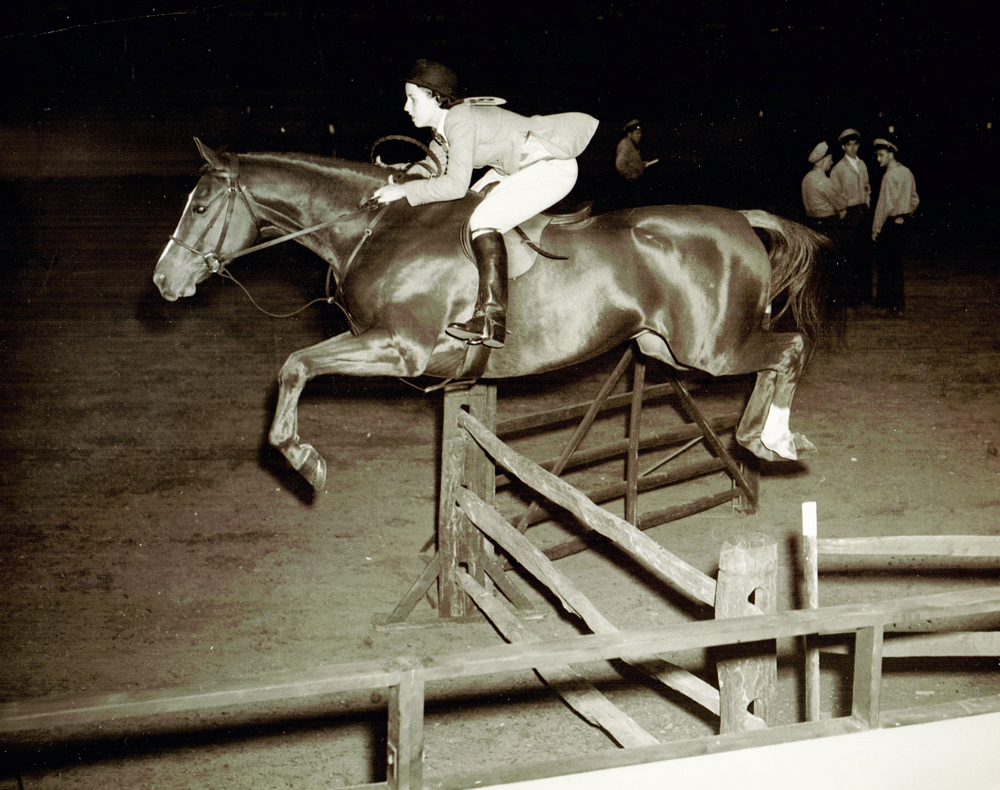 Peggy Augustus and Waiting Home at the 1952 National Horse Show. Waiting Home was 5, and they claimed the young hunter championship. Photo by Freudy
When they returned home, it was to Augustus' new farm in Cobham, Va., called "Old Keswick."
For the next five years, Waiting Home and Augustus dominated the conformation hunter division, as long as the gelding wanted to participate. They would only show in eight shows a year, including the Pennsylvania National, the National and the Royal Winter Fair (Ontario).
Waiting Home also retired two trophies from the Devon Horse Show (Pa.). The National Horse Show and the Pennsylvania National used a 4'3″ white gate that Waiting Home hated. He either won or he quit.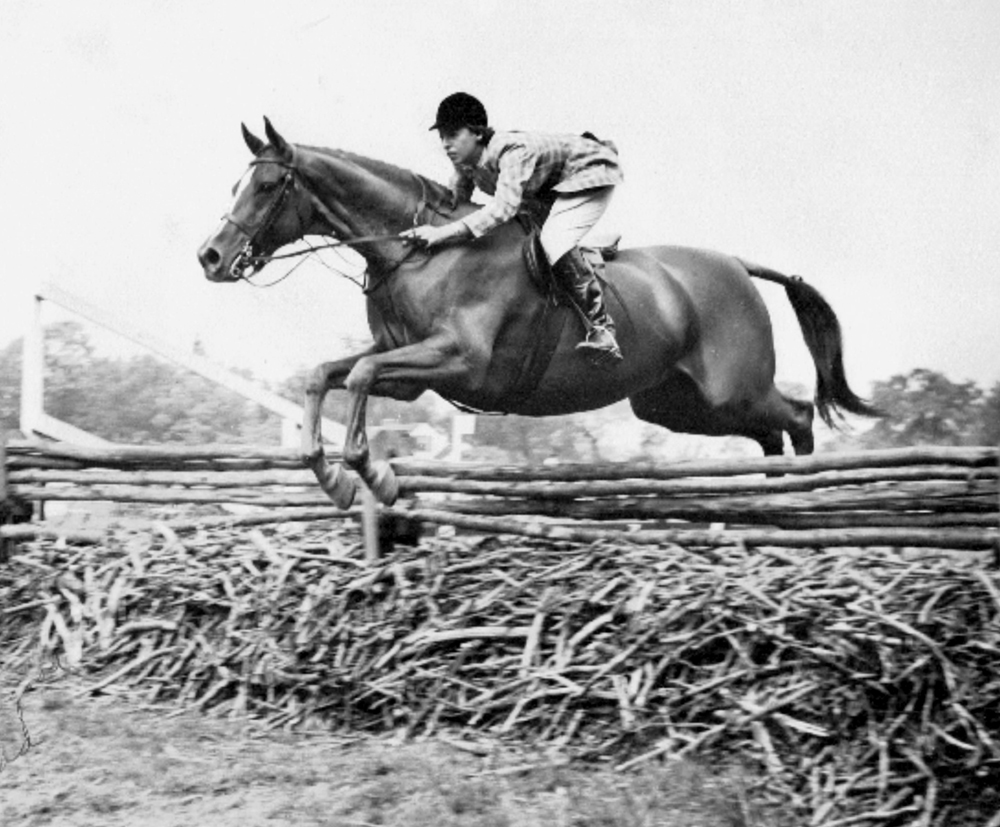 Peggy Augustus on Waiting Home at the 1955 Piping Rock Horse Show (N.Y.).
Waiting Home was never shown in under saddle classes, but during the six years that he showed, he was only beaten in a model class twice (both in 1957). Mrs. Parker Poe's Jack Blandford beat him once, and John S. Pettibone's Duke Of Paeonian beat him once.
After the 1957 season, at the age of 10, Waiting Home was informally retired to Old Keswick, where he lived out his years. Augustus tried to ride him when he was 23, but the old gelding still bucked.
Every day, Waiting Home would be turned out in a pasture with a big hill overlooking the farm. He'd pose up on that hill daily. One day, when Waiting Home was 25, Augustus was watching him as he posed. All of a sudden, he jumped up in the air and dropped to the ground dead.
Waiting Home has been inducted into the National Show Hunter Hall Of Fame and the VHSA Hall Of Fame. The Model Championship trophy at the Keswick Horse Show is a beautiful full-color statue of Augustus in her shadbelly jumping Waiting Home. The trophy is one of the most coveted trophies in Virginia.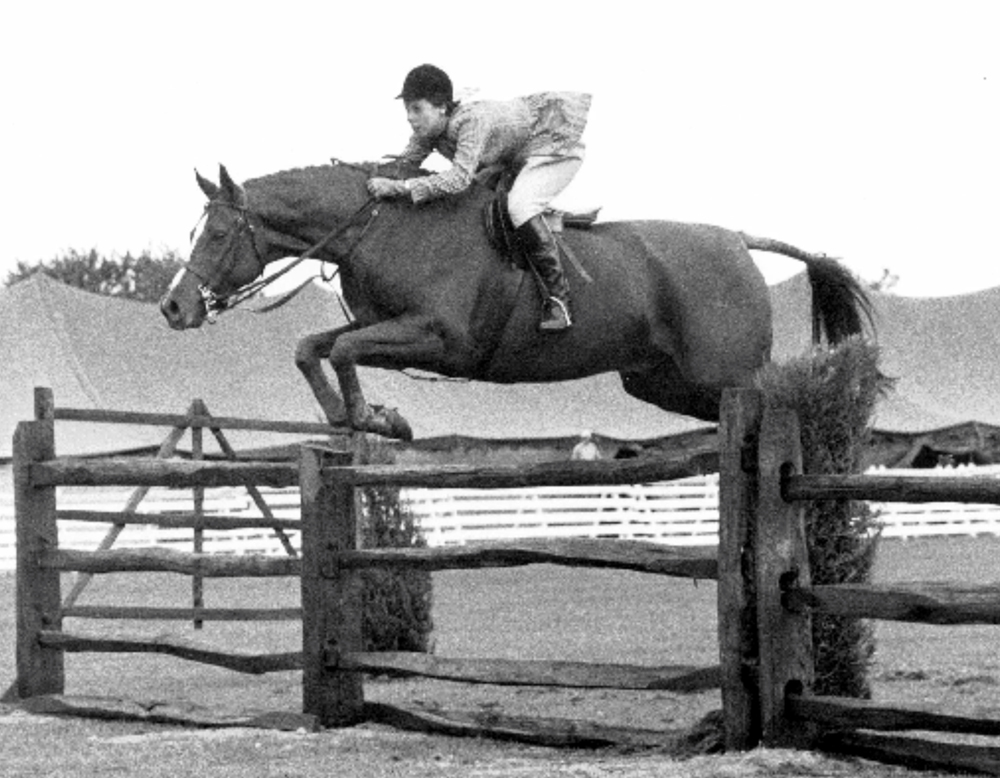 Waiting Home and Peggy Augustus showing at the 1957 North Shore Horse Show.
Augustus was an amateur who showed against the professionals. Besides Waiting Home, she also rode Hall Of Fame horses Little Sailor and Sutton Place to much success and then became one of the top breeders of Thoroughbred race horses in this country. She broke and trained all of her Thoroughbreds herself.
Augustus has been inducted into the National Show Hunter Hall Of Fame, the VHSA Hall Of Fame, the Virginia Sports Hall Of Fame, and in 1996, was named a "Living Legend" at the National Horse Show.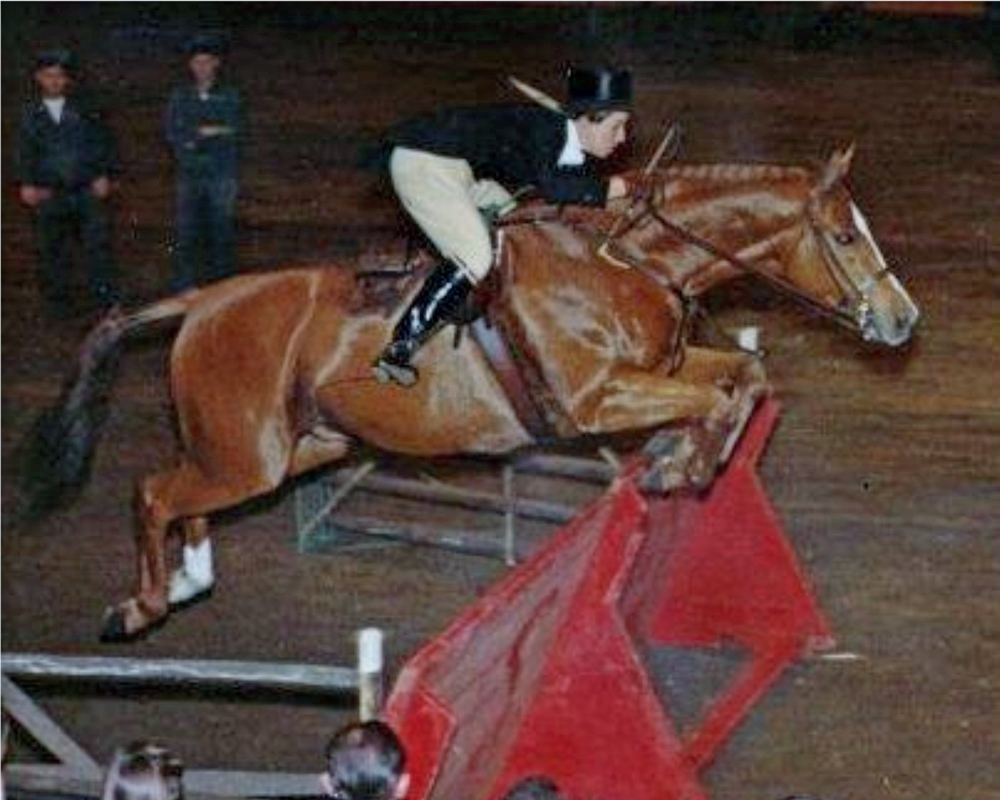 Waiting Home and Peggy Augustus on their way to another championship at the National Horse Show in 1957.