For a 12-year-old girl, traveling from California to the East Coast to compete at the big indoor shows was incredibly exciting. Back in the 1970s, that trip across the country was much more rare.
So imagine Chrissy Bushkin's delight when at the age of just 12, she was able to take home the grand junior hunter championship from the prestigious National Horse Show at Madison Square Garden in New York City. It was 1975, and Bushkin and her 6-year-old Anglo-Arab, Joe Hill, achieved that remarkable feat.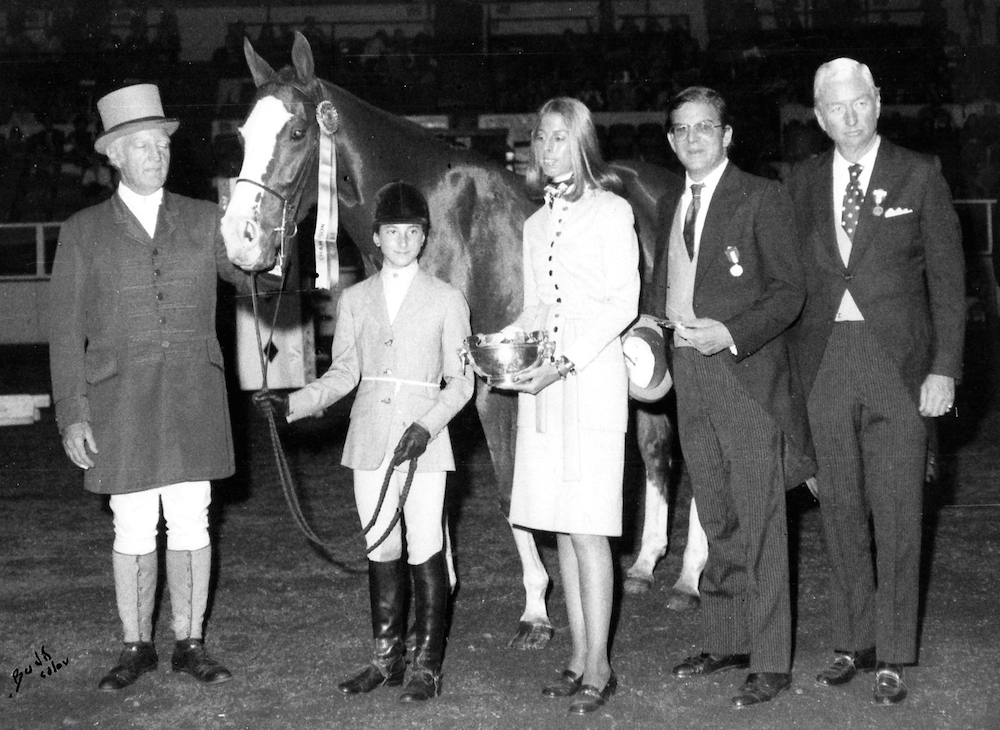 Chrissy Bushkin (second left) and Joe Hill being awarded the grand junior hunter championship at the 1975 National Horse Show by Holly Hugo-Vidal (center). Bushkin was just 12 and Joe Hill 6. Photo by Budd
Back then, it was rare for a junior rider from California to beat the top horses and riders that the East Coast had to offer, much less one of such a young age. It had been done one other time, in the '60s, when Lindy Patrick of California showed her mare No Commotion to multiple win against the top East Coast junior hunters.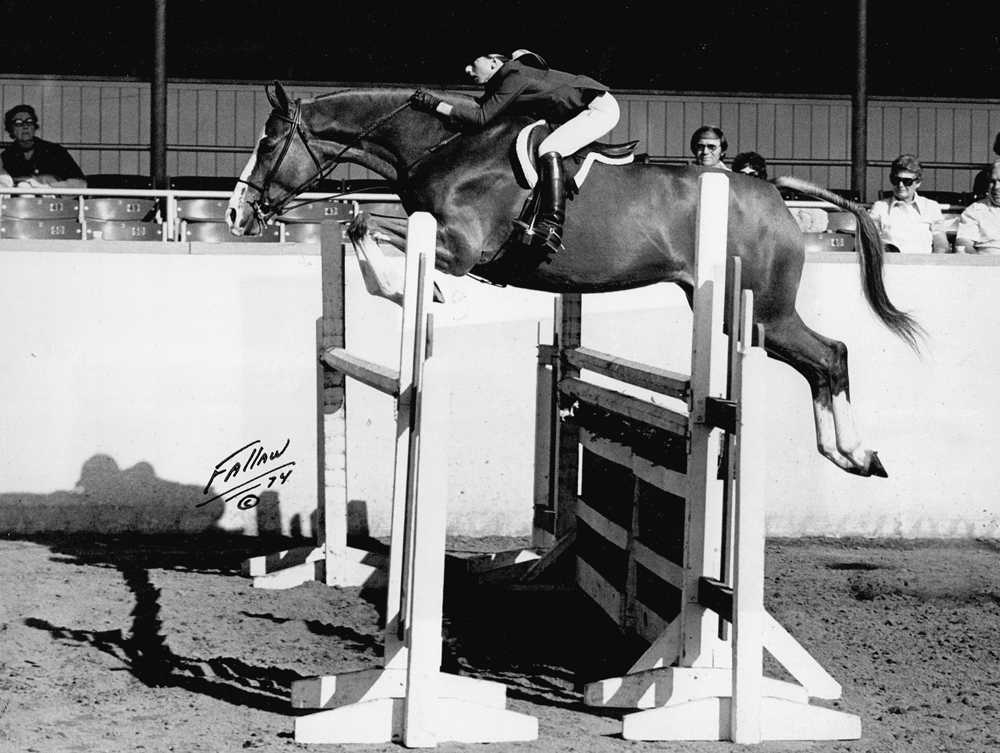 Chrissy Bushkin and Joe Hill showing in Santa Barbara, Calif., in 1974 when Bushkin was 11 and Joe Hill just 5. Photo by Fallaw
The chestnut colt with all the chrome who later became known as Joe Hill was foaled on a ranch in Utah in 1969. As a yearling, he got hung up in a wire fence. The accident peeled back the skin on the cannon bone of a front leg and damaged his hoof. A very skilled veterinarian sewed the flap back on so that, once healed, all that was left was a flat thin scar, but a top farrier was needed for the hoof for the rest of his life.
On a buying trip to Utah, California horsewoman Cynthia Campbell saw the injured yearling and bought him so that she could nurse him back to health.
Some months later, he was turned out in a field one day when another California horsewoman, Sharon Stewart-Wells (then Sharon Crow), saw him. She loved the look of the striking colt and told Campbell that if she ever wanted to sell him, that she'd like to buy him. For the next year, every time the two would talk, Stewart-Wells would ask about the colt. Finally, one day her phone rang and the 2-year-old gelding was hers.
Stewart-Wells named the colt Joe Hill, after the song made most famous by Joan Baez about a Swedish-American labor activist, songwriter, and member of the Industrial Workers of the World (IWW, familiarly called the "Wobblies") who was unjustly executed by firing squad for a murder in Salt Lake City, Utah in the early 1900s. Stewart-Wells nicknamed him "Joey."
As he turned 3 in 1972, Stewart-Wells started showing the 16.2-hand Joe Hill in the four-foot conformation hunter division throughout Southern California. That summer, she also married Rusty Stewart (son of Show Jumping Hall Of Fame member Russell Stewart).
Although Russell Stewart was working for the Bushkin family at their Cristimar Farm and training their three daughters (Maria, Tippy, and Chrissy), he would help Stewart-Wells with her big colt. Stewart-Wells said that Joey was easy to train but liked to get a little quick at the jumps at first. Russell had her drop the reins approaching a jump and Joey figured out on his own how to set up for a beautiful jump. This method of riding him continued throughout his life.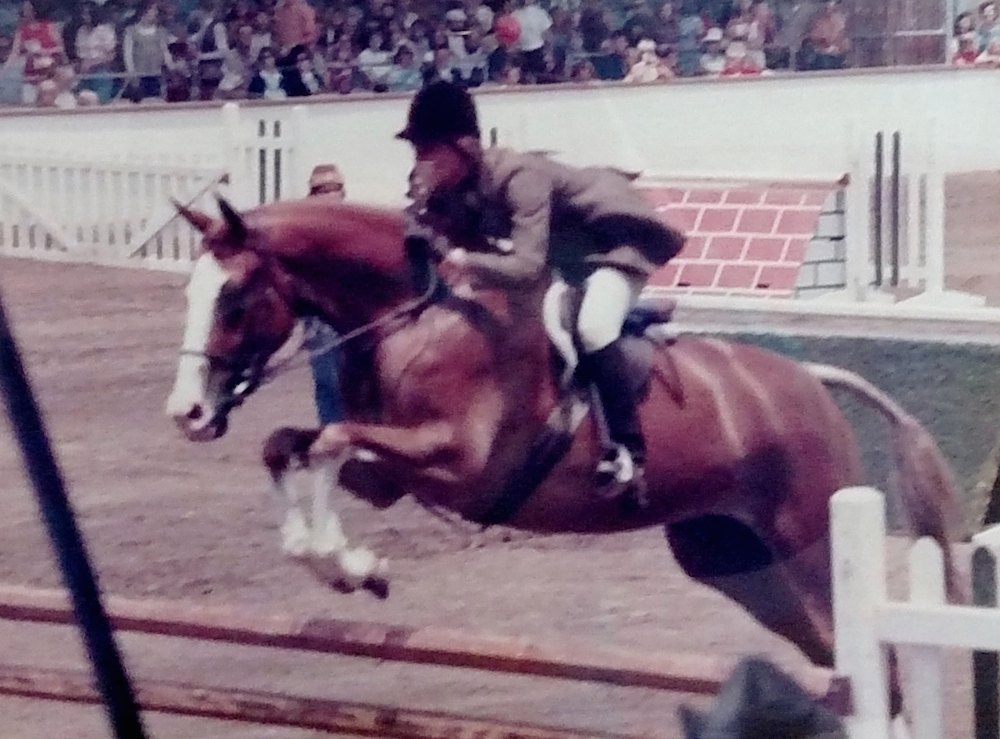 Sharon Stewart-Wells showing Joe Hill at the 1973 Del Mar horse show.
Joe Hill was Stewart-Wells' horse and he was not for sale. She had shown him for a year when one day, after being conformation hunter champion at Del Mar in July of 1973, as she got back to the barn, Stewart-Wells was met by her husband, Rusty, and his father, Russell, who told her that Joey had been sold to Russell's clients for their 10-year-old daughter Chrissy Bushkin.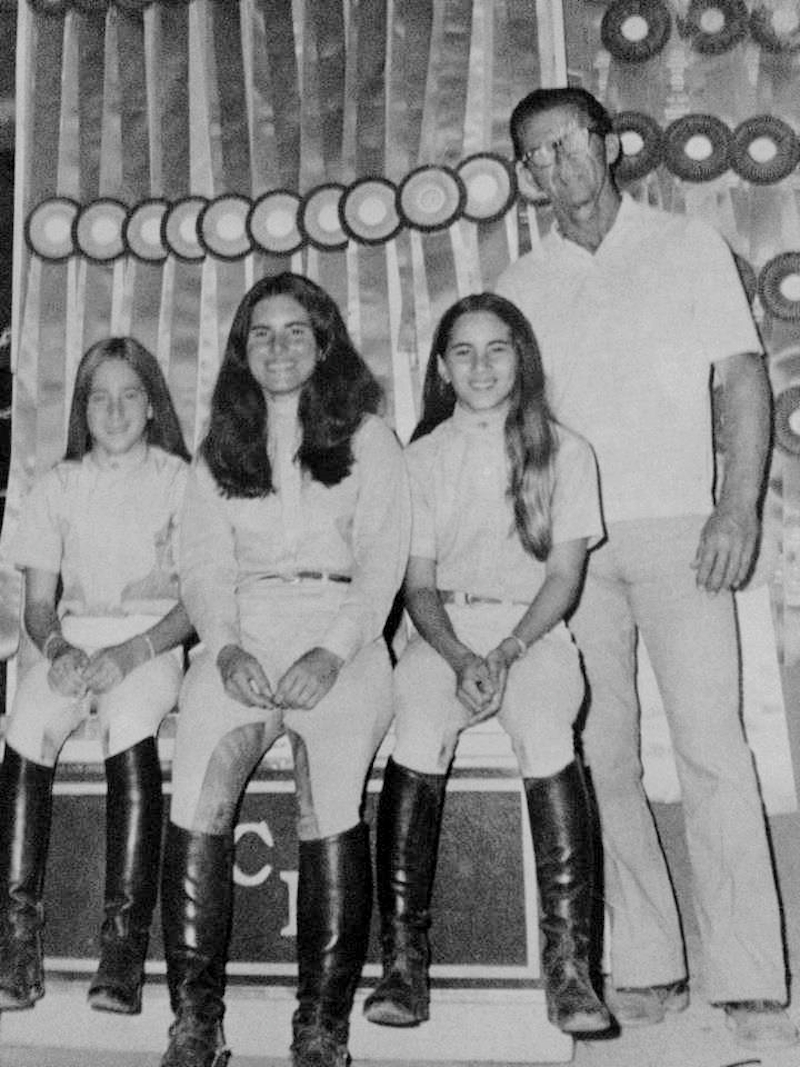 The Bushkin girls (from left) Chrissy, Maria and Tippy with trainer Russell Stewart (right).
Stewart-Wells was very upset that her Joey had been sold but as she says now, "the old saying 'things happen for a reason' really fits this. Joe Hill went on to win many championships with Chrissy and had a very good home for the rest of his life."
With Russell training, Joe Hill and Chrissy became an unbeatable team. Starting in the winter of 1974, they were champion at all of the major California shows for the next two years. With this success under their belt, Russell took his young student and her young horse east for the three major indoor shows in the fall of 1975.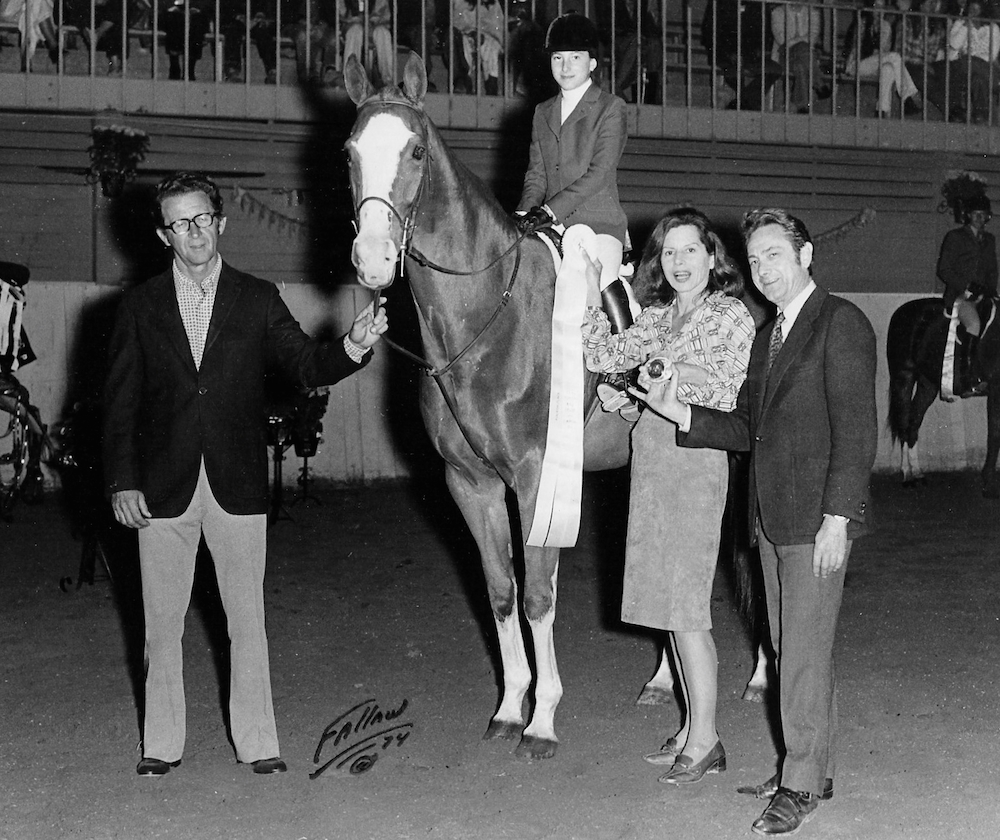 One of Chrissy Bushkin and Joe Hill's many championships in California in 1974. Russell Stewart (left) holds Joey as Chrissy's parents Joe and Francine. Photo by Fallaw
Joe Hill and Chrissy got ribbons at the Pennsylvania National and Washington International but it was at the National Horse Show at Madison Square Garden where the pair shone. Even though Joey never showed in under-saddle classes, at the end of the weekend of the National, the 6-year-year old Joe Hill with his 12-year-old rider, Chrissy, had amassed enough points over fences to be awarded the championship in the large junior hunters and also the junior hunter grand championship.
For the first several years, the Bushkin girls trained with Russell out of their Cristimar Farm in Santa Barbara, Calif., but in the mid-1970s, they all three decided that they wanted to show from a barn in the East so that they could go to the best shows weekly. Maria took her horses to show with Rodney Jenkins in Virginia. Tippy and Chrissy went to train with Hunterdon in New Jersey (George Morris, Bill Cooney, and Frank Madden).
It was during the years training with Hunterdon that Joe Hill and Chrissy were champion (at least once) at all of the major shows that the Northeast had to offer including Devon (Pa.), Lake Placid (N.Y.), Washington International, Pennsylvania National, and once again at the National Horse Show (when Chrissy was 16).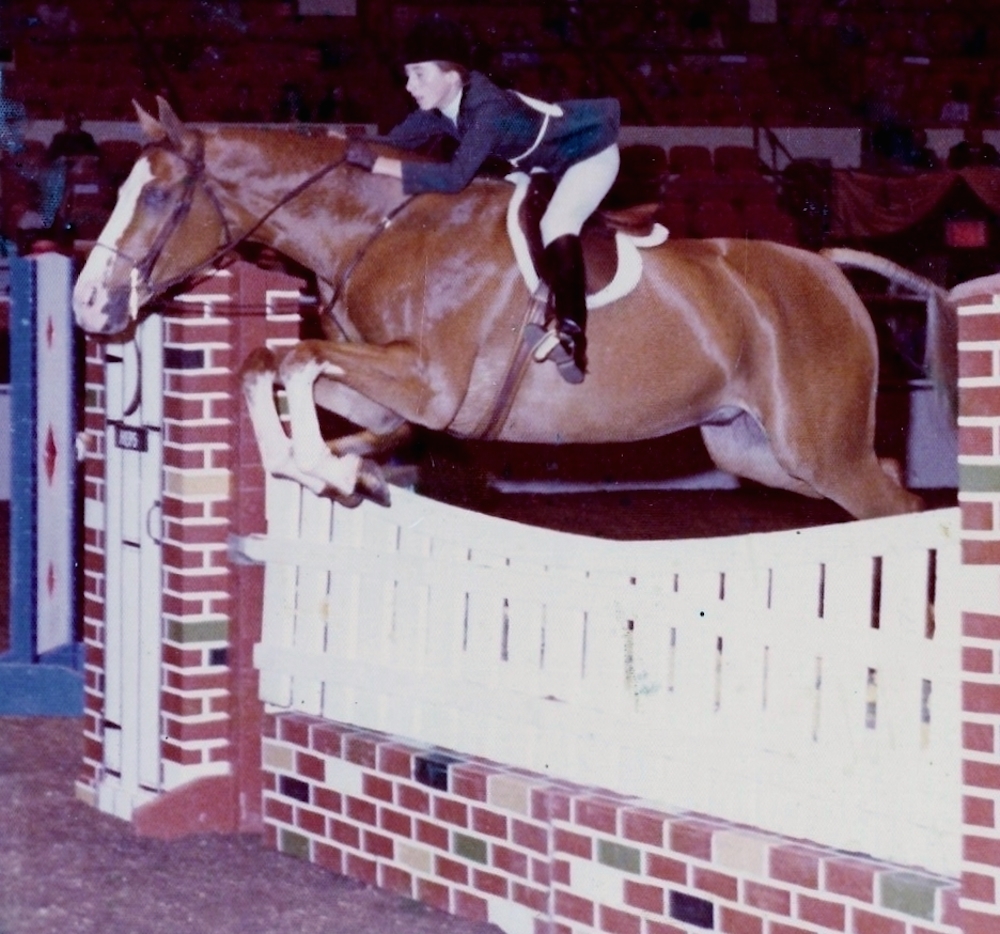 Chrissy Bushkin and Joe Hill in their 1978 National Horse Show appearance.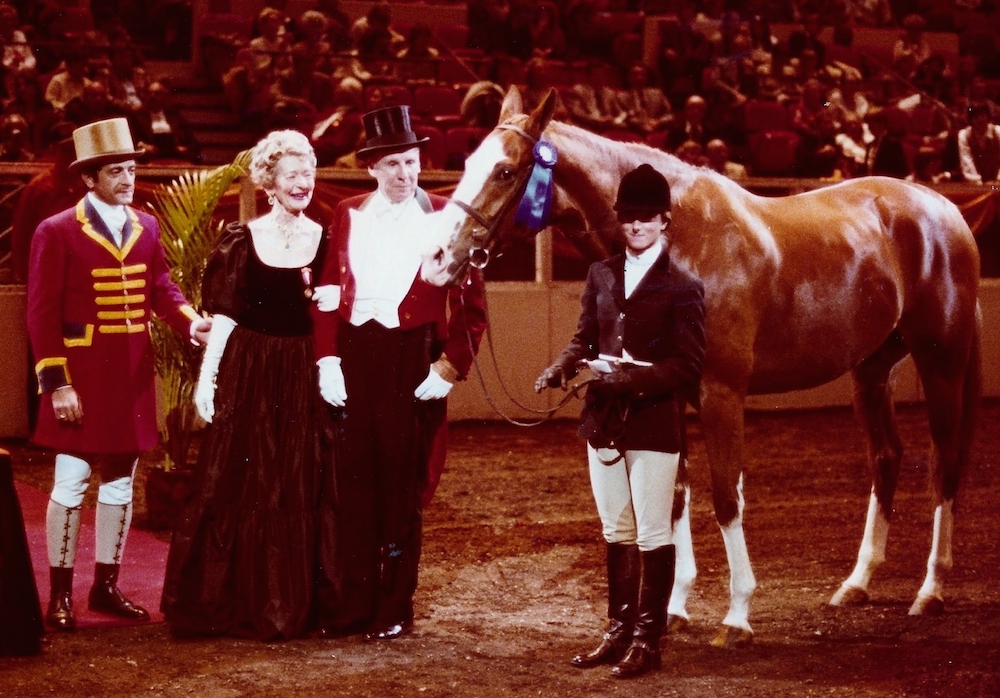 Four years after their first National Horse Show junior hunter championship, Chrissy Bushkin and Joe Hill repeated the title. Bushkin was then 16.
Chrissy said, "Joey was my baby. He had a great personality, was honest, and never did one thing wrong but he was like a child and could always find some way to get hurt in the paddock."
After all of the winning that Chrissy did for the next 10 years, on many great horses, it was being grand champion at the Garden on Joe Hill in 1975, when she was 12, that remains her best memory of her years showing.
When Joey was retired from showing in the early 1980s, he returned to Cristimar Farm to live out his life. Chrissy was living on the East Coast but when she would return home to Santa Barbara, she would take Joey on trail rides and for gallops down the beach.
Chrissy continued showing until the mid-'80s and remained on the East Coast. After receiving her master's degree in Social Work from Columbia University (N.Y.), Chrissy saw a gap in the healthcare system and founded The Bone Marrow Foundation, which "offers financial assistance and free support services to bone marrow/stem cell transplant patients and their families." Celebrating its 25th anniversary this year, the foundation has helped over 100,000 patients and their families to date.
Chrissy attributes "the years of riding, showing, and especially the discipline that George Morris instilled" in her to the success of her career. Chrissy has four sons (ages 12 to 22) and continues to dedicate her life to The Bone Marrow Foundation.