It's amazing what you can find when you just open one of the bound volumes of old issues of The Chronicle of the Horse. The below images of pages from old Chronicle issues came from looking at just four July issues in 1968.
First, did you know the famous jumper Idle Dice got his start in the hunter ring? This photo of "Ike" and Bernie Traurig appeared in the July 19, 1968 issue amid the results of the Fairfield Hunt Club Horse Show (Conn.). (We're laughing with you at the fact that there's a typo in Idle Dice's name!)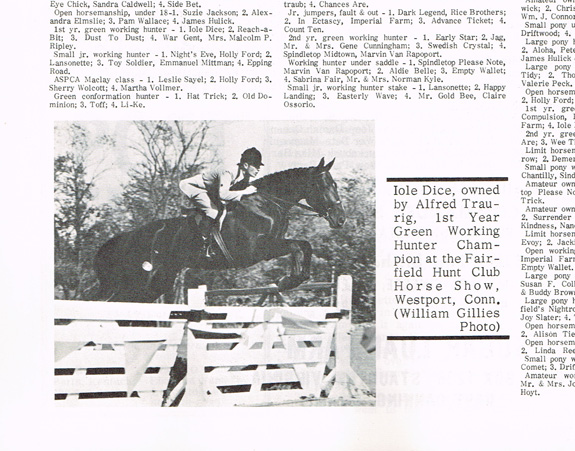 Would it surprise you to know that even back in 1968, people thought show hunters had strayed too far from their field-hunter roots? Check out this Letter To The Editor that was printed in the July 5, 1968 issue of the Chronicle.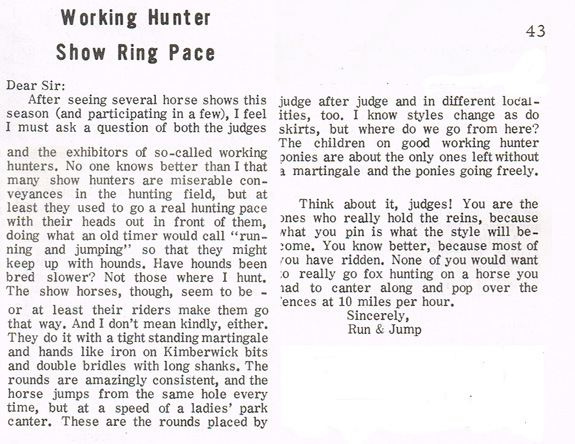 Just one page in the Chronicle can hold so much history. For example, this July 12, 1968 photo page of show champions of the Ox Ridge Hunt Horse Show (Conn.) shows Rodney Jenkins and Quiet Flite, Mary Mairs Chapot on White Lightning, the recently deceased Carol Hofmann Thompson on a hunter owned by the legendary Mrs. Miles Valentine, and Brook Hodgson, who went on to win both the AHSA Medal and ASPCA Maclay Finals that fall. Hank Minchin, who won the ASPCA Maclay Finals in 1959, and Debbie Wilson on the famous Rapid Rise are also there.