"An arrow can only be shot by pulling it backward. So when life is dragging you back with difficulties, it means that it's going to launch you into something great." -Anonymous
I met Nikki at Benchmark Farm in 2005, when I was still riding my large pony, Pendleton Sly Fox. Nikki was sent to my trainer, Kip Rosenthal, to be evaluated before being sold, or barring that, donated to a college program. I remember my first time riding her was just to hack her so she got some exercise that day.
I hated riding her. I was used to my kick-along pony; Nikki felt like I was sitting on a Ferrari on misaligned rollerskates—I remember telling my mother that Nikki's canter felt like a washing machine. Her sensitivity and responsiveness made me nervous, her less-than-friendly demeanor on the ground startled me (she does an excellent impression of an angry alligator when you tack her up or put blankets on her, and while I know now that it's all for show and she has no real intention of biting you, I didn't know that then).
I certainly did not expect that she would be my best friend and partner for so many years to come. I don't think anyone did, with the exception of Kip's barn manager, Joan Brierley, who told my mother that she thought my parents should buy Nikki. How prophetic, in hindsight.
My "trying" Nikki, if you can even call it that, was due to timing rather than due to interest in pursuing her purchase. Kip wanted me to have a lesson that day and my pony had gone to a show the day before, so she told me to tack up Nikki and ride her.
I was dreading it! Flatting Nikki at that time was not a particularly pleasant experience, and I couldn't imagine that jumping her would be much better.
How wrong I was.
Jumping was a dream. There were a few jumps where Nikki really cracked her back and almost launched me into the stratosphere (Kip joked that I had a few close calls with the rafters in the indoor ring), and while I was a bit alarmed by the prospect of landing from the jump nowhere near my horse, I couldn't believe the feeling of jumping such a powerful animal.
Nikki took care of me around the courses we did, despite some questionable distance choices on my part, and that prompted my mother to look into purchasing this chestnut Thoroughbred mare who, until that day, had not been terribly impressive.
Although my parents weren't actively looking for a horse for me, Nikki seemed like a good fit and had a price tag that they could make work, with some help from my grandmother, who always supported my riding and came to many shows with us. My mother's main criterion for any junior hunter/equitation horse for me was that it had to have the scope to jump 4 feet so I could make a mistake in the 3'6" classes without it being dangerous, and Nikki clearly fit that bill, although no one knew then what she was capable of.
Soul Sisters
I often say that Nikki is my soul mate, and I sincerely believe that she is. However, that doesn't mean that all of our training together has been seamless and easy. The learning curve I was on during the first winter we were partnered was extremely steep, and there were a few nights where I went home from the barn in tears because I was frustrated.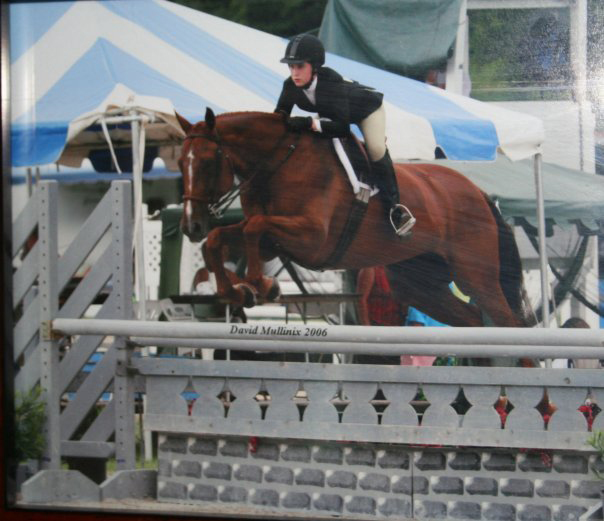 Nikki and I during our brief junior hunter
career together.
Photo by David Mullinix
Nikki taught me that I couldn't demand that she do something; I had to ask, and if she was in a bad mood, I had to find ways to trick her into thinking that what I wanted was her idea. Outsmarting Nikki is no simple feat, as I discovered quite quickly, and I had to learn to be persistent without bringing any emotion into it.
Kip told me that "your emotions have to be like a light switch, you have to be able to turn them on and off with just a click," a principle that I still practice in my non-riding life when I'm stressing out. I think sometimes people don't focus on how much of riding is as much mental training as physical training.
Nikki and I had a short-lived career in the junior hunters, where she babysat me around courses while I hyperventilated in sheer terror. Really, 3'6″ fences look quite big when you're used to showing in the pony hunters!
Shortly before the USEF Junior Hunter Finals in 2007, Nikki had a bout of colic and ended up having surgery at New England Equine Practice in Patterson, N.Y. She came through that successfully and we spent the summer bonding over short hand-grazing periods, hand walks, and grooming.
Switching To Jumpers
I'm going to gloss over the next few years with fewer details than I included in the earlier part of this. The short version is that Nikki and I did our first jumper classes together when Kip threw us into the proverbial deep end at St. Clement's Saratoga and put us in the low junior jumpers. If you ask her about this now, she'll snicker as she recalls my completely bloodless face and my telling her, while sitting in the in-gate on deck, that I was pretty sure I was about to throw up.
We spent a year in the low juniors before moving up to the high juniors, and less than a year after moving into the high juniors, we did our first grand prix.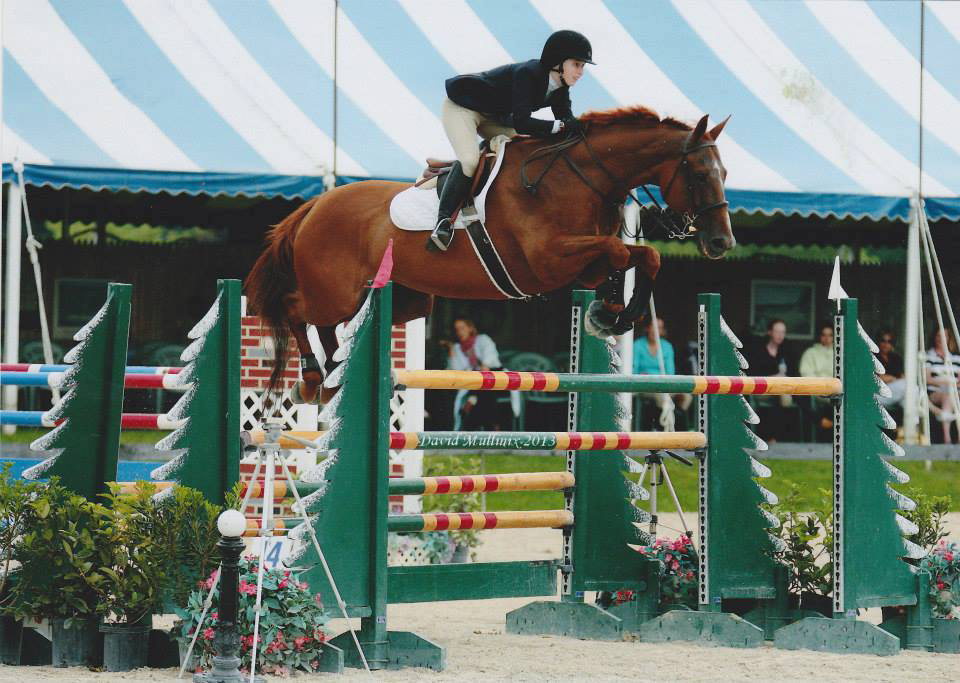 Jumping in grand prix classes with Nikki was something
I never expected when I first started with her.
Photo by David Mullinix
But aside from our accomplishments in the ring, I love that a horse who didn't trust anyone when we got her now is eager to meet people. It's so gratifying to come home on university breaks and see Nikki's excited reaction when I walk in the barn; she nickers at me, licks my face, and wants face hugs. There's nothing as rewarding as having the love of a mare who almost fell through the cracks.
To say that Nikki has exceeded everyone's expectations would be the understatement of the century. For a small junior hunter with the stereotypical chestnut mare attitude to go on to be my open jumper (when I never dreamed of doing the jumpers at all) was completely unexpected. Although we haven't had loads of success in terms of blue ribbons, the journey so far has been extremely rewarding, even if it was frustrating in the years where we weren't consistent in the bigger classes.
For several reasons, we don't compete during the winter; between finances and scheduling impossibility, it's not doable. I like to give Nikki a few months of down time each year, but it does mean that our five or six shows a year are a little more difficult since we have to get back in the swing of things. We've done the best we can with the resources we have, and I try to focus on the journey, not the destination.
I'm so grateful to my parents, to "team Nikki," to Kip, and to Elzabeth for helping us to get to where we did, from my mother keeping Nikki in shape while I'm in Minnesota, to Elz keeping me in shape, and Kip being my trainer, mentor, and friend, knowing exactly how Nikki and I need to get to the ring.
What Happens Now?
I don't know what the future holds for us; I thought last year would be our final year playing in the bigger classes, but Nikki is getting better with each year, and I'm finally starting to figure out how to ride at the 1.45-meter level and bigger more consistently and accurately.
I'm hoping that we can have a clear round in a grand prix this year; we've had several where Nikki would have jumped clean if I hadn't made mistakes, so I'm really hoping that I can get it together this year. Nikki made it abundantly clear to me last year that she's not ready to stop, so I'll keep playing with her until something tells me it's time to step down.
In the meantime, I'm going to enjoy the journey and be thankful every day for this amazing chestnut Thoroughbred mare with a double whorl on her forehead, the incredible team of people behind us, and the circumstances that got us where we are.
Emily Pope, 23, started her relationship with Seize The Moment, an off-the-track Thoroughbred and a chestnut mare, in 2006 and they began in the junior hunters. Emily quickly realized "Nikki's" talents lay in the jumper ranks, and they worked their way from the junior jumpers to the grand prix. She rides with Kip Rosenthal and Elzabeth Lampert.
Emily graduated from the University of Minnesota in 2013 with a B.S. in animal science, spent a semester studying aboard in Madagascar, and now works in cancer research. Read Emily's introductory blog, "Taming My Inner Gecko."