My original idea for this Throwback Thursday post was to dive into issues from 1964 and find photos of the kinds of fences hunters used to jump 50 years ago. Since the USHJA International Hunter Derby is taking place, I wanted to show how the jumps have changed.
I did find those photos, but I also found this gem, and I knew I had to highlight it.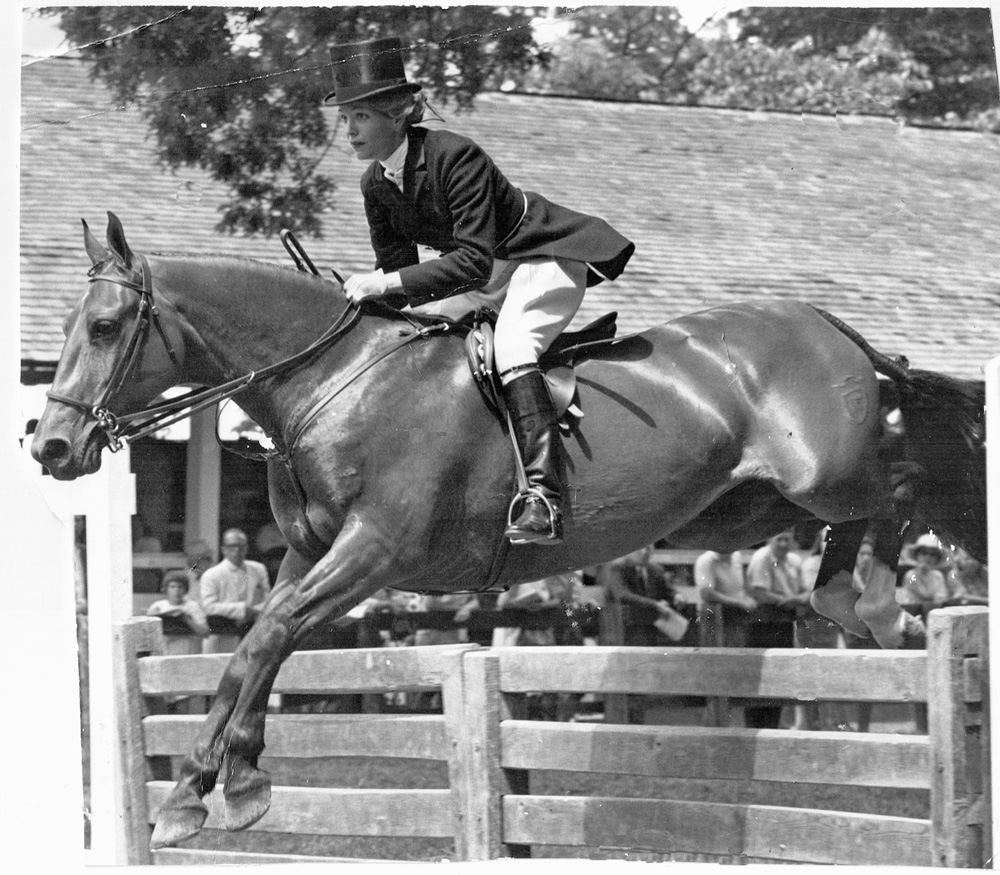 Howard Allen Photo
This is a photo of the inimitable grand dame of horse shows, Sallie Wheeler (though at the time this photo was taken, she was Sallie Motch—married to her first husband, Robert Motch) riding the famous mare Isgilde at the 1964 Upperville Horse Show (Va.).
Look at her perfectly coiffed hair under that classic top hat (no, back then helmets just weren't worn and style triumphed over safety). It must be an appointments class, because she's got her hunt whip in her right hand, and if you look closely, you can see a pair of gloves tucked under the saddle flap. The flared breeches were standard in the days before stretch fabrics, and her shadbelly is of an understated cut, with curved tails.
Look at her position, perfectly balanced over the center of the horse, with a nice softness in the reins and her eyes looking to the next jump. She's using a hunting breastplate and a running martingle—now breastplates are very rarely seen in the hunter ring and the only martingale that appears is a standing (though running martingales are still legal!).
I know Isgilde jumped in perfect hunter form, because I've seen other photos of her. But this photo is timed as so many of that era were—in the beginning of the landing phase of the jump. Back then, the emphasis wasn't so much on the "perfect" moment of the tightest knee-tuck, but on the forward-going and boldness of the horse, and this moment captures that quest for the next fence perfectly.
It's interesting that you can clearly see Isgilde's warmblood brand on her left hindquarter in this photo—she was one of the very first imported warmbloods in what was then a hunter ring dominated by Thoroughbreds.
The process of finding photos that ran in old Chronicle issues isn't an exact science. Before around 1972, there is no index of the issues, so there are 37 years of weekly issues filled with history and you never quite know what might be in one when you open it. Flipping through a bound volume of issues from the 1960s, you can find a photo, ad or article that embodies the history of our sports on almost every page.
If you see a photo you'd like to use or look at more closely, then you have to traipse up to the attic of the Chronicle building and consult the photo archives. Starting in the 1950s, the photos are organized into folders by issue date, so I found this photo in the June 19, 1964 folder in the file cabinets. Photos from the '30s or 40's, however, were not so thoughtfully organized, and they're in folders arranged alphabetically by subject, so it's almost impossible to find a specific photos. But shuffling through those stacks of prints is an exercise in time travel—absolutely fascinating.
This particular photo was used in a "Guess Who" collage printed on the back cover of the magazine. Back then, "cut and paste" was quite literal, so the print photos that made up this collage had been cut into different shapes, then glued to a piece of paper in an artful design and numbers glued to their fronts. Once the magazine was printed, they were pulled off that paper and filed away without much care as to their preservation.
Flipping through bound volumes of the Chronicle and perusing the photo archives is a trip down the lanes of the very history of our sport. I always learn something and am always enchanted.
"Throwback Thursday" might be a child of the social media, but it's also become one of my favorite assignments. I think it's a great way for us to bring to light gems of history like this that lie hidden in the pages and files of the Chronicle.