"I have a tendency to over-think my tests sometimes, but today was the most relaxed I've ever been—I think partly because I know that come Saturday the competition will probably be turned on its head," said Paul Tapner after winning the first day of dressage at the Mitsubishi Motors Badminton CCI**** (England) with Kilronan.
Ignoring the relentless dampening drizzle, Frederick and Penny Barker's elegant grey performed a faultless, soft and flowing test to finish on a score of 36—just 0.2 of a penalty ahead of this morning's leader Francis Whittington on another grey, Easy Target.
The Australian Tapner said: "Kilronan had been turning in tests in the 30s at the three-star level, but for a couple of seasons I'd been scratching my head about why we couldn't replicate this at four-star. I spent time analyzing every step and working out where we were losing marks, and I was really pleased with my test today."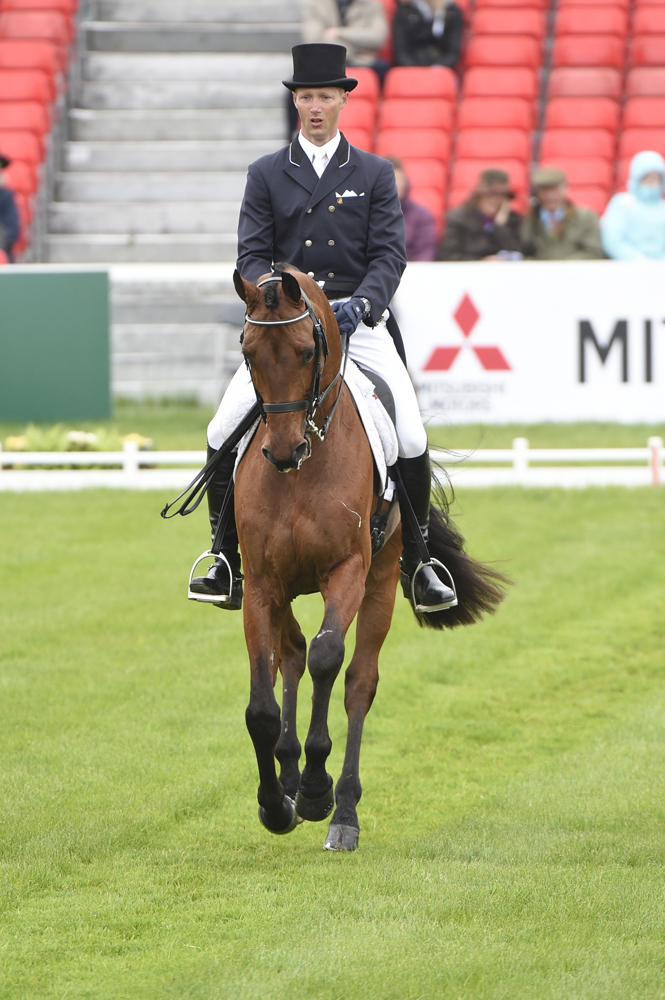 Clark Montgomery on Universe
Photo by Kit Houghton/
Mitsubishi Motors Badminton

Lucinda Fredericks and Richard Ames' and Angus Murray's Flying Finish also scored in the 30s. Their mark of 39 leaves them in third.
The 2007 winner said: "I've walked the course twice now and it's most definitely a true four-star test—and the ground conditions are going to make it tougher. The last time I rode in the real wet at Badminton was probably in 1992 aboard Arctic Goose. Flying Finish has had a good lead-up to Badminton. His last run was at Bicton, which—luckily—was in the wet."
U.S. rider Clark Montgomery scored a 50.8 to take 18th on the first day of Badminton dressage aboard Universe. He is due to ride Loughan Glen in Friday's dressage.
U.S.-based Australian rider Peter Atkins rode Henry Jota Hampton into 36th place with a 62.2 score; you can read all about Atkins' Badminton in his blogs for the Chronicle.
But Badminton is definitely not a dressage show and word is Giuseppe Della Chiesa's first Badminton course is an eye-opener. Here's what some of the riders are saying about it…
Lucy Jackson: "It's meaty. It opens you out right from the start and needs serious attacking."
Sarah Cohen: "You need accuracy, scope and guts… that's all! It's a proper four-star track for sure."
Giovanni Ugolotti: "It's definitely an attacking course—we will have to be very positive and ride forward. The ground is pretty perfect at the moment but it will be soft enough if we have more rain."
Izzy Taylor: "It's a step up from last year. I wouldn't say that there was one part of it that I'd most like to have behind me, other than the last fence—the problems are spread around the course. It's a proper track, I'm looking forward to it."
Sam Griffiths: "It's pretty tough. I think the logs on the mound (18abc) will be influential, and the course is definitely tougher than last year—but hopefully it should suit my mare."
Caroline Powell: "It's not going to be a dressage competition. It's really in your face and I'm loving it."
Oliver Townend: "It's a serious course, particularly the line along the Vicarage Vee. I'll tell you on Saturday night if it suits Armada."
Gemma Tattersall: "It's big, bad and bold. I'll be pleased when fence 18 is behind me—I need to ride it like I stole it."
Michael Owen: "It's going to need a rideable horse to make a good job of it"
Mary King: "I've only walked the first few fences and the last few, but it looks gorgeous. I can't wait to walk the rest and get my teeth into it."
Izzy Taylor: "Being first to go in the dressage is never a great place to be, but come Saturday, if we have the rain that's expected, I might just be thankful for it."
William Fox-Pitt: "It's not a course where you're going to be able to get home on a tired horse."
Mark Todd: "Giuseppe [Della Chiesa, the course-designer] has given us a decent test. He's breathed some new life into the course. I like it. Hopefully my horses will cope with it."
Andrew Nicholson: "Giuseppe has done a great job. He's changed the style of the course. There is a lot of serious jumping combined with some real accuracy tests—that's what cross-country riding is all about."
See the full results from the Mitsubishi Motors Badminton CCI****.