Donna Struve and her star adult amateur hunter start the year off with a win at Ledges.
When Donna Struve went looking for a new adult amateur hunter five years ago, she thought she knew exactly what she didn't want.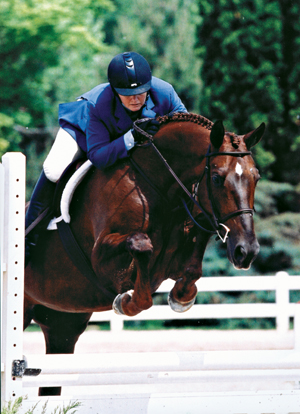 "When we went to try horses and my trainer told me we were trying two chestnut mares I groaned," she recalled. "I told him I absolutely didn't want a chestnut mare, but as soon as I saw her I fell in love."
Fast forward five years and countless championships later, and Struve couldn't imagine life without Tapestry. The pair started this year off right at the Ledges Winter Classic in Roscoe, Ill., capturing
the adult amateur hunter, 36 and over, championship, Jan. 3-6.
Struve took home a second championship ribbon when her Dublin Bay topped the low hunter division with Josey Voelker in the irons, and her veteran adult amateur mount Flaglar earned a blue ribbon over fences as well.
Winning at Ledges is hardly new for Struve. She and her string of top adult horses have been fixtures in the Illinois show scene for years, consistently finishing near the top of the zone and putting in a strong performance at the NAL adult hunter finals at the Pennsylvania National Horse Show.
Struve, Wilmette, Ill., credits trainer Scott Gentry and her farm manager Josey Voelker with keeping her and her horses show-ready. "I don't jump much at home except with the younger horses," said Struve. "I do a ton of flatwork. This year I've been working very hard at riding correctly, making sure that every time I got on I got down to business and didn't just putz around."
With three competitive horses in the adult amateur division and a few younger horses finding their feet in the modified adults, Struve maintains a busy riding schedule. But she makes no apologies to other mounts when she admits that Tapestry remains her barn favorite.
Her bond with Tapestry doesn't just stem from the liver chestnut mare's prowess in the show ring. Five years ago, Struve lived through every horseman's nightmare when two of her show horses died one right after another, the first after a freak pasture accident and the second due to complications from colic.
"It was devastating—just so hard to deal with," recalled Struve. "Then I found Tapestry, and she just was a godsend. She's just the sweetest, best mare, and so very good."
Tapestry, who Gentry and Struve found from Hunt Tosh, started out her career as an adult horse when she was still decidedly green. "At the beginning it was just jump to jump," recalled Struve.
But over the next four years the Hanoverian proved herself Struve's most reliable partner and the backbone of her lineup of stellar adult horses. This year Tapestry topped the adult amateur hunter, 36 and over Zone 5 rankings, with Flaglar finishing right behind her and Dublin Bay taking fourth. And at the NAL Finals Tapestry finished sixth overall, and Dublin Bay took ninth.
As a child growing up in Dublin, Ireland, Struve imagined having her own farm like the ones where she learned to ride. When she came to the United States as a 21-year-old she began riding more seriously, and she never let go of her dream to one day have a farm of her own. This last year she finally brought her ambition to life and opened the doors to Tapestry Farm, named in honor of her favorite mare, and Struve couldn't be happier.
"I know a lot of people show and compete just to compete," said Struve. "There are plenty of days when I'd rather just go hang out with my horses at the barn. They're all my pets. When I walk in the barn my two geldings call for me."
In addition to her show horses and a few retired mounts, Tapestry Farm is home to a miniature cow named Mira and a donkey, Pedro, who came with the property.
"Josey has been with me since we signed the papers," said Struve. "She takes care of the farm and does a phenomenal job. She's really exceptional because she's so devoted to the animals."
With the horses settled into their new stalls, Struve plans to try her hand at breeding, and she knows just the right foundation mare. "Ever since I got Tapestry I've wanted to breed her and raise babies," she said. "We've been talking about doing embryonic transfer this March or April."
In the show ring Struve has set her sights on the NAL finals again this year, but she plans to take advantage of the proposed 3'3″ modified amateur-owner division as soon as it's established.
Mollie Bailey