Christmas is the time when reindeer fly, but at the festive charity Christmas party at the Palm Beach International Center in Wellington, Fla., flying horses greeted hundreds of expectant children. An exciting show jumping event was the background for the 600 people gathered in the to see that a community that cares can make miracles happen.
For more than 25 years, the annual holiday party has benefitted the Palm Beach community. B.J. Meeks and Pablo Perez started the tradition be asking their horse show friends to give and then passed on the donations to 300 children at the first party. Since 2008, the Caridad Center has been the beneficiary of the fundraising. The Caridad Cetner provides comprehensive health and dental services to the uninsured, working poor families of Palm Beach County. For many of these families, this holiday party would provide the only Christmas they would have.
Event organizer Caroline Moran commented, "This is our best year yet. It's been a community effort and a horse show effort. We've raised over $100,000 through this party for college scholarships, summer camps and school supplies. We're also able to give 400 kids and 600 people total an awesome Christmas Day they wouldn't have had."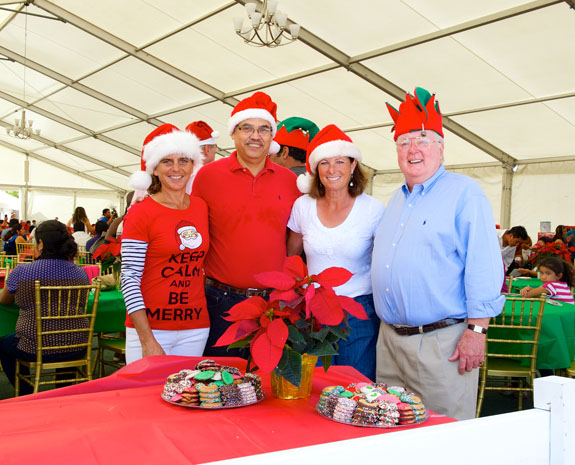 B.J. Meeks (right) and Pablo Perez (second left)
started the charity Christmas party more than 25
years ago and Caroline Moran (left) and Nancy
Hooker (second right) joined as organizers.
Photo by ManciniPhotos
Families began lining up at 8:30 in the morning to ride the carousel and enjoy an amazing holiday party complete with live music, decorations, a magician, food, cookies, presents, and many of Santa's best helpers. It was filling in for a sick Santa that first compelled Bruce Duchossois into the red suit. The event has become near and dear to his heart as well as many in the equestrian community who donate.
Duchossois said, "It is so moving and it's so great to give back to these kids. A lot of riders adopt families, and also the children of the professionals participate. It's the next generation getting involved."
Equestrians and community members adopt an entire family and get a wish list. They shop for the gifts and wrap them for the family. Moran noted, "We have 125 gift bags and 300 bicycles to give out at the end of the day. Every kid that asked for a bike will get it."
When asked if anyone asks for a Lamborghini, Duchossois laughed, "Not yet. We cut it off at age 16."
Moran noted, "Bike Street USA has donated over 100 bikes and PDQ and Tim Gannon and Cilantro donated part of the food. Mark Bellissimo and Equestrian Sport Productions have donated the tent so everyone has been very generous."
Mr. Pastor, a father of one of the participating families, said, "We're very happy that someone does this for the children. They wait all throughout the year for this event, and the children get very, very emotional when they see all of this happening."
Meeks commented, "Our philosophy was 'Every child is entitled to Christmas.' And then we collected more money and started the college scholarships and back-to-school programs because it is only through education we're going to get these kids out of this cycle. Three years ago we turned the party over to Caroline Moran and Nancy Hooker who do an incredible job."
Connie Berry, founder of the Caridad center added, "The first Christmas party we had we gave out used toys and popcorn. It's come a long way. These families are very hard working and like any other parent they want to give the kids the best. This is a real surprise, and it's such a gift."
The Chronicle published a feature story on the Caridad Christmas party in the Dec. 19, 2011 issue of the magazine. The upcoming Dec. 23 issue of the Chronicle is this year's Holiday Issue and features a great story about the Chronicle forum readers' gift exchange and our annual Holiday Pets Photo Gallery.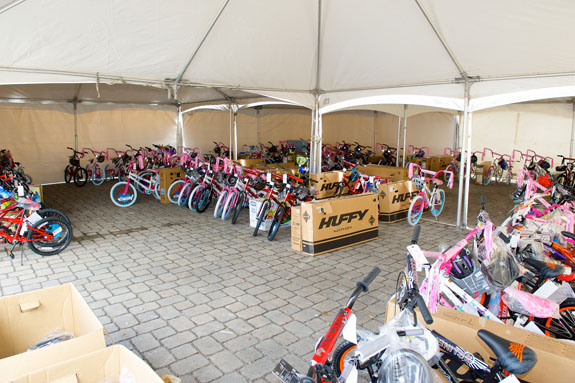 Donated bikes await eager children.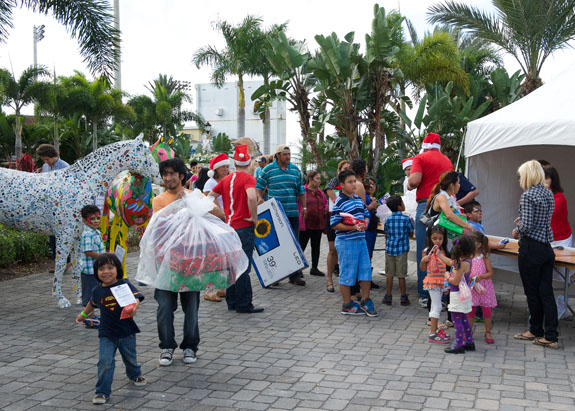 Hundreds of children had smiles on their faces after picking up their gifts.