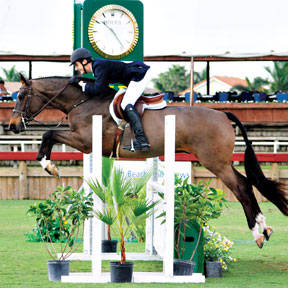 It was a great finale for Cortie Wetherill's junior years. To cap a stellar year of results in the large junior, 16-17, division, Wetherill and Take Awaytopped a field of 37 riders, including top professional Scott Stewart, to win the $25,000 National Horse Show Hunter Championship.
The two-round classic at the National Horse Show, Dec. 5-9 in Wellington, Fla., was made up of two divisions, with regular conformation and regular working horses jumping 4′ and first year, junior and amateur-owner horses jumping 3'6″. The top 12 horse and rider combinations returned to the turf arena for Round 2.
The grassy expanse of the venue's Internationale arena provided plenty of room for galloping for the hunter riders. "My focus was keeping the judge's interest the entire time," said Wetherill, who ended up with a combined score of 179 and $7,500 in prize money.
Entering the ring at a gallop, he rode straight to the first jump and executed a handy turn to the second fence. "I tried to make it neat wherever I could," said Wetherill. "My horse helped me out everywhere else. The course was a lot of fun. Everyone rode well and that made it challenging, but it was a genuine hunter course where you can show your horse off at the gallop."
Soon the 18-year-old college student—who trains with Missy Clark and John Brennan—will part ways with the 12-year-old Oldenburg as Wetherill moves out of juniors and into the amateur-owner jumper division.
"I love this horse. I've had him about three years," he said. "Take Away has a great stride, and he's so beautiful to watch and to ride."
Wetherill and Take Away collected tricolors at all the top shows this year, earning the large junior, 16-17, reserve championship at both the Pennsylvania National and the Washington International (D.C.), as well as the championship at Devon (Pa.) in the spring. At the Hampton Classic (N.Y.), they not only took the division championship but also topped the junior/amateur-owner hunter classic. They also earned the top call in the first High Performance Hunter Classic at Washington.
Stewart had two rides in the professional division, earning second place overall on the handsome black Hanoverian gelding, Beyond, with a combined score of 171. Beyond had claimed the regular working hunter tricolor, while his second classic ride, Lazy Sunday, was the green conformation reserve champion and placed fourth in the classic.
"With such a spacious field, you could really go fast on this course," Stewart said. First in the order, Stewart navigated the course expertly. The sun didn't bother Stewart or Beyond but created problems for many other early horse and rider combinations in this class.
Jennifer Waxman, 16, had a beautiful ride aboard Saloon in the first round to score a 90. They led the field heading into Round 2, and with the highest score in the first round, things looked promising. But soon after Waxman and Saloon entered the arena for their second time around, the rider signaled her withdrawal to the judge.
"Saloon is one of the best horses I've ever ridden," said Waxman. "Today for the first round he was awesome, and we were winning. But for Round 2, even when we warmed up, he just wasn't feeling like himself. I saw no reason to make him go around the course if he didn't feel well. He doesn't like to do badly."

Despite withdrawing from Round 2, they placed 12th overall.
Waxman's other mount, the adorable Lights Out, earned a score of 81 during Round 1. They had another excellent ride in Round 2 with a score of 82, putting her in sixth place overall with a score of 163.
"Lights Out was really fun. I just started riding her, and we are still getting to know each other," noted Waxman. "I made a few small errors in both rounds, and she was a little tired. We were consistent, but not spectacular."
She and Saloon also won the large junior, 15, and under championship earlier in the week. Waxman, a high school sophomore, will return home to Ohio before returning to Wellington for the 12-week Winter Equestrian Festival.
---
First Time's A Charm
Barri Platt traveled from her home in Overland Park, Kan., for her first National Horse Show. Thrilled just to enter, Platt never imagined she'd board her plane for home with the grand junior and small junior, 16-17, championship trophies aboard Manolo.
Platt, 17, has only been showing at the big A shows for two years and showed at the Washington International (D.C.) and Pennsylvania National the first time this fall. "I thought it was so much fun just to qualify and to get to go and do it," she said of her indoor show experiences.
Her National wins were all the more impressive because Platt was a bit under the weather. "I ended up with bronchitis. My doctor said not to ride for a week, but I showed at the Littlewood show before the National. And I got really sick and ended up not being able to ride at all for three days. The National was a little rough because I was trying to ride when I was really sick and it was hard to focus," she said.
But Platt wasn't going to let anything get in the way of her first National. She grew up riding and showing locally, training with Kris Cheyne. "At the time, I had a horse named Wasabi, who was really difficult. Kris taught me how to control horses, even when they're wild, and how to work through it. He taught me to brave everything out," she said.
But in 2006 she started to train with Ken and Emily Smith. "I was so scared! I had seen the girls who rode with them in magazines forever. I was a little intimidated, but everyone was so nice," Platt said.
"They taught me to sit back and relax when I'm in the ring. They remind me that I need to put pressure on myself, but that I'm also there to have fun and do the best I can. They always push me that much farther. When my legs are going weak, they ask for 10 minutes more. They're great for motivation."
Platt, a home-schooled high school junior, traveled the East Coast summer circuit with the Smiths in 2006. "When I started riding against 30 people instead of against three people, it became a lot more challenging, but I love it. I love having that pressure," she said.
The Smiths helped Platt find Manolo, an 11-year-old warmblood, last summer. "You get on him and you feel like you're in a rocking chair. He's so smooth. It's fun when he jumps because you can feel him jump up into you, but it's very smooth.
"When I was doing 3′ with him, it was perfect and it all came easily, but when we moved up to 3'6″, I had to relearn the pace and his striding. But now that I've gotten that figured out, he's great."
Platt plans to move to Florida in January to be able to concentrate on training and showing in her last junior year.
Kitson Jazynka