A poster of Esther Stace clearing 6'6" sidesaddle with the caption "Are You Brave Enough?" likely caused many riders to think, "No, I'm probably not." But Susan Oakes had a very different reaction.
"I took that as a personal challenge," said Oakes, who set out to break Stace's unofficial 1915 record after seeing the poster and caption.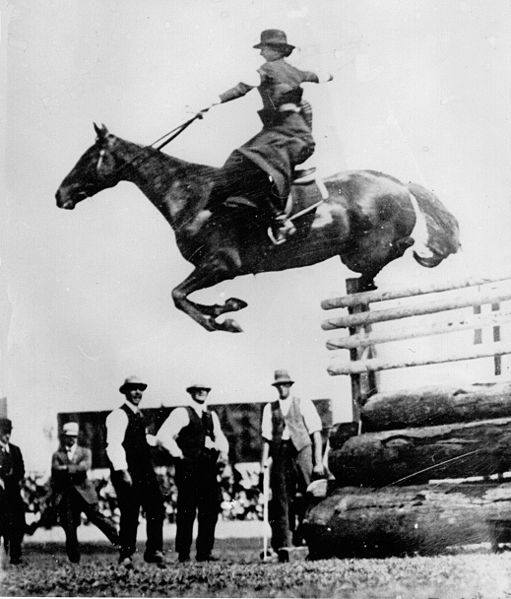 Esther Stace clearing 6'6" in 1915. Her record
is considered unofficial as she might have
used a ramp or springboard. Photo courtesy of
the Walcha Historical Society.
And Oakes did break the official sidesaddle high jump world record in 2012 when she cleared a triple bar set at 5'9" aboard Brandy And Red. But Oakes lost her record holding-standing earlier this year when Michaela Bowling jumped 6'3".
So Oakes came back with mounts SIEC Atlas and SIEC Oberon and a mission. On Oct. 24, she cleared a 6'5" triple bar with Oberon and a 6'8" puissance wall with Atlas, making her the world record holder over both types of fences. Not bad for someone who only started show jumping 17 months ago and works full-time running a dental laboratory.
"I'd hunted a lot and done a lot of point-to-point racing, and I did Pony Club and a little eventing when I was younger," said Oakes, who's based in County Meath, Ireland. "I had to learn to understand the rhythm and stride of the horse, and there was a lot of training that went into that. When you come from hunting or racing, you kind of just push for a stride. Instead I had to learn to sit and create the power and rhythm with the stride."
Oakes found the perfect trainer in Padraic Geraghty, a former assistant chef d'equipe for the Irish show jumping team. Geraghty helped Oakes find Atlas and Oberon. Atlas, a 17-year-old Holsteiner (Acord II—Baroness VII, Coriander) stallion, competed in show jumping at the 2006 World Equestrian Games (Germany), and Oberon, a 17-year-old Dutch Warmblood (Celano—H. Wellie 11, Ladalco) gelding, had competed in CSI***** competitions.
But even with two experienced horses and Geraghty on her side, preparation didn't go entirely smoothly for Oakes.
"I sent my sidesaddle off to get checked over 17 months ago, and the saddlemaker never repaired it and never sent it back," she said. "That caused huge problems along the way. I was beg, borrow and stealing saddles, and none of them really fitted me or the horses properly. Only eight weeks ago did we find the perfect saddle."
At about that eight-week mark, pieces of the puzzle started falling into place. A friend suggested Oakes jump in a corset to help maintain her position over the enormous fences. Oakes also moved her horses from a yard about two hours away to one near her job. She felt confident in the footing at the Equestrian Sports Training Facility in Blanchardstown, Ireland, where she broke the records.
"I felt very prepared going in, and my horses are both 17, and they've jumped all their lives," she said. "I felt like I was in a safe place removed from the outside world. It all just felt terrific."
Watch Oakes set her records:
A Fédération Equestre Internationale representative was on hand Oct. 24 to verify the record, but Oakes has to wait about three weeks to see if the Guinness World Records will accept it. But will she try and break the record again?
"I feel that I've accomplished what I can with the triple bar," said Oakes, who started riding sidesaddle when she was 4 but also rides astride. "It's a very difficult fence to ride. At that height, it's an open fence as well. The horses really did their job. I may jump the wall again, but I don't have anything set in stone at the moment."
Oakes is also looking into competing in regular puissance classes, but she'd do that astride.