Washington D.C.—Oct. 23
In most ways, Everly is your typical elite high performance hunter. She yanks her knees to her eyeballs, clears every fence with plenty of room to spare and shows off breathtaking movement.
Sure, she's a touch on the slim side, but she fit right in with her fellow competitors at the Washington International (D.C.), claiming the division reserve championship during her first trip to the Verizon Center. But while most of her fellow high performance hunters have earned impressive reputations through the season, she's a new comer to the division. It's not that she's new to the show scene, or even this country. She's been to plenty of horse shows, but until July, she always wore jumper tack. In August, she started wearing hunter tack, and immediately started dominating the high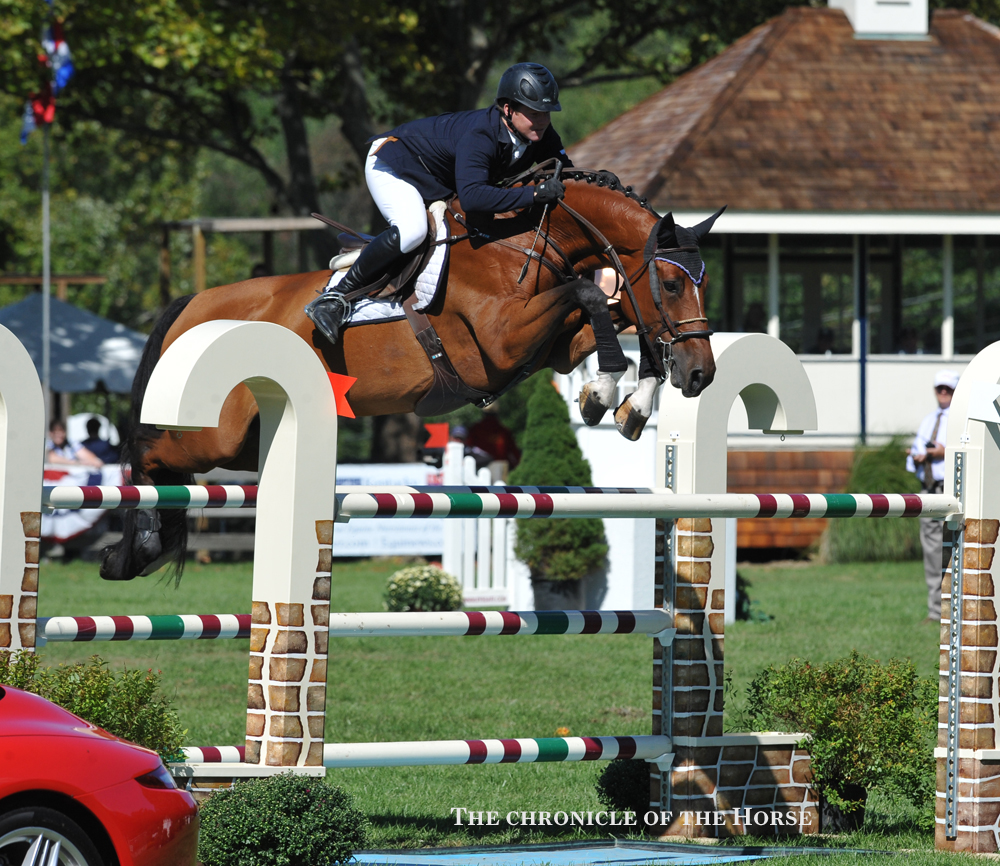 performance ring.
Scott Stewart and Betsee Parker are always on the look out for fantastic hunter prospects. So when Brigid Colvin came back raving about an astonishing mare she saw jump with Shane Sweetnam in the 1.50-meter ring early on in the FTI Winter Equestrian Festival (Fla.), they immediately decided to check her out. They tracked down photos of her and made a point to watch her compete, and sure enough, she looked like she's just gotten lost on the way to the hunter ring.
Parker fell in love and could picture her hackabit swapped out for a D-ring snaffle. But the 9-year-old Belgian Warmblood (Malito de Reves—Werly Chin Dhin de Muze, Nebab de Reve), then named Everly Chin de la Pomme and owned by Spy Coast Farm, wasn't for sale. She was earning ribbons through the 1.60-meter level with Sweetnam, and has a few babies on the ground, born via embryo transfer, in the U.S. and in Europe.
Watch her compete at Spruce Meadows (Alberta) in July of this year:
When Everly finally became available in August, Parker purchased the mare after a five-minute trial for Stewart to ride in the high performance hunter ring.
It didn't take Everly long to get in the groove. She won the reserve championship her first time on the hunter side of the showgrounds behind her barnmate, Dedication.
Two weeks later she won four high performance classes (and was second in the fifth) at the Hampton Classic (N.Y.), and she won four classes at Capital Challenge (Md.) and the grand hunter title.
Watch one of her rounds from the Hampton Classic:
"She naturally wants to go like a hunter," said Stewart, Flemington, N.J. "She wants to go with her neck out. I thought she was going to move well, but I didn't know she was going to be this good. I think she's won about every hack [including the one at the Washington International]."
She hadn't been in the barn long when she suffered a colic scare. It was a few weeks before Capital Challenge, and while she avoided a major episode and felt better as soon as she was treated, that slowed the plan to put a few extra pounds onto her still-slender physique.
Stewart is still figuring out a few details. While she naturally wants to stretch out and stays pretty soft, he found a Happy Mouth snaffle, his first choice, wasn't quite enough. He's settled on a plain D-ring for now. He jumps her about every other day at home over low fences to help her relax and figure out her new occupation. The narrow ring at the Verizon Center made relaxing while on course an extra challenge, and despite her tricolor, Stewart didn't consider it one of her better performances so far.
"I'm hoping next week [at the Alltech National Horse Show (Ky.)] it may be a little easier for her to go a little more relaxed. Here [the jumps] come up a little quick. Her reaction when she's not sure is to go, especially in the in and out. So she's a little sensitive. In the bigger rings I can be a little more passive with her, and she stays relaxed."
After the National, Everly will enjoy some down time to finish out the season. With her jumper background, Stewart hasn't ruled out a career as a derby horse for Everly, but first he wants her to feel comfortable in her new job.
"I think right now she wouldn't be ready," he said. "She tries too hard. She needs to relax, and that class is hard. Even though she's overqualified, I think she needs a little more experience—maybe a year doing the high performance before she goes to that."
Click here for lots more from the Chronicle on the Washington International Horse Show. For a full report from the Washington International Horse Show, check out the Nov. 11 issue of The Chronicle of the Horse. Full results are available at the official Washington International Horse Show site.