Trainer Jack Fisher wasn't easily convinced. He thought the lanky 3-year-old, who boasted just two flat track wins, was overpriced for a prospective hurdler.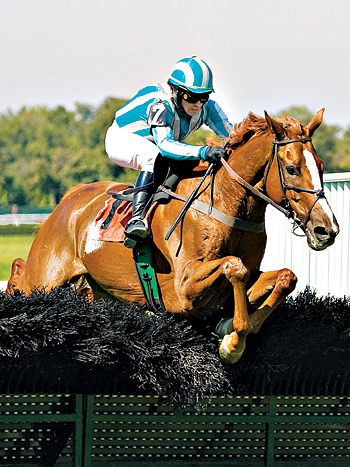 Even after some good finishes over the next two years, including a win in the Zeke Ferguson grade III stakes at Colonial Downs (Va.) in 2006, Fisher didn't have high expectations for Good Night Shirt as he prepped him for the 2007 Keeneland (Ky.) Royal Chase stakes. He was thinking he would give him that one last shot before making him a timber horse.
But a second-placed finish in that $150,000 grade I stakes was soon followed by a grade I win at Iroquois (Tenn.), then another at Belmont (N.Y.). The rest, as they say, is history, as Good Night Shirt won three grade I stakes in 2007, five of five in 2008 (his last six in a row) and has clinched two Eclipse awards.
"I've got to give it to Sean [Clancy, who sold the horse]," said Fisher. "I thought he was just another horse, and Sean stuck by him."
This year, "Shirt" was invincible. Whether the race was 2 miles, as in Atlanta, or 3 miles, as at Iroquois, Good Night Shirt and jockey William Dowling found the finish line first.
"Last year he was still a little headstrong, and as he's gotten older, he's learned to relax," said Fisher. "He liked to be on the front end, but now he's just as happy off the pace. However a race sets up, he can do it. A horse like that is more dangerous—he's not one-dimensional."
Yet for owner Harold A. Via Jr., the victories never get routine. "Every win is special. I'm very emotional at each and every one. Even reading a complimentary article about him can bring me to tears," said Via.
He particularly appreciated Shirt's win at the Colonial Cup (S.C.), in his final race of the season. Although it looked, at the final fence, like Shirt might finish second to Preemptive Strike, he rallied in the stretch to win by a neck. "He was not to be denied. That's the type of character he's got," said Via. "In the winner's circle, they pulled the saddle off him, and he looked like he was 9 or 10 feet tall, looking out over the track he'd just come off of."
Fisher said Shirt's winning streak is good for the sport. "It's like with Cigar or Big Brown, people want them to keep winning. They don't root against them," he said.
In 2009, Fisher will aim Good Night Shirt for a hat trick that has never been accomplished: a third win in the Iroquois stakes. And after that race, win or lose, the Shirt is likely to get his annual summer vacation. Fisher has skipped the Saratoga (N.Y.) summer stakes with Shirt in the past—in part because he doesn't want to give away so much weight in the handicaps—and because he believes the 45 days off makes him sounder and gives his horses longer careers. Shirt spends the summers living out 24/7, in a big field with eight horses, including Fisher's retired timber champion Saluter.
Personal Profile
Description: 8-year-old, 16.3 hands, chestnut Thoroughbred gelding (Concern—Hot Story, Two Punch), bred by Dr. and Mrs. Tom Bowman (Md.), trained by Jack Fisher, owned by Harold A. Via Jr.

Purchase Price: $60,000

Career Earnings To Date: $934,493
Personality: "Even if he didn't win a race, he's still a really neat horse," said Fisher. "He was going to be good at something—he'd be a lovely foxhunter. He's friendly, and anyone can ride him. He's so relaxed and easy in the barn, like an old hunter. I think all good horses are like that. To keep going, they've got to be laid back."
Feed: McCauley's Triformance
Veterinarians: Cooper Williams and Debbie Kelly. "He's a big horse, but he's well built," said Fisher. "You don't have to give him Adequan or Legend or anything else."
Farrier: Joe Ludford
Origin Of His Name: Comes from an exclamation used by breeder Tom Bowman's mother.
"They have a pond and a beach, and they go swimming," said Fisher.
Shirt also gets the winters off, from his last race in November until his training starts again on Jan. 15.
Whether his horse is relaxing or in peak condition, Via pays a visit to Fisher's Locust Hill Farm in Glyndon, Md., every chance he gets. "He has a special stall overlooking the entire farm," said Via.
While Shirt has been a boon to all his connections, for Dowling, in particular, Shirt has been the horse of a lifetime.
"He's a very special horse to me; no one had ever heard of me before Good Night Shirt, and no one had heard of Good Night Shirt before me," he said.
He worked hard in the early days to break Shirt of pulling so hard. "He would completely run away. Even if I were in front, I would try to slow down as much as I could. Eventually we got him behind other horses, and that was the making of him," he said.
Dowling picked up on Shirt's brilliance from the time he broke his maiden, at Iroquois, in 2005. "I pulled up and told Sean he must be a pretty good horse because he jumped so bad and still won. I said he must be a bit of a freak," recalled Dowling.
Although Good Night Shirt was in a league of his own in 2008, Dowling doesn't doubt that 2009 will bring some serious challengers. "Be Certain could be a horse that might impress," he said. "When Good Night Shirt was 4, he was not as good as Be Certain is now. And there's Paradise's Boss and Sovereign Duty. There's always some new gun coming along to try to take your throne."
But he has an unwavering faith in the big chestnut. "I rode some good horses in England, but this horse is unbelievable how versatile and strong he is. I don't know if I'd still be riding if it hadn't been for him. You wait a lifetime for a horse like this. I wasn't having the best of luck at first [when I came from England]. I had a lot of falls, and I'm 31 now. But Good Night Shirt came along and changed my whole way of thinking. I don't think I'll ever ride another horse as good as him."
At 8 years old, Good Night Shirt may still have his best years in front of him. "If he keeps going the way he's going, I'll run him until he's 25," said Fisher with a laugh.
"I hope he'll be able to continue," said Via, "but you can't take away from him what he's done even if he doesn't race another day. I think he's the nicest horse anybody ever had anything to do with. I love him like family, and he returns the favor."
---
Good Night Shirt's 2008 Victories
The $100,000 Irongate Capital/W Hotel Georgia Cup grade I hurdle stakes
The $150,000 Iroquois (Tenn.) grade I hurdle stakes
The $150,000 Lonesome Glory (N.Y.) grade I hurdle stakes
The $250,000 Grand National (N.J.) grade I hurdle stakes
The $150,000 Colonial Cup (S.C.) grade I hurdle stakes
Beth Rasin