This 17-year-old and her longtime partner clinch their second consecutive grand junior hunter title.
Some horses have competitions they really enjoy—venues where they always shine and rise to the occasion. Lucky for Jessica Springsteen, her junior hunter Tiziano really likes Devon.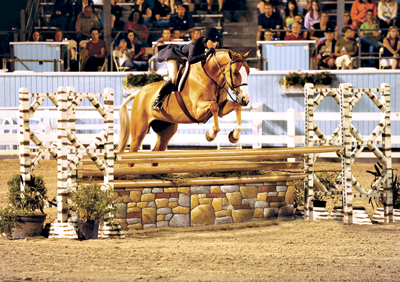 After a stellar indoor season, including championships at the Washington International Horse Show (D.C.) and the Syracuse Invitational Sporthorse Tournament (N.Y.), the confirmed pair spent an unspectacular two months at the Winter Equestrian Festival (Fla.). But the Dixon Oval in Devon, Pa., perked up the chestnut gelding and put him back on his game.
"Down in Florida the jumps didn't catch his attention at all," said Springsteen. "He's better with jumps that are a little spookier. He really went perfectly here; he didn't make any mistakes."
Tiziano and Springsteen took blue in all three large junior hunter, 16-17, over fences classes and fourth under saddle on her way to their second consecutive grand junior hunter title during junior weekend of this year's Devon Horse Show, May 21-24.
Springsteen, Colts Neck, N.J., started showing Tiziano (Hors La Loi II—Lalocia) in the children's hunters three years ago with the intention of moving him into the equitation ring. But when the blues began stacking up, it was clear the Dutch Warmblood had already found his niche.
"Jess' equitation training helps her in some of these classes," said Stacia Madden, who coaches Springsteen along with fellow Beacon Hill trainers Max Amaya and Krista Freundlich. "I can say, 'Hey, remember that line at [USEF Medal] Finals, or remember that line at the lesson?' Tiziano hasn't done it, but I can call on Jess' recall."
With so much success in the junior ring, Springsteen and Tiziano have started competing against the professionals in the hunter derby series.
So the pair hung around in Devon for an extra day and picked up their first derby victory in the $10,000 ASG Software Solutions USHJA International Hunter Derby (to be published June 12 in conjunction with Devon Senior week coverage).
Although he's a fabulous partner in the ring, Tiziano isn't the easiest charge at home.
"He can be a little wild sometimes, and he'll spook at nothing," said Springsteen. "He's really spoiled, and he'll try to dive bite you. He doesn't kick or anything, and he's really sweet—except when he's trying to attack you."
Springsteen and "Tiz" will take a few weeks off to relax before heading to Lake Placid (N.Y.) and then to the Hampton Classic (N.Y.).
Coming Full Circle
Nine years ago Reed Kessler picked up her first blue ribbon at Devon in the leadline class, and she's continued on the same track ever since. This year the 14-year-old rode her Ice D'Ancoeur to the junior jumper championship.
Better Than Great
If you wanted to win the coveted R.W. "Ronnie" Mutch Equitation Championship at this year's Devon Horse Show, you had to prove you were better than just great.
Usually, two equitation blues would guarantee a tricolor, but not when 171 of the country's best junior riders come to Devon, Pa.
Taylor Harris, Grant Pass, Ore., and Sara Green, Sherborn, Mass., won two classes apiece, but Christy DiStefano pulled ahead by placing high in sections of three of the four classes that counted toward the championship. DiStefano topped a section of the Washington International Equitation Classic and finished second in sections of the USEF Talent Search Medal and the APSCA Maclay.
"I wanted to place in all of the classes, but I had no idea I would do as well as I did," said DiStefano, 18. "I came last year, and I was fourth in the USET. I just wanted to come back and be consistent."
DiStefano credited her mount, Rodin, with giving her the confidence to rise to the top this year.
"He's really sensitive, which is my kind of ride," she said. "I like a quirky horse. He has a bit of an attitude: he doesn't like to be alone or to wait too long, but he's really good, so we just deal with it."
A veteran equitation mount, Rodin's list of former partners includes Shelby Wakeman and Chelsea Moss, who trained alongside DiStefano at Beacon Hill with Stacia Madden, Max Amaya and Krista Freundlich. The Beacon Hill team put their students through their paces leading up to Devon to prepare for the notoriously difficult Dixon Oval, but when DiStefano walked the courses she found herself breathing a little sigh of relief.
"At our lessons we were practicing open lines and lines where you really have to watch your track," she said. "But, actually, the lines weren't as forward as I thought, so I was happy about that. There were plenty of technical parts. I really liked today's Maclay course. It wasn't too difficult, but you could still screw up."
The Ramsey, N.J., rider has already been accepted to the University of Oregon, but she plans to defer until spring to concentrate on riding during the fall indoor season.
Kessler topped the opening class for the second consecutive year and took blue in the $15,000 Cavalor Show Jumping Hall Of Fame Classic to clinch the tricolor. Kessler also earned the leading junior jumper rider award for her performance aboard Ice D'Ancoeur and her second mount, Flight.
"At the bigger shows I think I get the adrenaline going and I ride better," said Kessler. "I remember the first time I did the high [junior jumpers], walking up to the ring and looking at the jumps and saying, 'Are you kidding me?' But now it's no problem."
Kessler started riding Ice D'Ancoeur (Le Prince De Thurin—Uzel De Roche) in November, but Kessler's godmother and jumper coach, Katie Prudent, had been watching the Selle Français pick up grand prix ribbons across Europe. When her owner decided to sell, Prudent took her protégé to Switzerland to give the chestnut a try.
"We were very lucky to get her," said Prudent. "She's not a ride for everyone, but I knew her character would work well with Reed. She has a good mouth and plenty of scope."
In contrast to Kessler's second ride, Flight, who sometimes does double duty in the equitation ring, Ice D'Ancoeur's style is less conventional and a bit more erratic.
"She's definitely a different ride," said Kessler, wryly. "Flight is a pretty simple, slow horse. She's a little bit on every lead, kicking up—we sometimes call her Spice. She's definitely got a little bit of an attitude, but when it comes to the jumps she's incredibly careful. Even though she's a different ride, she's a winner at heart."
Kessler began working with Prudent 11/2 years ago, but the Olympic veteran has kept tabs on her goddaughter's progress from the get-go. Kessler's father, Murray, was Prudent's first student when she started her business in the 1970s.
"The No. 1 thing that makes any person or rider successful is motivation," said Prudent. "The easiest thing about teaching Reed comes from within her and her family: they come to do a job and do it well. It's a pleasure to work with someone who really wants to do it well. [But] she's a smarty-pants, and she knows everything, so you have to beat her down once in a while with a stick on her head. But other than that, she's pretty good."
Until now Kessler's mounts have stayed at Prudent's Plain Bay Farm, in Middleburg, Va., and at Heritage Farm, with Kessler's equitation trainers Andre Dignelli and Patricia Griffith.
But the Kessler family is starting up an equestrian business at their Armonk, N.Y., home, a welcome change for the young rider.
"When I was younger we kept the ponies at home, and I [did] a lot more with them. Slowly the horses didn't stay at my own house," said Kessler. "I'm excited to learn a lot more and be more involved with the horsemanship side."
Putting Nerves Aside
Unlike Kessler, Katie Dinan has always had a bit of a mental block when it comes to Devon, but all of that changed this year. The judges rewarded her with the best child rider award after she skillfully piloted her Angelo to small junior hunter, 15 and under, and overall small junior hunter honors.
"I'm usually pretty awful here," admitted Dinan, 15. "I was nervous yesterday but better today. I had a really good weekend in the equitation, and that gave me some confidence. I went into the ring and started to feel a little nervous, but Angelo was especially great, and that made me feel better."
inan paired with Angelo (Lasangos—Pretty Woman) at the end of 2007 after the Westphalian racked up impressive West Coast records in the conformation division with Lenny Marconi and Leslie Steele, and in the adult amateur hunters with then-owner Pamela Moellenhoff.
The Waterboy Washes Away The Competition
Cara Dodson can remember exactly which rail cost her last year's pony jumper title at the Devon Horse Show, and she entered the ring for this year's NAL Pony Jumper Classic determined not to make the same mistake.
"There was a skinny fence away from the gate just like one that I had down last year," said Dodson. "If it had stayed up I would have been champion. I was sure to ride that fence carefully this time!"
Dodson posted her third blue-ribbon performance of the weekend in the classic for a clean sweep of the pony jumper classes and the division championship.
Thanks to plenty of practice with trainers David Wright and Daniel Geitner, Dodson rode first rounds so controlled and balanced they could have passed as equitation trips. But in the jump-off Dodson proved she belonged in the jumper ring, slicing turns and turning on the gas to finish on top of the leaderboard three times.
"He's a really fun pony," said the Dodson. "He's hyper and he likes to pull, but he's never out of control—I always have him. I practice a lot at keeping him calm."
The Waterboy, a Welsh-Dutch Warmblood, earned plenty of accolades in pony jumper divisions with former owner Amber Siegelman before Dodson took over the ride in 2007. Dodson continued her winning ways with the gelding, earning the individual silver medal at the 2008 USEF Pony Finals (Ky.).
The pony lives at the Dodson family's Christiana, Tenn., farm along with four other mounts, where the 13-year-old is in charge of his daily care. "My mom and I are out from about 7:30 to 9 a.m. every day, doing stalls and bringing them in, and then I'm back at night," said Dodson. "I like staying really involved."
Angelo and Dinan have been on a hot streak since the fall indoor shows last year, winning a championship at the Pennsylvania National and picking up several tricolors during the Winter Equestrian Festival (Fla.).
"He's a lot of fun to ride," said Dinan. "He has a big stride, and once you get him into his rhythm he sights in on the fences and goes perfectly."
The judges rewarded Angelo's stellar performance at Devon with some of the weekend's highest scores—a 90 and a 92—but even that wasn't enough to convince Dinan that she'd earn the best child rider title.
"I was really surprised, because a lot of times they give it to the grand champion," said Dinan. "It was such an honor because I know everyone in there was so great—even to be in that group was fantastic."
Dinan credited her trainers Steve Weiss, Tim and Kelly Goguen, and Ashley DiBongrazio with getting her and her horses in shape for the Dixon Oval, and her family for their support. She left her father at home in New York City on his birthday in order to compete at Devon, but her successful weekend made her birthday phone call that much sweeter.
"He was going to come along, but my brother is sick so he had to stay home," she said. "When I called, I said, 'Dad this is my birthday present, I won!' "
An Early Lead Pays Off
Devon couldn't have started out any better for Taylor Brown and Vanity Fair. The pair won both large pony hunter over fences classes and took second in the model on the first day of competition, then topped the under saddle on Saturday. But things headed downhill when Brown took a tumble in the handy class and suffered a refusal in the next.
"It was completely my fault," she said. "I took my leg off, but I knew that he'd never done a handy before. It wasn't his fault at all. He's been fantastic here."
Still, the pair's strong start put them far enough ahead to pick up the large pony hunter championship as well as grand pony hunter honors. It was Vanity Fair's second large pony title, as he won the tricolor in 2007 with Adrienne Sternlicht.
A strong fall season left Vanity Fair with plenty of points toward Devon, so "Cocoa" munched grass on owner Betsee Parker's Middleburg, Va., farm while the rest of the pony pack toiled away on the winter circuits. His previous pilot, Lillie Keenan, has graduated to the junior ring, so Parker recruited Brown to take over the ride. Devon was the pair's first rated horse show together.
"I went up to Virginia and rode the pony a couple times, and we did a couple local shows in Florida to get used to him, but this was my first time actually showing him at a solid three-foot," said Brown. "It took me a little bit to get used to him because his stride is so big and lopey."
As a petite 17-year-old, Brown has made a career out of catch-riding ponies, and she's had plenty of help along the way. Brown shows with Christina Schlusemeyer and Bob Braswell of Quiet Hill Farm in Ocala, Fla., trains with Peter Foley and Dale Crittenberger in her hometown of Palmyra, Va., and paired up with Parker thanks to catch riding for Robert Colucccio. She does have one horse of her own, a 6-year-old Hanoverian that she rides in the junior hunters.
"I've really encouraged her to get out there and get as much experience as she can, and it's worked out wonderfully for her," said Foley. "The horses and ponies really like her."
Brown will head to Baylor University (Texas) in the fall on a riding scholarship. While other college freshmen have a tough time trying to squeeze in equitation finals, Brown will return to the East Coast to compete at the fall indoor shows aboard Cocoa.
"It's a fabulous opportunity for me to ride one as great as he is," said Brown. "I couldn't feel luckier."