I've been quiet on the blogging front lately. Someone asked me at a recent horse show where I'd been. Really, the question is: where haven't I been?
Friday, Sept. 1- Sunday, Sept. 3
Clinic in Tunbridge, Vermont. I have the Head Cold of Death, and it's always a super duper good idea to get on a plane when you have a head cold, because it's not like you need to be able to hear for that two hours after your flight lands in Vermont, nor do you need a voice for the second half of Sunday's clinic!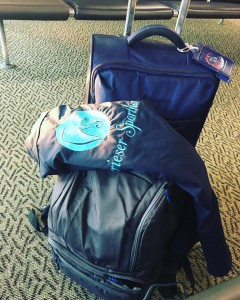 Tuesday, Sept. 5
You know how when you've had too much to drink, and you're lying in bed, and the room is spinning? That's what's happening, except that I haven't had a drink since Saturday night, and it's 5 a.m. on Tuesday.
I somehow make it out of bed, drive to the farm (stupid), get on one horse (more stupid), get off said horse (finally smart), hand it to a working student, and drive to my doctor, who puts me on antibiotics. And clearly since I'm on antibiotics, I will be magically cured in time for my 6:30 p.m. yoga class, right? (I spend the class periodically falling down. She is beauty, she is grace.)
Friday, Sept. 7 – Sunday, Sept. 9
Clients at a show in Fredericksburg. Fortunately, my assistant trainer Lisa is in charge, so I can sit this one out and FINALLY kick this damn cold.
Monday, Sept. 18 – Tuesday, Sept. 19
Michael's in town for a clinic! Fun fun fun. So much sitting trot on so many baby horses. Less fun.
Friday, Sept. 22 – Sunday, Sept. 24
Clinic in Ottawa, Ontario. I'm mercifully healthy, which is great, because…
Monday, Sept. 25 – Tuesday, Sept. 26
…I'm home for about 10 hours Sunday night into Monday morning, just enough time to do some laundry, switch my suitcases, and head to Massachusetts to try a sale horse. (He's perfect, he vets, we buy him, and oh, by the way, he's a palomino Lusitano. Be jealous.)
Friday, Sept. 29
I'm home for three days, during which I organize a themed murder mystery party for friends to celebrate my birthday. If you've never done one of these, they are SUPER fun.
I'm home for a few days, just enough time to tidy my house back up before…
Monday, Oct. 2 – Tuesday, Oct. 3
Back on the road, this time to Houston, Texas, to try another sale horse for other clients. (He's perfect, he vets, we buy him, and oh, by the way, he's a buckskin Lusitano that's showing Grand Prix. Be even more jealous.)
I'm home for 8 hours before…
Wednesday, Oct. 4 – Sunday, Oct. 8
…heading with a group of students to the Region 1 Championships in Williamston, N.C. Lots of great rides, lots of education, and one exciting result: my student Jennifer Drescher takes the reserve championship in the adult amateur Grand Prix, and WINS the OPEN Grand Prix freestyle, on her 100 percent Morgan gelding, Raven. He's to die for! She's trained him herself, and done an exquisite job.
Whew. This time I get to be home for four entire days, one of which is spent helping my awesome working student interns powerwash the barn, before…
Friday, Oct. 13 – Saturday, Oct. 14
…joining my group at the BLM Championships in Lexington, Ky. Assistant Trainers Extraordinaire Lisa and Lauren are both showing, so I just go down to coach a few rides, including Lauren's two championships aboard Perfect Mr. Fiero, where she takes reserve championships at both third level and third level freestyle.
And not for nothing, but I mostly drove down to Lexington to hit up the Farmer's Market and get some of "Amos' Famos" (sic) BBQ chicken. If you've never had it, you've never lived.
And that brings me to Monday, where I'm at home in my PJs by 2:30 p.m. for a much-needed afternoon off. Life's going to be remarkably normal between now and the end of the year… well, except for two weddings, three clinics (one of which requires air travel), two major holidays and an actual 48-hour vacation in December.
An then it's off to Florida, to 2018, and to do it all again!
SprieserSporthorse.com
Lauren Sprieser on Facebook