Gulfport, Miss.—March 10
When Timothy Maddrix first laid eyes on Shutterbug, the gray gelding was clocking around the Harrison County Grand Prix Field in Gulfport, Miss., jumping over striped rails with buzzers humming in the background. Now two years later, brush fences and natural logs filled the ring as Maddrix piloted "Bug" to victory in the Devoucoux $25,777 USHJA International Hunter Derby during Week 5 of the Gulf Coast Sunshine Classic in the same ring in which he first saw him and decided that he needed that horse.
"He was doing the medium junior jumper [division] two years ago," said Maddrix of Tim Maddrix Stables in Leeds, Ala. "I saw him in this field jumping in the junior jumpers and I got him from Miguel Ventura who's a buddy of mine in Nashville."
Owned by Maddrix's client Alina Dumistrescu, the Czech Warmblood (Catango Z—Seurerka) made the transition to the hunter ring in May of 2015 when he changed reins to Maddrix. And while showing him in the performance hunter divisions and international hunter derbies all last year, Maddrix confessed he didn't quite anticipate he would shine as much as he does with the flowing hunter course lifestyle.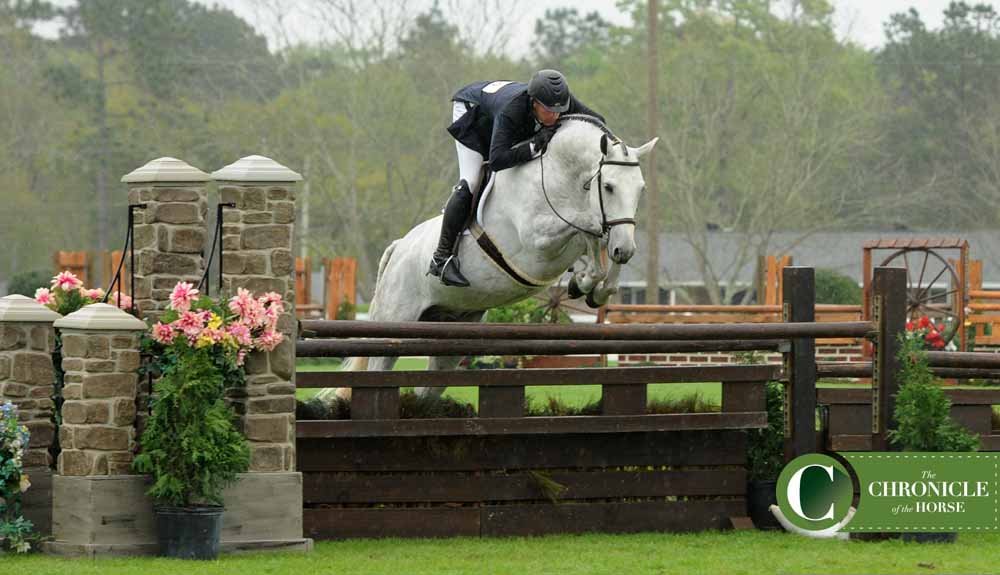 "We didn't know he was going to be this good," said Maddrix. "We knew he cranked his knees but we didn't know he could do all this. So he's really turned out well. He's just as brave as he can be."
Bravery was the key to success in the international derby held on the expansive grass field. With the rain drizzling—and sometimes more than drizzling—on and off, the large natural coops, logs, hay bays and brush fences frightened several horses in the field of 27—causing refusals and retirements galore.
"The coop oxer I think got a lot of people," said Maddrix of the ornate coop situated in between two ponds that included little statuary of fisherman in the Allen Rheinheimer-designed course. "Shutterbug doesn't spook at anything though. We have a coop at home he jumps every day," he said. "The rain luckily held off for the most part. But it was a little slippery in the handy—especially from the oxer to the trot jump—but the course was great."
Sitting in first after the classic round, Maddrix held the lead over Holly Shepherd and her double duty grand prix-derby horse Triompf. While Triompf won the handy hunter round, Maddrix's consistency with Shutterbug held them to second place which allowed them to win with a total score of 393.50—only 1 1/2 points above Shepherd.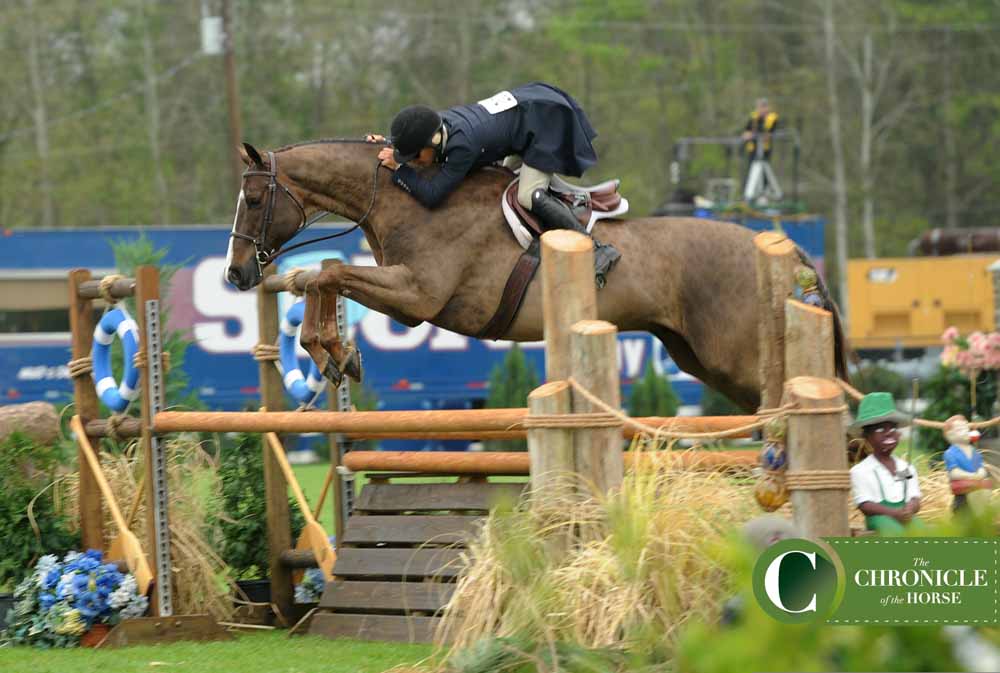 "I didn't change the track at all but it just made it more careful," said Maddrix of his handy ride after the rainfall. "More of a careful track than really cutting. We did all the inside turns but it was nice and neat on the inside turns instead of really going for it."
Coming after an earlier derby win this season at the Pensacola Winter Classic II (Fla.), Maddrix is eyeing Kentucky for the USHJA International Hunter Derby Championships this summer—where he hopes the pair can succeed in their second finals try after having another year under their belts.
"I think he's going to be a major contender there this year," said Maddrix. "I think he's the best jumper in the country."
Make sure to read the March 27 issue of The Chronicle of the Horse for more in-depth coverage from Gulfport and follow the Chronicle online at www.coth.com and on Facebook, Twitter and Instagram.