Haley Schwab has spent two years forging her way as a professional in the horse world in England and California, and while winning her first grand prix on July 26 aboard Wedding Day could be seen as a brilliant step forward, she's going to be hanging up her saddle soon.
Schwab's family (yes, of that Charles Schwab) supported her riding throughout her junior career, but when she graduated from high school in 2012, that family support came to a close. So, Schwab spent time in England working for Olympic gold medalist Peter Charles and then this spring went to work for longtime trainer Macella O'Neill as an assistant.
O'Neill trained Schwab all the way through her junior years, (capped by team silver at the 2012 FEI North American Junior and Young Rider Championships), and coached her around her first grand prix starts in 2012 and 2013.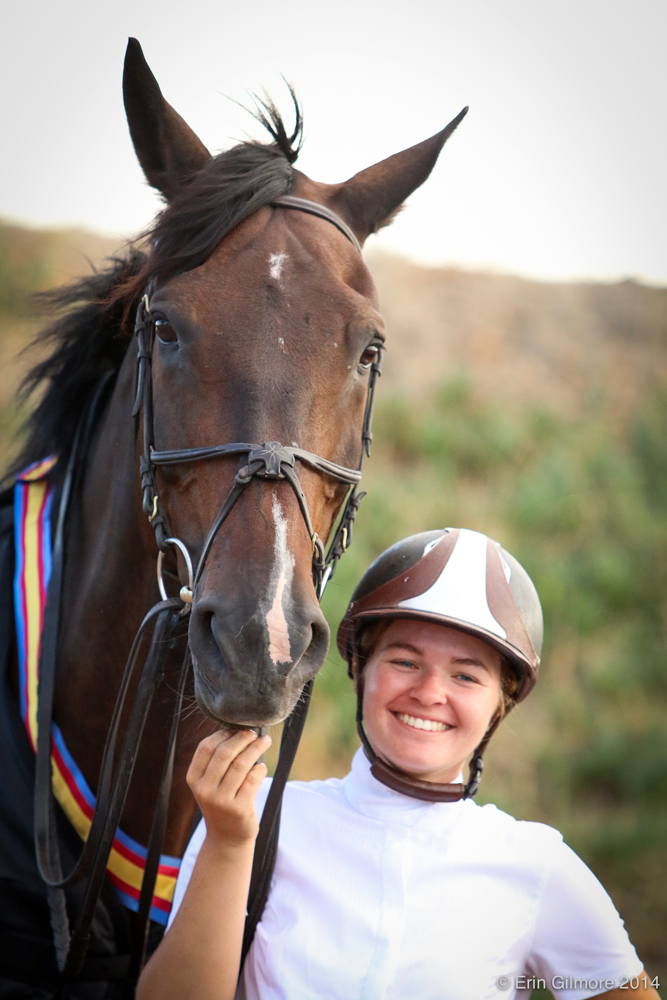 Haley Schwab and Wedding Day
celebrating their win.
Photo by Erin Gilmore
O'Neill is also friends with eventer Liz Ashton, who helped Canada win team gold at the 1978 World Championships. Ashton bought Wedding Day as a sales prospect, but wasn't quite sure where the mare's future was headed when she connected with O'Neill. After some discussion in late May, she sent the mare to O'Neill for Schwab to ride.
Ashton bought the mare on April 11, 2011, the day that Prince William married Kate Middleton. Her new horse was thus christened with the name Wedding Day with the barn name Kate.
Schwab feels lucky to have the ride on the mare; after being named the 2013 Pacific Coast Horsemen's Association Rookie of the Year and spending the winter working in England with Charles, she returned to her home barn in Calistoga, Calif., this spring as a rookie professional without horses to ride. So, she was thrilled when O'Neill put her on Wedding Day.
Schwab and "Kate" worked the kinks out of their new partnership during the Bay Area Summer Festival and Golden Gate Classic in Woodside, Calif., in June. They picked up some getting-to-know-you faults, but also recorded clear rounds in the grand prix classes at that venue.
As Fast As She Wanted
So when it was time for a step up in the $30,000 Equine Insurance Grand Prix at the HMI Equestrian Classic, July 23-27 in Petaluma, Calif., Schwab felt ready. The Sonoma Horse Park offers a competitive 1.40-meter circuit that attracts many of the best riders on the West Coast. Course designer Michael Roy Curtis bumped up the level of difficulty for this most recent week of competition, setting the course to national standards with 1.50-meter spreads and difficult combinations that set some horses and riders back on their heels.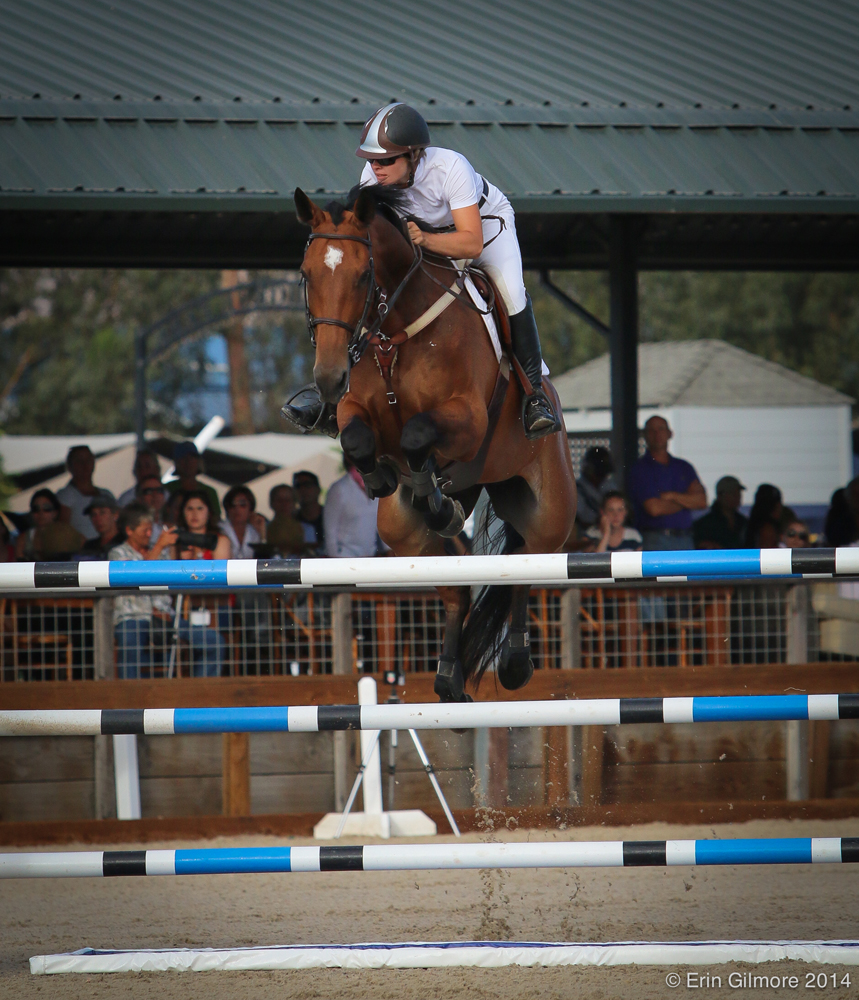 Schwab and Wedding Day were first to go
in the jump-off and ended up the fastest
to win the $30,000 Equine Insurance Grand
Prix. Photo by Erin Gilmore
"The course walked straightforward, but it was difficult to execute. There weren't a lot of options," Schwab said of the track after she and Wedding Day became the first clear round.
After more than 20 rounds, Schwab and Jill Humphrey with Zubliem were the only clears. In the later portion of the class, the jump-off roster filled out more, with many in the audience putting their money on veterans Peter Breakwell with Lucas or Kristin Hardin and Bert for the win. Hardin, of Santa Maria, Calif., has been on an impressive hot streak this year on the West Coast; she's won over a half dozen grand prix classes with Bert alone, and was victorious in Thursday's grand prix warm-up, the $10,000 Horse & Style Magazine 1.40-meter Jumper Derby.
But it wasn't Hardin's day; a rail down in the jump-off landed her in sixth place. And while Breakwell was fast, his time wasn't quite quick enough to best that of Schwab's.
Schwab and Wedding Day had entered the ring first in the jump-off, an unenviable position for any rider to be in. But Schwab had figured out the ride that the hot, forward-going Wedding Day needed, and her goal was clear: go fast, but not too fast.
"With a horse like that, who wants to be quite fast, you have to be the calm one in the situation," Schwab explained. "The trick to riding her is not letting her go as fast in the jump-off as she wants to. The goal was to have a straight step to the jump every single time."
Forward, Forward, Forward
Schwab learned a thing or two about the value of going forward during the months she spent in the United Kingdom earlier this year. Several of the horses she owned as a junior came from Charles, who runs his sales and training barn in Alton, Hampshire.
The first day that Schwab was there, on the first horse she rode, Charles told her every step of the way to go forward, forward, forward.
"If you really want to ride forward, you should go ride with Peter!" Schwab enthused. "I still can't believe I watched his kids jump 1.50 meters on large ponies, and his 9-year-old jumping 1.25 meters on small ponies. It changed my perspective completely to be in that totally different world."
Schwab had her eyes opened to the European way of doing things, and not only in regards to the talented offspring of an Olympic veteran. She traveled to Spain and did some showing, survived the notoriously intense warm-up rings, and relished the chance to get in some coaching time.
Now back in the United States for good, Schwab could easily fall into the ranks of the many up-and-coming professionals on the West Coast. But instead, this first grand prix victory will serve as somewhat of a swan song. Schwab will begin classes at the University of Chicago in the fall, and with the beginning of her college career, she will leave horses completely behind—for now.
"If I ride while I go to school, I'm only going to think about riding," she said. "I took this last year to see what it was like doing this horse thing. I'm going to miss it a lot, but I don't have my own horses anymore, and from that standpoint I'm going to walk away from it a little bit."
Click for the full results of the $30,000 Equine Insurance Grand Prix