The German driver inherits his countryman's legacy by claiming the FEI World Cup Driving Final title.
Michael Freund pretty much owned the FEI World Cup Driving Final, winning five times in the competition's seven-year history. But with Freund's retirement last year, the competition was wide open.
Before the Final was held on Jan. 20 in Leipzig, Germany, conventional wisdom had Ysbrand Chardon and Boyd Exell as hot favorites to win. But as the competition unfolded, the battle for the win ended up being between French driver Benjamin Aillaud and wild card entry German Christoph Sandmann. And Sandmann prevailed, becoming the first wild-card-qualified driver to win the Final.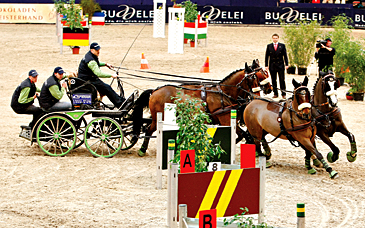 "Especially after my fifth place in the warm-up competition, if you had told me I would leave Leipzig as a winner, I would not have believed you," Sandmann said.
Sandmann, the individual bronze medalist at the 2006 World Equestrian Games (Germany), was the only amateur driver in the seven-driver field. Sandmann, 40, operates a trucking company and organizes an international driving competition at Lähden, Germany.
Sandmann was in second after Round 1, behind Aillaud. But Sandmann turned on the speed in Round 2 and finished 5.75 seconds ahead of Aillaud, who had also collected a 5-second penalty for a fault. "I didn't want to take too many risks," Sandmann said. "In the past I often had faults, which hindered a better placing. Today I wanted to avoid that situation."
For Sandmann and Aillaud, who were both driving their outdoor teams, the course designed by Wolfgang Asendorf suited them perfectly. "The technical course fit me well, and I had the advantage of driving my outdoor marathon team. They are used to tight turns," Sandmann said.
"If the course had been very fast, I would not have had any chance against the fast, specialized indoor horses of Ysbrand and Boyd. In the technical obstacles my outdoor horses have an advantage, since they react to the aids very well, and they really search their way through the obstacles,'' he added.
Sandman credited much of his win to his 20-year-old left leader Alf. "He is the last one of my former team of black horses. Our German team coach would like to see him as a pensioner, but he is so fit and full of energy that I will use him this year in my outdoor team. For him it was the first indoor World Cup competition."
Sandmann had competed as a wild-card entry in World Cup-qualifying competitions in Hannover (Germany), where he was second, and Stuttgart (Germany), where he was third, but because he had not won a qualifier, his World-Cup points did not count. He competed at Leipzig as the wild-card entry assigned to the host nation.
With only two starts in the World Cup qualifiers, Aillaud managed to achieve his starting spot for Leipzig. For Aillaud, who was a member of the French World Championship gold-medal team in 2004 and 2006, it was the first World Cup season at all.
Aillaud drives a team of Lippizan horses, who he also competes in 1.40-meter show jumping classes, dressage, eventing and in circus attractions. For the 31-year-old horse trainer and breeder from Realville in the south of France, his second place was almost like victory.
"It took me some time to be accepted among the top drivers and earn respect for my training of the horses," Aillaud said. "I play with them, and I mainly participate in competitions to prove that it is possible to act with horses in a playful manner and still be successful in the top sport. This ease I miss with many of my colleagues in the four-in-hand driving sport."
Chardon, who had three balls down in the first round of the Final and finished in third, accepted Sandmann as the winner. "The technical course suited me very much as well, there is nothing to mourn about, but Christoph was the best driver today," he said.
"We have a deal, he can win in front of his home crowd today, but then he's going to let me win in front of my home crowd in the 2008 World Championships in the Netherlands," joked the Dutch driver.
Birgit Popp