Calgary, Alberta—June 18  
It was a fantastic accomplishment for Sameh El Dahan of Egypt—after knocking on victory's door over the last two weeks with multiple third and second place finishes—to finally take home his first CSI 5* grand prix win at Spruce Meadows, with victory in the CP Grand Prix.
El Dahan was elated with his Irish-bred mare, the 13 year-old Sumas Zorro. "The mare deserved to win because she was second in the big class on Saturday, and third in the 1.55-meter on Wednesday of the National, so I'm so happy that today was her winning day."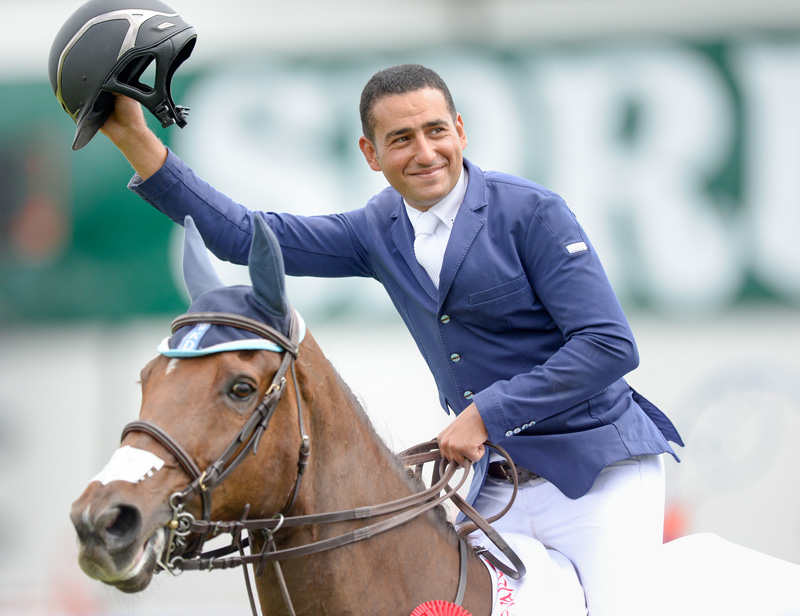 When El Dahan was asked about his feelings towards the course today he noted, "from the beginning of the summer series, this mare has given me such a great feeling. She has been jumping with super class, so I got the feeling we would have the clear round today. I walked the course this morning and knew it would be quite tough. Leopoldo [Palacios, the course designer] didn't leave anything to chance—there were big oxers, tall verticals, short time allowed—but my mare can cope with all of that because she has that quality. She also has a big heart—she really tried her heart out at every jump and she really made it happen for me."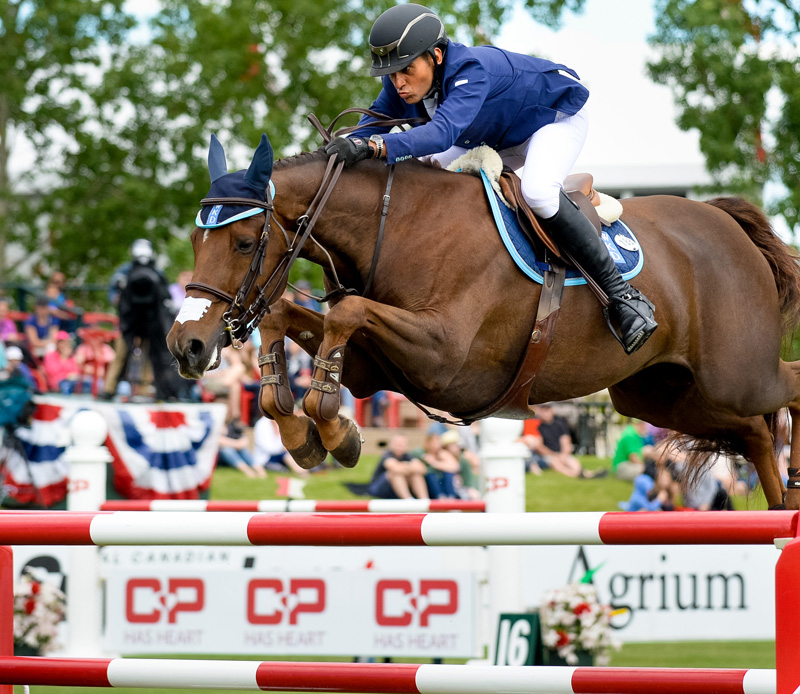 The pressure was on in the jump-off round with only two riders, Charlie Jacobs and El Dahan, qualifying with a clean score card. "I was lucky enough to go last in the jump-off. When I know there are people behind me I really try to go as fast as I can, so that gave me the advantage."
The first to complete the testing championship caliber course with a clear round was Charlie Jacobs with Cassinja S. The 11-year-old mare had carried Jacobs to a second place finish in this same competition the previous year. In a great effort to put the pressure on El Dahan, Jacobs came up short with just one unlucky rail in the jump-off.
"In a five-star grand prix I am very happy with today's finish," Jacobs said. "For me to have my son here and on Father's Day it was definitely a special moment to share the sport with him. I would also like to thank the Southern and Heathcott family for offering such a world class venue like this—there is really no other place like it in North America. It's the top of the sport and it's really just a pleasure to be here always. It means a lot to have my family here on Father's Day and for my son to see his old man ride in this grand prix and do well—it means a lot."
Following in third place was American great, Beezie Madden, with a partner fairly new to the five-star level. Coach, a 9-year-old Holsteiner gelding, carried Madden across the finish line with no jumping faults but just a fraction off the pace, crossing the finish line at 85.18 seconds, resulting in an unfortunate 1 time fault.
"He's a 9-year-old that I purchased when he was 7," Madden said. "We unfortunately weren't able to get him over here in time for the Spruce Meadows summer series when I was here two years ago. But I've always believed in him and he really stepped up during the winter circuit in Wellington (Fla.) this year. I am very impressed with how he handles himself in strange venues especially coming into impressive rings like the International and Meadows on the Green, so I'm really happy that for such a young horse he was able to come in and go like that."
The three athletes together were able to raise an amazing $40,000 dollars in donations from their clear round performances today. CP Has Heart, a charitable division of Canadian Pacific, generously contributes $10,000 dollar toward heart health, for every clear jumping round performed. The class's donations will go directly to DIL Walk Foundation with all funds supporting operations of the foundations CHARM (Community Heart failure Assessment, Rehabilitation and Management) clinic.
See full results of the CP Grand Prix.