Oct. 5 – Woodside, Calif.
"Without crying, I don't know if I can say what this means," said Debbie Rosen about winning the CIC*** at the Woodside International Horse Trials. "It means just don't give up. When everybody else tells you 'You can do it,' and you're the only one who thinks you can't, [you need to] get your head right."
Rosen, 52, of Calabasas, Calif., and The Alchemyst overtook Lauren Billys and Ballingowan Ginger to win the CIC***. She incurred 4.0 time penalties on cross-country for a final tally of 58.5, while Billys finished with 8.4 time penalties, for a final score of 59.4, to relinquish the lead she'd gained in the first two phases on Friday.
The CIC*** victory was worth $3,000, but it meant more to Rosen than the prize money.
She's owned The Alchemyst for eight years and been competing him at the three-star level since 2008, but this is their first three-star victory. In addition, Rosen had cancer surgery in late 2009. "Honestly, this means the world to me—and not even the winning. I just wanted to do this. I wanted to work on my skills, and I wanted to be brave—those are the only things I wanted to do today. I can't even get my head around that we've won," she said moments after dismounting.
"That was the fastest I've ever gone," Rosen added. "It was the ride of my life. Everything I hoped for happened out there. There was very little for me to do out there, really—he was so perfect."
Billys, 25, said she wasn't disappointed to finish second, since this was only the second CIC*** for her or her horse. "I was a little slow the first 2 minutes, by accident—I really wanted to win. But I came out of the box not quite fast enough, and then it was too late to make it up," she said.
Like Rosen, Billys has had a long partnership with Ballingowan Ginger, 11—they've been together for six years and have climbed from novice to advanced, along the way competing in the 2011 Pan Am Games for Puerto Rico and winning the CCI** at the Galway Downs International Three-Day Event in 2012.
"I've been really lucky to have this horse," said Billys, of Sanger, Calif. "I've learned a lot from her."
Helen Bouscaren rode Ben to the day's fastest cross-country time (1 second slow, for .4 time penalties), to claim third place.
Bouscaren began riding Ben, a 9-year-old Thoroughbred, when he was 3, and they too have moved through the levels together. Bouscaren, 22, thought Derek di Grazia's course was perfect for Ben.
"I thought it was great, and I liked that the time was tight, since I have a fast horse," said Bouscaren, of San Ramon, Calif.
Mojito, a 13-year-old warmblood ridden by Maddy Mazzola of Oakland, Calif., earned the Fric Frac Berence Heart Award and $1,000 prize money, presented to the three-star horse and rider with the best cross-country performance, as determined by a panel of judges. They finished ninth, with 4.0 time penalties.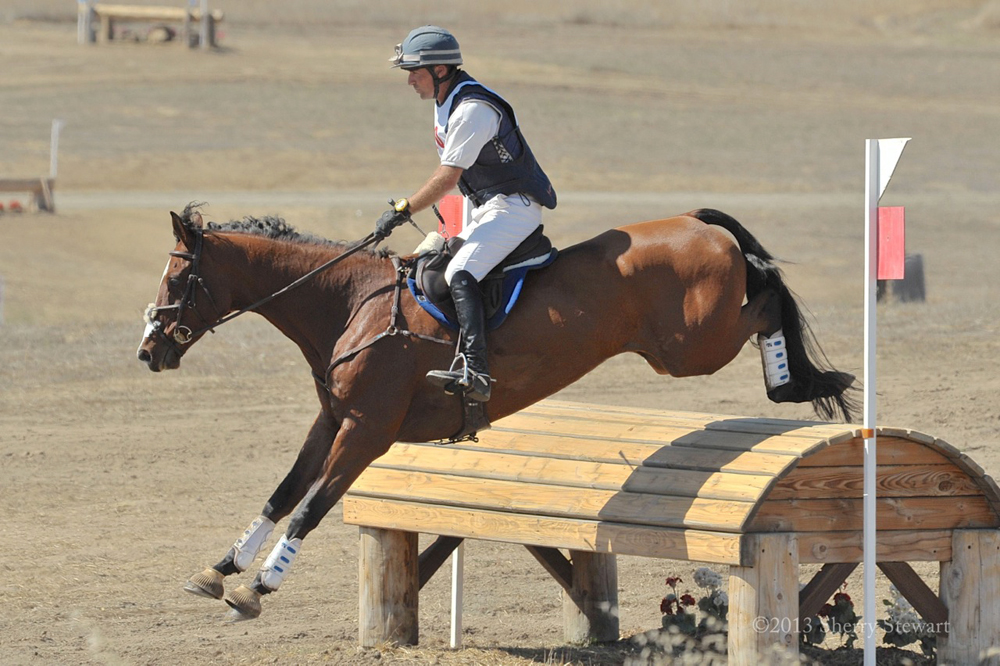 Matt Brown rode BCF Bellicoso to the CIC** win at
Woodside International Horse Trials.
Photo by Sherry Stewart
Matt Brown, who claimed first and second places in the CIC**, had three chances on di Grazia's course—all three jumped faultlessly and two finished within the optimum time. First-placed BCF Bellicoso finished 1 second slow, but Aida and Super Socks BCF made the time to finish second and eighth.
"I'm really lucky to have such fabulous horses. I pinch myself every day," said Brown, 37. His good fortune is due to the support of the Blossom Creek Foundation of Bob and Valerie Fish. Valerie has been a student of Brown's for several years, and during the 2012 London Olympics Brown mentioned to her that riding in the Olympics is a goal for him.
"She asked what that would take, and a few months later we were in England looking at horses. We went there for one horse and came home with three," said Brown.
"It was great to find horses like these. It's like a dream come true for someone who was riding whatever came along. You have to have the right partner to go all the way," said Brown.
Michelle Mitchell owns Aida, 8, and Brown started her under saddle as a 3-year-old. "She was really difficult at first—at times she was totally unrideable," said Brown. He said that Aida was spooky and lacked confidence, "but the last two events she's been almost cocky."
Kristi Nunnink, of Auburn, Calif., won the CIC* on Corner Street, finishing on their dressage score of 40.8.
See full Woodside International Horse Trials results.