An unusual jump-off strategy proves profitable for Ragan Roberts and Omar Shariff.
Ragan Roberts took a big chance that made him and Omar Shariff the winners—just barely—in the $25,000 Grand Prix of Princeton that capped the Oct. 1-5 Princeton Show Jumping Classic in Princeton, N.J.
Usually, grand prix riders have a definite "go fast" strategy for the jump-off. But after Roberts watched all three of
his jump-off competitors have rails, he decided "to go slow. That was the best strategy to keep the rails up," Roberts
said. "I got 3 time faults [in the jump-off], so that tells you how difficult the course was.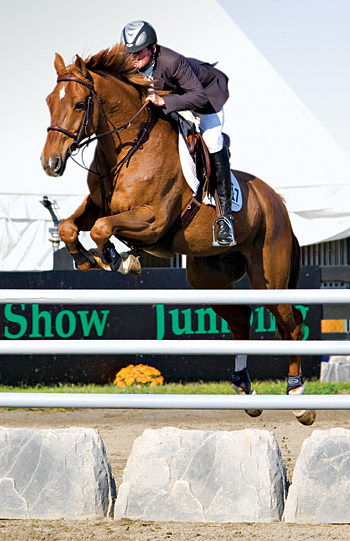 "Richard [Jeffery, the course designer] is the master of little things on a course and going clean on any of his routes is a feat," said Roberts, one of four out of field of 40 starters to make it to the jump-off. "The time was tight because Richard knew people would have to gallop to make it."
In the jump-off, the course finished over an in-and-out to a vertical. "With those two jumps to go, I knew I had a good chance to win, and at that point, that's when my mind said, 'Don't blow it,' " recalled Roberts.
"This is the smartest horse I've ever ridden. He sees the fences and knows what to do," Roberts said of the 16.3-hand chestnut. "His owner, Allison Kroff, won quite a bit on him in California and Colorado, but when she moved on, her father, David, with whom I am friends, asked me to ride him. At age 13, Omar has a lot of jump left in him," continued Roberts who will campaign him through the winter and perhaps in Florida.
Sloane Coles had the fastest time in the jump-off, but two rails kept her and Louisiana in third. She was luckier earlier in the week, however, winning the welcome stake.
"Lousiana is everything you would want in a horse," said Coles, 20, of The Plains, Va.
Coles bought Louisiana, a 13-year-old, 16.1-hand, bay warmblood daughter of Argentinus, two years ago during her last junior year. "Since then I have learned a lot from her," Coles said. "She is a very careful, scopey type of horse.
She wants to win and she is fast. We won our first grand prix this summer in Blaineville [Canada]."
A sophomore at Drew University (N.J.), Coles rides with Mark Leone. "I have changed a few little things with Louisiana," she said. "She is very sensitive but also pretty spooky. So I am using a little longer spur on her so I can have that extra strength when she balks at the jumps."
A New Gray One
Carolyn Kelly entered Wilma Feuerstein into the jumper classic to tune her up for the grand prix later in the week, but the 10-year-old mare surprised everyone by swamping her rivals in the classic.
"Not bad," said Kelly, 20, after her first victory on the German-bred she got in Florida last winter. "I was fairly neat and just kept on the pace. This is her first win with me."
Kelly won the Princeton grand prix last year on her Rulanda and was taking a shot at it again with "Wilma," a 17.2-hand warmblood. Wilma didn't fare quite as well in the grand prix, however, having four rails in the first round.
"Wilma is a strong mare, which is quite different than Rulanda, with whom I have been having a lot of success,"
said Kelly. " 'Ru' is very light and energetic while Wilma is a lot bigger and stronger, so it is a bit of an adjustment to get used to her."
Wilma, a gray like the other two horses Kelly rides, has lived up to what the New York City native had originally seen in her—a horse who "had a lot of talent, an extremely powerful jump and a great disposition and mindset. She wants to learn and work with you," Kelly said.
Wilma had come to the Florida circuit by way of South America and impressed Kelly as a grand prix prospect. The Princeton University (N.J.) junior has adjusted her class schedule so she can commute from school to nearby Flemington where she rides with her trainer of three years, Chris Kappler.
Holly Cerasano of Saratoga Springs, N.Y., can add her victory in the junior/amateur-owner jumper stake to her growing list of wins with Koko, her favorite horse.
"I went very fast in the jump-off, did all the inside turns and just tried to stay as balanced and loose as possible," said the 16-year-old high school senior.
The Selle Français-Thoroughbred mare "is pretty small at 15.3 hands, but she is an amazing horse," said Cerasano.
Cerasano competes Koko in the low junior division but just bought another horse, Shaman, to move up to the highs. "We got Shaman to do the high juniors; he has such scope. Koko can't do them, but she will always be with me. She's just such a great horse, and we have such a connection. Just working with her on the ground and riding her for so long—you really have such a bond. So when she retires she will have a farm out back," she said.
Not So Little
Little Tom has a big jump and heart that carried the Connemara cross to a pair of wins in the children's/adult jumper division. The bay, 15.3-hand, Canadian-bred gelding and owner Patricia Diamond Hennessy swept the initial class, a power and speed event, a day before he came back to claim the children's/adult jumper classic by almost 2 seconds over his nearest challengers.
That suited the opinionated gelding, who likes to win. "If he doesn't win, he gets mad because he doesn't like following others in a victory gallop," said Hennessy, 41, who works fulltime in her husband's equine shipping business.
"Tom Tom" is the result of an unplanned mating of the Irish stallion, Thomas Patrick, and a Connemara pony mare. Hennessy helped his original owners keep Tom Tom in shape. When they decided to sell him, they originally priced him beyond Hennessy's means but later "drastically dropped the price so I could afford him," said Hennessy, who bought him five years ago.
"He had a bit of an attitude," she recalled. "He was fast and very heavy in your hand. I did a lot of flatwork with him, basically trying to get him to listen. In the past three years it all came together, and he has been very consistent, although he still has his moments," said Hennessy.
She credits help she got from Kappler, Sarah Segal and Holly Mitten among others for getting her to the point where she is today. "I am on a budget and they just kick in and help me when I needed it," she said.
Kappler's prodding got Hennessy to travel to Spruce Meadows in Calgary, Alta., this summer for the first time. "I won five out of 11 classes I was in there and the 1.20-meter class was probably the highest class I ever won on him," she said.
Nancy Degutis