Show jumper Will Simpson got a nice surprise when, after selling his top mount The Dude to east coast-based amateur Nikki Walker in March, the horse returned to his barn this spring.
While Walker spends the summer in Europe with trainer and Irish Olympic hopeful Cian O'Connor, Simpson has temporarily reunited with the 10-year-old Oldenburg gelding (Carry Gold—Honey Moon, Argentinus). He will have the horse in his care until Walker returns stateside in the fall.
So far, Simpson is making the most of his extra time with his former mount, with whom he won four grand prix classes at HITS Thermal (Calif.) last year as well as the $45,000 Grand Prix of the Pacific at the Del Mar International (Calif.).
In two weeks at the Thunderbird Show Park in Langley, British Columbia recently Simpson and The Dude won the $10,000 Thunderbird Open Welcome Classic on May 27 at the Canadian Premier and the $34,700 CSIO**** Friends of Thunderbird Grand Prix on June 4 at the British Columbia Open, topping a 14-horse jump-off.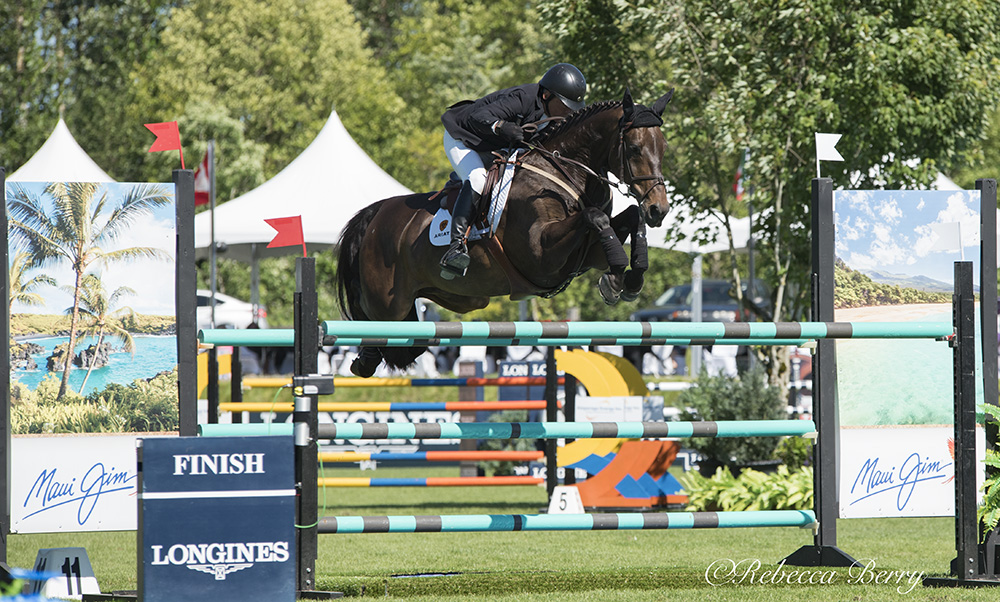 Will Simpson and The Dude on their way to the win in the $34,700 CSIO**** Friends of Thunderbird Grand Prix. Photo by Rebecca Berry
The Chronicle caught up with Simpson to chat about his reunion with The Dude and his summer plans:
COTH: How did this reunion come about?
WS: Nikki wanted to go to Europe, and she just didn't want to take the horse and have to learn his peculiar ways there. He's The Dude—he's kind of cocky, and he's kind of opinionated. He bucks a little bit here and there and has a lot of quality. If you get him a little deep, he squeals like a porpoise and lets you know, "Hey, that was a little bit more hard work than I wanted!"
[Walker] is a very good horsewoman, and she wanted to make sure that the transition [for her to get to know the horse] is really smooth. She wants to come back after her European tour and learn all the peculiarities about the horse.
Tell us about how things went at Thunderbird.
He was first and third during the first week of Thunderbird. Then I made a mistake early in the week [during Week 2]. I had a vertical down in the corner [in the $34,600 CSIO**** Artisan Farms Nations Welcome Stake], and it was my mistake; I just got there late. He jumped incredible that day.
But I watched the jump-off in that class, and I was drooling. I don't get to ride against those guys all the time —Eric Lamaze, Conor Swail, these guys that show [on the east coast]. I was drooling at how they were basically leaving two strides out of the lines and still jumping round. I said to myself, "I've got to get in the jump-off with these guys."
[In the Friends of Thunderbird Grand Prix], The Dude jumped incredible in the first round. Then, in the jump-off, you basically had to leave out two strides out of the first line from an oxer to a triple-bar. You had to jump right to left over the oxer; otherwise, you couldn't do it.
He just jumped the oxer beautifully, and then he stepped up and did seven perfect strides to the triple. I thought, "OK, now we're on the right pace."
It was really exciting for me. He just stepped right into it. He said, "OK, I like this gear, too!" It was a whole new gear, and he was ready and game for it. For the rest of the course, we just stayed on track and made sure we kept the jumps up, but he just jumped brilliantly.
How does it feel to have this horse back, even if it's just temporary?
He's just a phenomenal character of a horse. I think he really gets the show scene and gets the sport. He understands that he's got to jump the fences, not knock them down and try to go fast. He's almost like a Segway: Once you think about it, he's already got it done!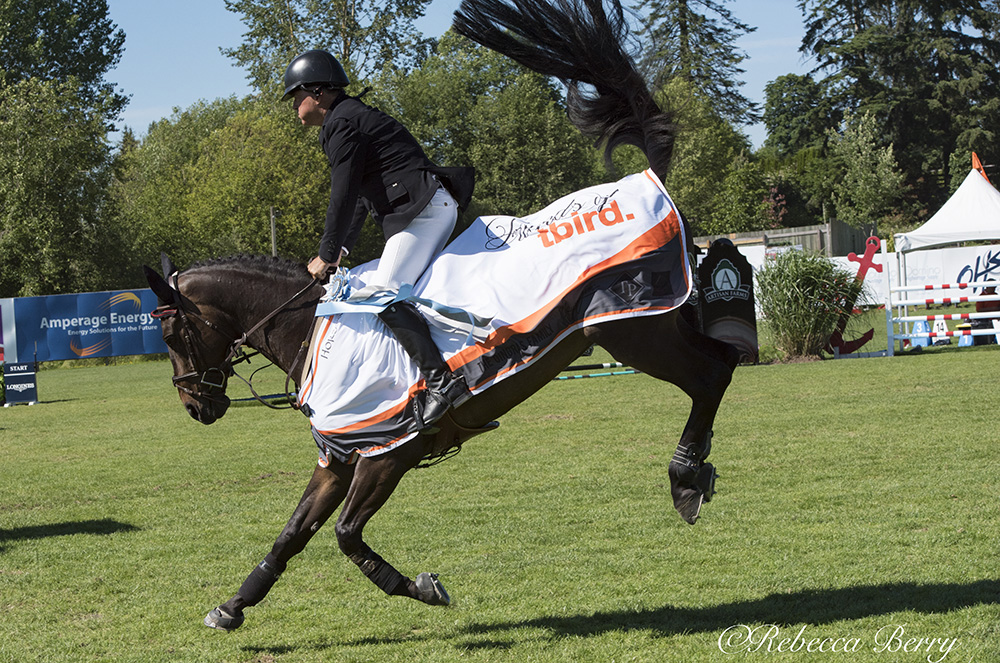 The Dude celebrating in the Thunderbird victory gallop with Will Simpson. Photo by Rebecca Berry
It's been a phenomenal tour with him [this spring and so far this summer]. We did some easy classes, and then we came up to Thunderbird, and he was first, third and first. It's been really exciting to get back in the ring with him and his competitive instinct.
Will you work with Walker with she comes back from Europe?
We'll spend a couple weeks together and really go over all the little details of the horse and make sure the transition is really smooth.
She's a wonderful, up-and-coming horsewoman, and she really cares about the horse and how the horse is feeling and the care of the horse. The Dude has a wonderful owner, and it's very exciting.
What are your summer plans?
We'll do the [North American Junior and Young Rider Championships] in Colorado with [student] Hannah Heidegger, and we've planned to show eight weeks at [the Colorado Horse Park].
Then it'll be a pretty nice, easy, mellow summer for The Dude. It will kind of put him on ice, waiting for Nikki. Then he'll be fresh and ready and confident for when she comes back from Europe. After that, I'll show in New Mexico.