Will Coleman's dreams of another four-star finish at the Rolex Kentucky CCI**** this spring and a chance at the Alltech FEI World Equestrian Games eventing team were shattered in April as his top horse, Conair, died after a fall on cross-country at The Fork Horse Trials (N.C.) due to internal hemorrhaging. Coleman also broke his collarbone in the fall.
But while he admitted he'll likely never get over the tragic loss, Coleman and the Conair Syndicate decided to move forward in memory of the gelding with the purchase of two upper level prospects, Soupçon de Brunet, an 8-year-old Anglo-Arabian gelding (Zandor Z—Bikadine, Nouredine Du Lirac*HN) and Tight Lines, a 7-year-old French-bred Thoroughbred gelding (Turgeon—Merindole, Tel Quel).
Along with his 2013 Volvo Bromont CCI*** (Quebec) winner, OBOS O'Reilly, who was recently named to the U.S. Equestrian Federation High Performance Summer/Fall Training List, and several up and coming young horses, Coleman has plenty to keep him busy as he looks forward to the fall three-days.
We caught up with Coleman, 31, Gordonsville, Va., as he was pulling into the Cosequin Stuart Horse Trials (N.Y.) where he has OBOS O'Reilly entered in the CIC** and Luckington in the CIC*, plus several students to coach.
What has it been like adjusting to the loss of Conair?
It's been really, incredibly difficult. It's hard to describe. Obviously it was truly my worst fear as an event rider—the possibility of losing a horse in competition. It's certainly not something that happens very often.
It was tragic, and it haunts me to a degree. I don't think I ever really will [get over it]. He was an amazing horse and had a heart of gold, and I think about him every single day, and I probably will for the rest of my life. He was a very special horse to me, and he always will be.
"Joey" genuinely loved what he did, and there's absolutely no question in my mind about that. That horse had a passion for his life that exceeds anything that I've ever seen in another animal. It's invigorating and kind of inspiring to think about that—every day you get up and go ride your other horses and carry on with that memory in mind, because it is the epitome of why we do this. It's a very emotional and spiritual partnership with the horse, and I don't think there's any sport that encapsulates that more than eventing, and he was that for me.
He will always be a big part of what we do, from the top down. For me, for everybody in our barn and for all our owners, I think they all saw a little bit of that in Joey, and I think that's what they all want to be a part of.
How are you feeling physically after breaking your collarbone?
It feels good. I've broken it three times now. It's totally held together by titanium now! It was a very painful surgery, but my surgeon, Eric Carson at [the University of Virginia Medical Center] did an amazing job. He's patched me up twice now, and if I break it again, he'll definitely be the man I go back to.
I've been back competing for about a month, and I feel really good. I'm itching to get our horses back in order and get back at the top level of the sport.
Was it tough to sit out competing?
When you have the opportunity, there are always things you can do to make that a positive experience. I definitely took the time, I got to watch my horses being worked, and that's good, to take a from-the-ground view of them.
Sitting out does kind of light the fire a little bit and give you that extra push of motivation.
Tell me about Soupçon de Brunet and Tight Lines.
After the spring the Conair Syndicate decided they wanted to carry on in memory of our horse and basically try to fulfill our goals. We set out a new plan to try to maybe get a couple of horses qualified for the [2016 Olympics in Rio], so these horses are part of the plan.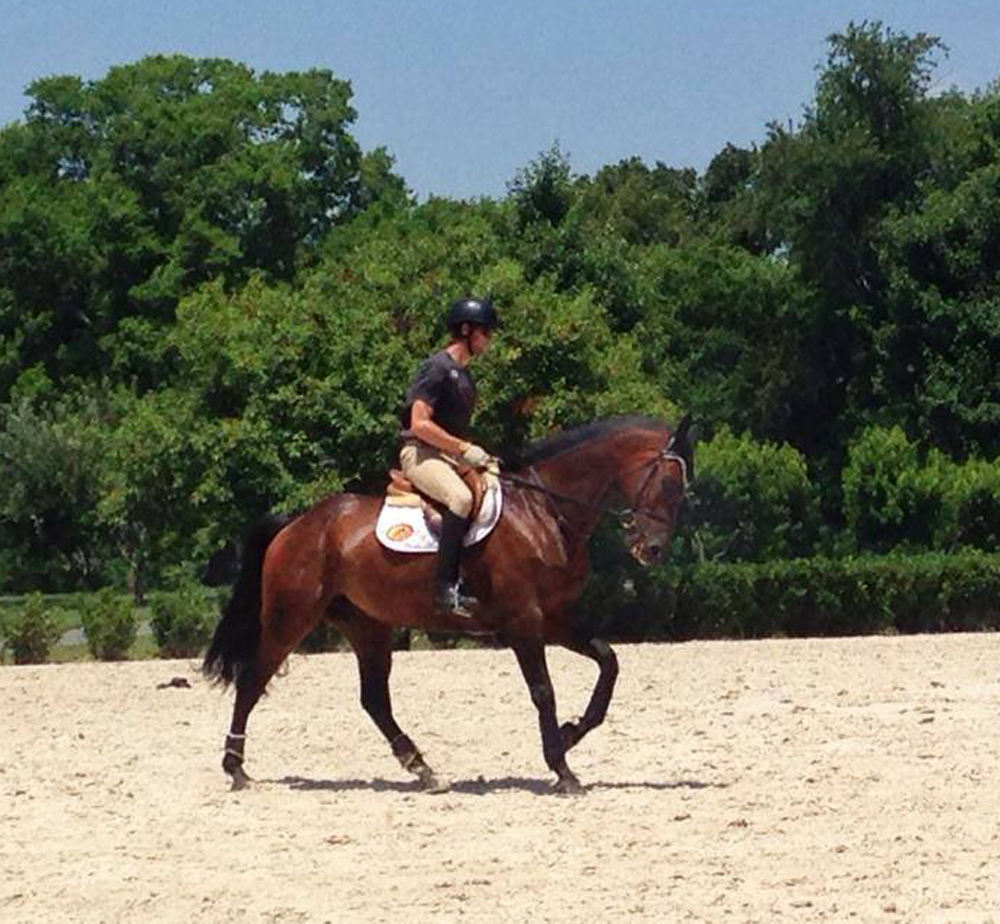 Will Coleman working Soupçon de Brunet
at his farm.
Photo courtesy of Will Coleman
I really couldn't be more appreciative after our tragic experience this spring. It really is an amazing group of people, and I feel so fortunate to have them behind me. We decided to not go out and buy any three- or four-star horses, but to buy something we could produce.
I've got a contact in Europe that I trust a lot, and we've become friends. I went over there a couple of times this spring, and he's put me in touch with some good horses.
The first, Soupçon de Brunet, seems like a lovely horse. He's literally just gotten here [on July 5], but I can't remember trying another horse that I fell in love with almost immediately.
He's a lovely type—a big kind of galloping-looking horse. He's very rangy, and he's put together quite well. His pedigree has a lot of blood in it, which is something I always look for. He just has the most wonderful jump—I can't describe it to you. He just came off the ground really effortlessly.
He was ridden and produced by an amateur and seemed to have a really honest disposition about him. We liked him immediately. I feel very, very blessed to have him in the barn. [Editor's note: Soupçon de Brunet competed to the two-star CCI level with French rider Manuel Debruycker.]
I don't know [the plans for him yet.] He's probably going to start out just running around a preliminary so I can get a feel for him at an event. Then, tentatively, we'll aim him for the [Dutta Corp Fair Hill International CCI** (Md.)] and maybe an advanced horse trials somewhere along the way. We'll get him into our program and see what he's best suited to.
He's settled in really well. He seems to like Virginia so far.
I love Anglo-Arabs. They have a lot of endurance qualities to them, and they can be a bit more sensitive. More than anything, I was drawn to France because I don't think a lot of people are going there, and you maybe have a better chance of finding a good horse there.
I kind of got the impression that if you weren't looking for really young horses, which is most of what I've done over the years, Ireland and England are pretty picked over. It's difficult because there are so many competitive people there now, it's kind of hard to get a good horse out of those countries. We just thought we'd look off the beaten path a little bit.
We're in the process of bringing Tight Lines over [from France]. He's a full Thoroughbred. He was a racehorse in France until he was bought and produced as an event horse.
He's done just a one-star, and I think an intermediate horse trials, so competitively he's greener. I do love a Thoroughbred, and the horse is a beautiful type. He's a little bit more raw maybe, but they're both nice types.
It's exciting, and we think both horses will go on to do some good things.
Tell me about the other horses you have in your barn now.
Richard Sheane [of Cooley Sport Horses in Ireland] and I are old buddies, and he's found me some good horses. We've got a couple of Cooley horses and several other young horses that are owned by the KBLB Event Horses Syndicate. They own four extremely nice young horses, so we bring those along.
So far they look to be a promising bunch. They're only 5 years old, so we'll have a lot of time to wait and see what they turn into. I hope they'll all qualify and compete at the Young Event Horse Championships (Md.).
How do you feel about being named to the fall training list?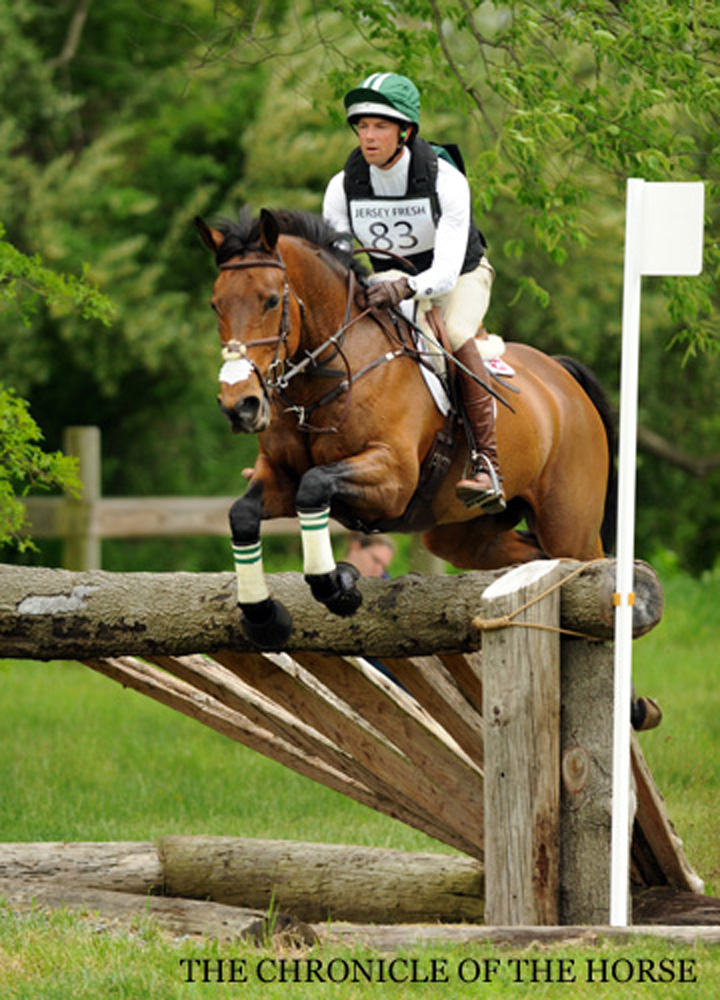 Will Coleman is hoping to have OBOS O'Reilly back
in action in the fall.
Photo by Lindsay Berreth
I'm very happy for the Four Star Eventing group who owns OBOS O'Reilly. They're another wonderful group of people, and that horse has done some good things in the past. He had a bit of unlucky injury trouble last year, and the selectors I think were remembering his previous form to put him on this list again. We hope to kind of earn our spot there by probably heading to Fair Hill again this fall and trying to give a good performance there.
OBOS O'Reilly hasn't competed much since winning Bromont last year. What's going on with him?
Unfortunately I think he kind of tweaked a tendon when he pulled that shoe off. The injury was really small, but we've learned that he's an incredibly slow healer. The last thing we wanted to do was re-injure the horse, so the owners were incredibly patient and they trusted my judgment as far as when he would be ready to bring back. He pulled a shoe at Richland Park (Mich.) last summer as we were getting ready for the Nations Cup at Boekelo (the Netherlands), and to be honest, I never noticed it until I got to the finish line and realized he'd lost a shoe.
We had planned on bringing him back in May to do Jersey Fresh (N.J.) and maybe going to Bromont, but I was hurt. His whole year has gotten unfortunately pushed back in part because of the time we both needed to heal.
He's in good form now, and I look forward to a fall campaign.
Anything else to add?
Other than that, I got engaged to Katie Thornton, which is a big life moment for me! She's a big part of everything and I feel very blessed to have her in my life. Everything's very good and we look forward to some good things in the next couple of years.