In a field full of top international event riders at the second annual $75,000 Asheville Regional Airport Wellington Eventing Showcase, only New Zealand teammate Dan Jocelyn traveled farther to compete than Tim Price (and only by 28 miles). Based at Mere Farm in Wiltshire (England), Price, who teamed up with his wife Jonelle to become the first husband-and-wife duo to represent New Zealand at the Alltech FEI World Equestrian Games (France) in 2014, is not a stranger to American eventing. Last year, he and top mount Wesko (Karandasj—Kolien, Mytens) finished second at the Rolex Kentucky CCI****.
Price has two mounts in the Eventing Showcase: He is borrowing Angela Gryzwinski's Novelle and Edy Rameika's Classico Z, a mount of Sara Kozumplik Murphy, who herself is competing aboard Rameika's Catchascatchcan. The Chronicle caught up with Price on his visit to Florida, how he's getting to know his mounts, and his plans for the year.
COTH: What made you decide to make the trip to Florida to compete here?
TP: The money was an incentive and the fact that it sounded like an interesting competition. It has a slightly new format, something that has the potential to go bigger and better in the future, so it might be an opportunity for me to bring a horse with me next time from the U.K. It's nice to come have a look and get a feel for it. And it's a good excuse for a bit of sunshine!
What has your experience in Wellington been like so far?
I haven't had a good look around yet. I arrived in the dark a couple of days ago and didn't get finished [schooling the horses] until late on Friday when it was getting a bit dark as well. But [I plan] to have a look around [the area] and maybe catch some of the show jumping across the road.
The hospitality has been incredible. I've been made to feel very welcome, the facility is amazing, and obviously the weather is what it's all about. It's been an amazing experience [so far].
What do you think of Novelle and Classico Z?
I'm thrilled, because you don't know what you're going to get. They're both completely polar opposite types of horses. One's a little Thoroughbred mare, Novelle, and she's older. She's 14 years old and went around Rolex Kentucky four-star last year, so she knows her job, and it's a matter of me being in the middle and trying to find some equal ground. I've only had about 24 hours to do that, so I'm really happy with where we've gotten together so far in terms of a partnership.
The other guy, Classico Z, is a big gray horse that hasn't been eventing for a couple years but has been jumping and doing other things. He's just a big power pack of a horse that goes large. He loves to jump and loves to do things.
They're completely different types, but I'm really happy they're both out and out jumpers at the end of the day, and that's really important. You want to improve throughout a competition, and I think these two will do that. It's just about trying to get the best out of them on the flat, and I'm really happy with how they both went.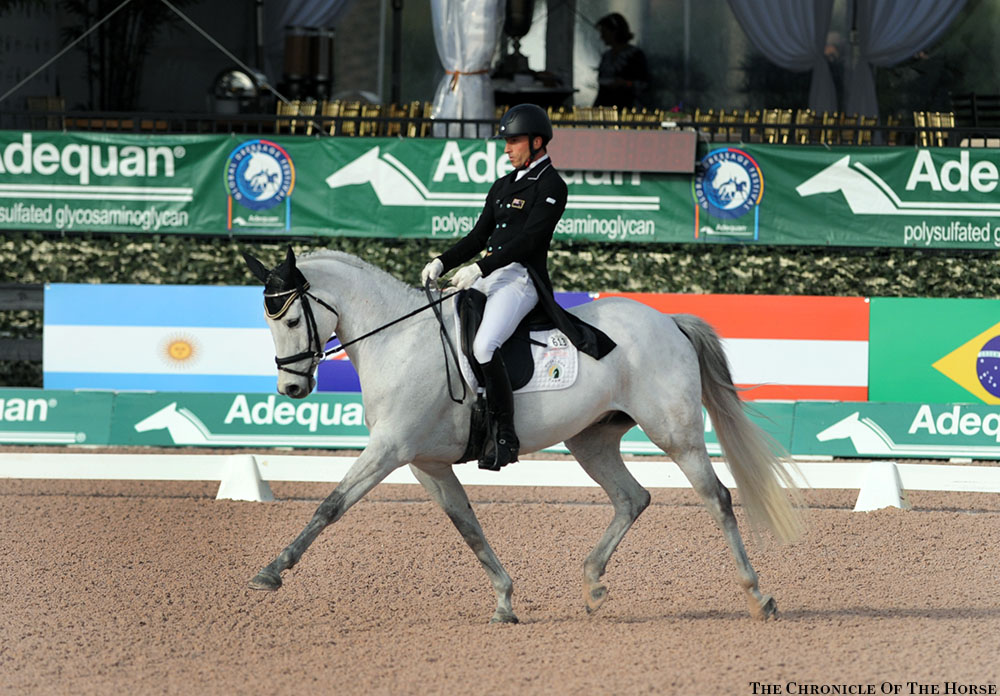 Tim Price and Classico Z
How do you prepare to compete with horses you've never sat on before?
I'm a natural rider, and I try to react rather than act half the time, combined with the necessary ability to train a horse and know what it's all about. It's a bit of a balance, and I think that's a good quality to bring to this kind of job.
It is completely different to riding your own horses, where you've prepared the way you want to prepare and you know them inside and out. Especially at the advanced level, you tend to have had [your horses] for quite some time, but it's part of the challenge. I love a challenge, and I like to try to convert that into a competitive result, and that's just what it's all about for me. It's fun to put yourself in a situation when you have to dig deep and find a way through. It's just another form of competition, and it's very enjoyable.
Thursday was my first sit on the horses, and I sat on them both a couple of times. They got better as they went. I had a little jump on them, and [Friday] I did my dressage on both of them (Price received penalty scores of 33.5 and 38.2 with Classico Z and Novelle, respectively), and hopefully [Saturday] I'll have a good couple of jump phases.
Are you planning to come back Stateside soon?
I'm coming back hopefully with two horses for Rolex: Wesko, who went last year, and a nice young horse called Bango, whom I would probably consider my second choice for [the Rio Olympics]. He's a really nice horse, and I'm looking forward to giving him the kind of experience it gave Wesko last year.
How is Wesko doing?
He's very well. He's coming to work better than ever, stronger, and he's enjoying his job as he always does. I can't wait to get out on him. I'm so lucky to have him. He's like my best friend, and we have a lot of fun together. He'll do anything for me, as long as he's having a good time.
The plan is to not take this year too seriously. We'll go to Rolex and have a good time and hopefully put in a good result, and then we'll look forward to the next.
What are your plans for the rest of the year?
I'm not looking much beyond the two four-star events I have coming up. I've got Rolex and then I go straight back [to England] for Badminton. That's really where my focus is at this stage, and I don't want to get ahead of myself. The horses are all feeling well, and I'm just going to keep them that way and hope for the best.
[The Rio Olympic Games] is definitely the goal. Wesko I think is very well suited to Rio with two show jumping rounds potentially. He's at the right stage of his career—he's 13 years old, and he's learned his craft. He's ready to fire, and I think he could be very competitive, not to put too much pressure on myself. But I think he could be very suited to that competition, and I have other nice horses in the background as well. It's really just about having a good spring, and hopefully Rio will sort itself out from there.
[My wife and fellow New Zealand four-star rider Jonelle] is absolutely pointing for Rio as well. She's got a couple of really nice mares that are looking really good. That would be quite a fun experience [for both of us to compete in the Olympics].
Check out the Chronicle's coverage from the first day of the $75,000 Asheville Regional Airport Wellington Eventing Showcase. The event concludes Saturday, Feb. 6, with show jumping (10:30 a.m. start) and cross country (1:00 p.m.). Links to the live stream can be found here.