It's a place where many young riders have found themselves—their top horse, the one that put them on the map and made their dreams comes true, retires. Now they have to start all over again.
It's been less than a year since Adrienne Lyle officially retired her 2012 London Olympic Games and 2014 Alltech FEI World Equestrian Games (France) partner Wizard, but the time away from top-level dressage competition was long enough for the accomplished U.S. rider and assistant trainer of Debbie McDonald, who runs the Idaho-based River Grove Farm.
So, the 31-year-old Whidbey Island, Wash., native is bringing up a talented string of young horses at various levels while basing herself for the winter at Kylee Lourie's TYL ("Thank You, Lord") Farm in Wellington, Fla.
Her string includes the 9-year-old stallion Salvino (formerly named Sandronnerhall), who came to Lyle through the formation of a syndicate comprised of prominent owners Akiko Yamazaki, Betsy Juliano, Elma Garcia-Cannavino and Jim Cannavino, and Bruce and Jen Hlavacek. The stallion previously earned scores in the 80 percent range in FEI Young Horse classes at CDIs in Spain with rider Antonio Diaz Porras and is now working his way toward his Grand Prix debut.
Also among the group is the 9-year-old Oldenburg mare Horizon, which Juliano, of Havensafe Farm, purchased at the Performance Sales International Auction at Ankum in Germany in 2010. George Williams developed Horizon to second level. Lyle and the mare made their FEI Prix St. Georges debut at the Adequan Global Dressage Festival (Fla.) in February, winning the class with a 77.76-percent score, before following that up a month later with two more wins in the USEF Developing Prix St. Georges with scores of 73.08 and 77.05 percent.
Another up-and-coming horse is the 8-year-old Harmony's Duval, whom Lyle developed from the time he was an unbroke 5-year-old. At the gelding's first horse show in March, he won both of his USEF fourth level tests with scores of 75.83 percent and 82.50 percent.
And although she is not currently competing at the CDI Grand Prix level, she is still involved in it. Lyle recently helped choreograph 2016 Olympic hopeful Kasey Perry-Glass's freestyle routine. Perry-Glass debuted the routine with her own Goerklingtgaards Dublet in the FEI Grand Prix Freestyle CDI**** on March 18 at the AGDF on March 18 and finished second, only to Laura Graves and Verdades, with a score of 75.75 percent.
The Chronicle sat down with Lyle to learn more about her horses, her plans and how she's evolving as a professional.
COTH: What have the past year been like for you since Wizard's retirement?
Lyle: It definitely changes your life. When you have a horse at that level, your entire life revolves around that horse and their competition schedule. For seven years, my life revolved around that, and the rest of the horses were put on the backburner a little bit.
When you go to Europe, they have to hang out at home. The last two years have kind of been fun, because they've been rebuilding years. We've gotten to focus more on these horses that we're bringing along.
How is Salvino doing and what are your plans for him?
He's incredible. I'm super excited about him. He's going to be a really incredible horse. We've done a couple outings with him this year; we took him over to Global twice [to school]. He's just a little bit away from being able to pull it all together for a test, so we just made the decision to wait rather than try to rush him into the ring [and show] this season. We're going to wait for maybe something in the fall or next season. He's just turning 9, so he's still young.
Originally, when the syndicate was formed and came to me, the idea was to get a horse that was already a proven Grand Prix horse for Rio. That was their shorter-term goal, and we went over [to Europe] five times looking for horses. I finally said, "I can't find something that I'm comfortable with you [the syndicate] getting. Would you be willing to look at something that's younger, that won't be an option for Rio but would be an option for [the 2018 World Equestrian Games] and the next Olympics down the road?"
They said yes, so that's how we ended up with Salvino, who was just turning 8. That made us recalculate our goals a little bit, knowing that he probably wasn't going to be ready for the Grand Prix right away. Plus, he was a stallion, so he did a month in quarantine, and it was July [he was purchased in May] before we even got him to Idaho, and after sitting in quarantine, it took a couple months to get him back together.
We've been really hitting our stride over the last couple months here. He's really special. He's sensational. I want to wait until he's really ready to bring him out, because he's that special.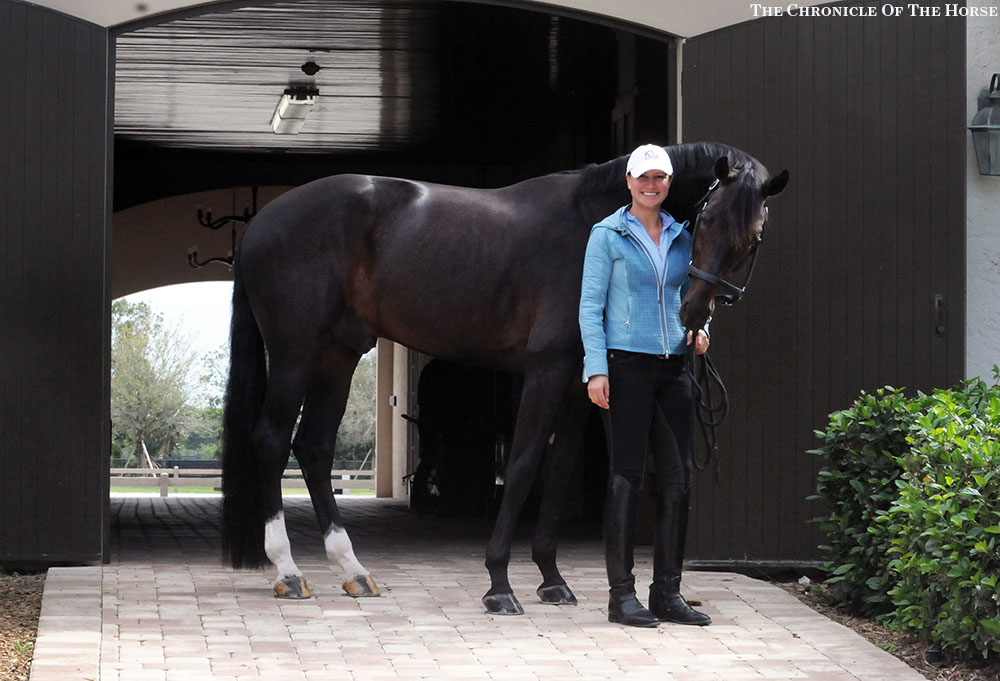 Lyle and Salvino at TYL Farm in Wellington. Photo by Catie Staszak
How was it for you to make a decision to focus on the future instead of this year's Games?
It was tricky, because obviously there is a lot of pressure, and you have this chance, and you really want to do this job and fulfill what the syndicate wants, but I also know what level of horse they're looking for, and it's not just a Grand Prix horse. We have plenty of just-Grand Prix horses in this country. They want a horse that can contribute to our country and do well at the international level, so it has to be something really special.
It also has to be your ride. It can be a great horse for someone else, but if it's not your type, [it's not going to work]. That's why I really was glad that we ended up going with a horse that was a little bit younger, because it's one that you can still make into your kind of ride. If you buy someone else's made Grand Prix horse, you are learning how to ride them. You're crazy if you think you're going to retrain someone else's Grand Prix horse, because it just doesn't make any sense to [the horse].
The fact that they we were able to go with something that wasn't finished but showed the talent gave me the opportunity to make him more of my ride, and that's more along the lines of what I'm comfortable with anyway, having always brought up younger horses. That process makes sense to me, rather than just stepping into someone else's horse and trying to learn their buttons.
What was behind his name change?
Salvino means "Savior" in Spanish. Akiko came up with the name. [Sandronnerhall] was just a bit of a mouthful. We just weren't in love with it. We kicked around a bunch of names, but we decided to go with something Spanish, because I found him in Spain, in Madrid, which is a little different. We wanted to keep that part of the story in his name.
Tell us about Horizon.
Horizon has come a really long way. What I love about her is that she's a "worker bee." She's like an energizer bunny that never stops. For better or for worse, she's wound up and ready to go all the time. Once I figured out how to channel that energy, it made her really fun to ride, and she really loves to show.
We started her at the beginning of the year in a fourth level, test 1. Her changes were pretty green, and I didn't know what she was going to be able to do. She did a couple shows at fourth level, and then we tried to bump her up to the Developing Prix St. Georges. She just seems to really be falling into the pattern. She's really taken to the training and has been advancing quicker than any of us expected her to. Our plan is to try to qualify her for the [Markel/USEF Developing Horse Dressage National Championships] in August (Ill.). We have two qualifying scores now, and she's going to compete once more at the final [AGDF] National show.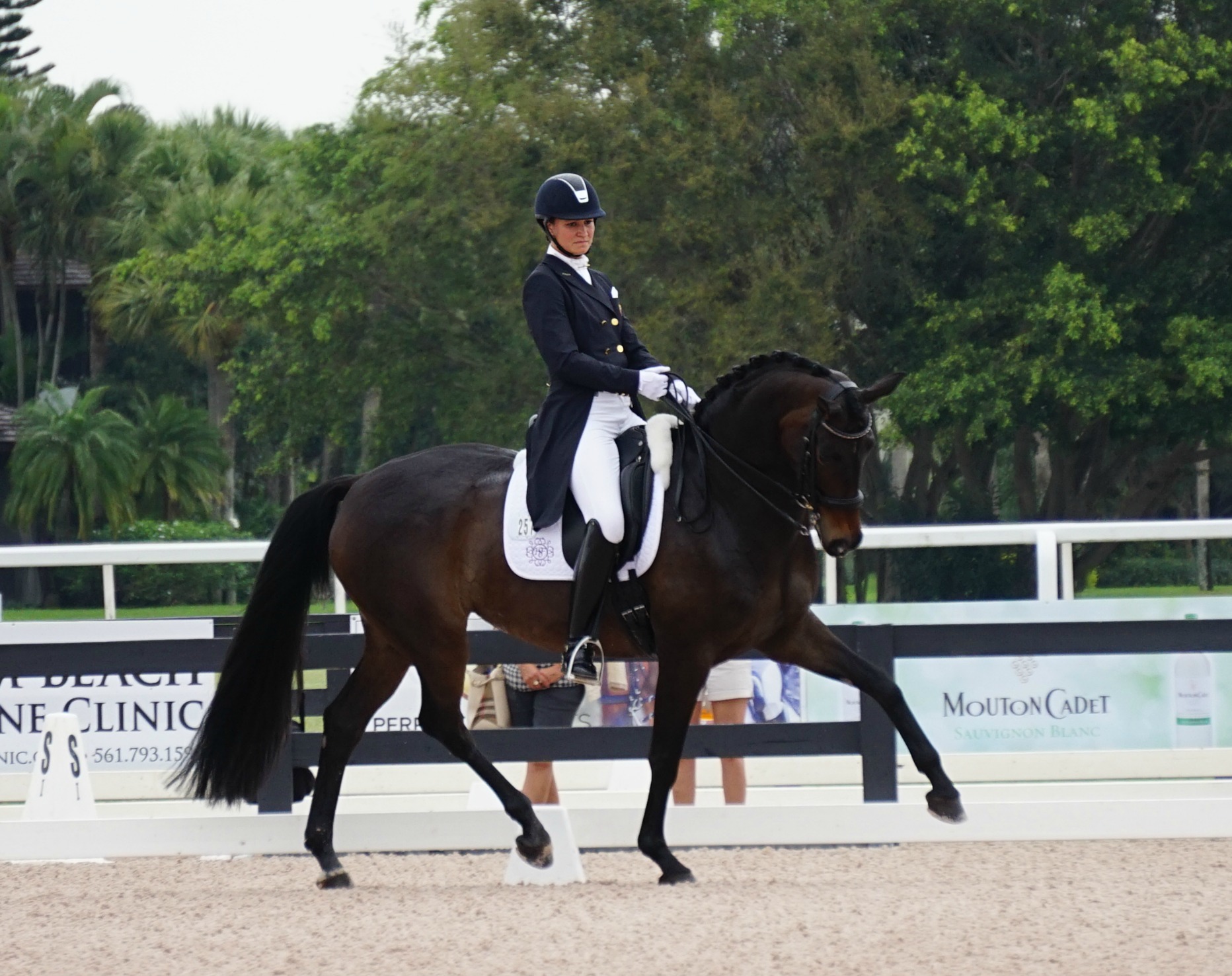 Lyle is hoping to qualify Horizon for the Markel/USEF Developing Horse Dressage National Championships (Ill.) in March. Photo by Ally Dunlop
How did you get to know Juliano?
Betsy Juliano is a big supporter of U.S. dressage, and our paths crossed four years ago, when we came down here to Florida for the season for the first time. Our veterinarians, Julie and Rick Mitchell, hooked us up with a place to stay at Betsy's. We came down for the [World Dressage] Masters with Wizard and stabled at Betsy's farm, and we ended up really liking it, so we came back two years after that.
Betsy got to know us through us just being at her barn, and when she was making a switch in trainers about a year ago, she approached and asked if I would be interested in taking over the ride on her competition horses, and I was thrilled at the chance. She's an amazing owner and just a wonderful person and has great horses. I started riding Horizon about a year ago, and she also has another horse named Riccidoff, who is 11. I'm riding those two; they are her main competition horses, and she has some of her own private horses.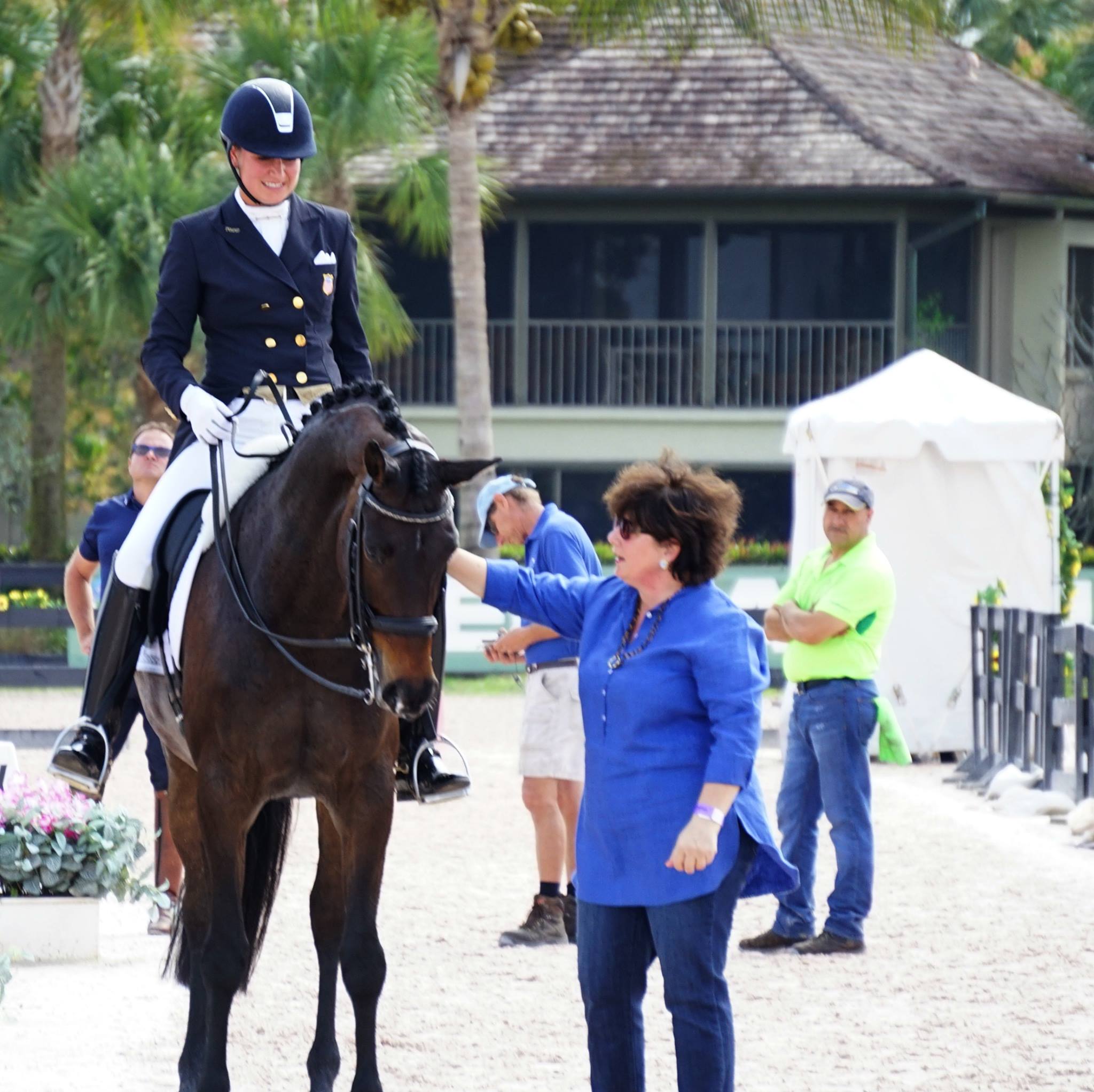 Lyle and Horizon with Betsy Juliano. Photo by Ally Dunlop.
How did you acquire the ride on Harmony's Duval?
He's another very special horse. He came into our lives a little more than three years ago. Bob McDonald, Debbie's husband, picked him out at Harmony's Sporthorses (Colo.). He picked him out of a field as an unbroke 5-year-old. He was gangly and tall and looked more like a 3-year-old, so it was probably a good thing that they didn't start him until then, because he's a big boy, and he took a long time to grow. They sent him to us in Idaho to get broke and get a couple months of training into him, and at that point I said to Bob, "I think he's going to be really special."
At that point, he was still pretty gangly, and his feet were pretty all over the place, so he wasn't necessarily this "wow" mover, but something about his work ethic and his brain, I really liked. He tries really hard and he's very sensitive and he's got a great energy that I like about him. He just seemed very trainable. Bob was able to call Leslie Malone at Harmony Sporthorses and was able to work out a deal to purchase him to give us a chance to see what we could do with one of their homebred horses.
What has it been like to see his development through from the very beginning of his training?
I love the whole training process. I think it's really interesting. Just watching him being saddle-broken, you learn a little bit about how the horse thinks and reacts to things. It takes a long time. There's that lull of two years where they haven't really become a "real horse" yet, but then all the sudden, everything comes together, and then they can put it all together in the show ring.
Attitude-wise, he was very easy to bring along. His biggest challenge was that he's at least 17.2 hands, so he's a big boy. He was gangly and just a big mover, so getting all of his legs underneath him was a bit of a process, and if he didn't quite understand what you wanted, he'd get a little flustered and frustrated with himself. Some months, we had to back off and be a little more patient and give him time to develop his strength, but once he did that and understood what you wanted, he was there for you every time.
I was obviously thrilled with how he handled everything [at his first show]. He was quite nervous the first couple days, but then he settled right into the routine. He's not a spooky horse, and he doesn't have a mean bone in his body, so once he understands what you want, he's very much like, "Okay, I've got this now."
He was recently purchased by Kylee Lourie, and I will ride him for at least the near future. Kylee stepped in to allow him to stay in our program when his co-owner with Bob, Pam Jones, decided she needed to cut down on her number of horses. I may try to qualify him for the Developing Championships in the Prix St. Georges as well.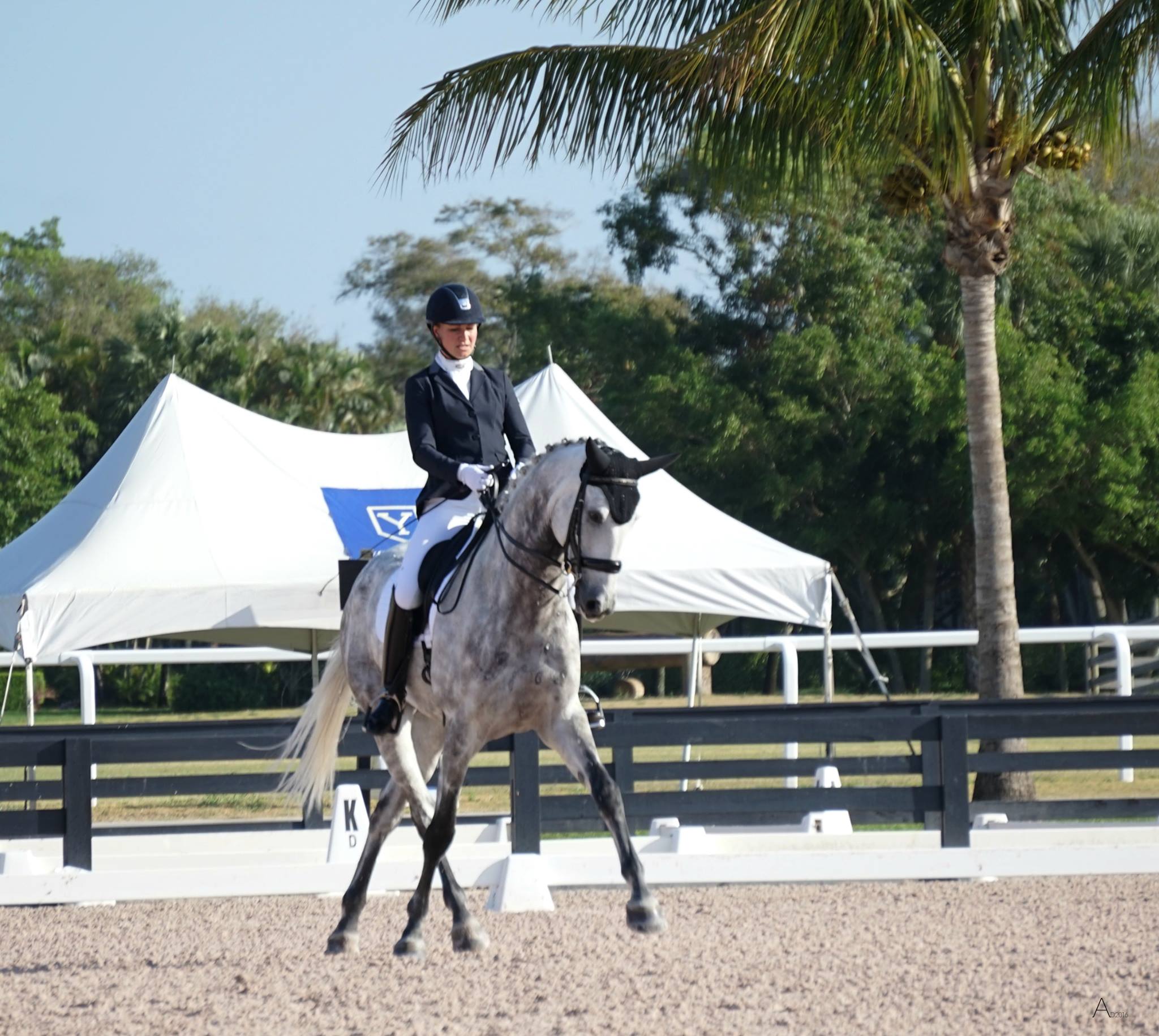 Lyle and Harmony's Duval won both USEF fourth-level classes they entered at the gelding's debut show at ADGF in March, receiving scores of 75.83 percent and 82.50 percent for their tests. Photo by Ally Dunlop.
How has your role at River Grove evolved?
Debbie has obviously been amazing for me. She continues to let me step up to the plate and take over more of the clients and things like that. She is very busy as the USEF Developing Dressage Coach, and she works with a lot of top riders down here; she's in very high demand.
The timing and all of it worked out well. She needed to step away from the day-to-day running of a barn. She doesn't need to be worrying about that now. She comes and teaches me, and she works out of this facility, which is great. I'd still call myself the assistant trainer, but I teach most of the clients in our barn now. In Idaho, it's a little different, because there are no outside people that she's helping and there's no outside competition, so she has more time to be involved in the daily stuff and to ride.
Bob manages TYL Dressage for Kylee Lourie, too—he designed this farm, and it was completed last year—so it's just all together a really neat team, and I'm just really lucky that I got to fit into it where I did, and I'm so grateful to Kylee Lourie for setting us up at this amazing place.
What is a typical day like for you?
I drive to Betsy Juliano's barn in the mornings, where Horizon and Riccidoff stay in the winter. I ride those two at 7:00 a.m., and then I usually get back here by 9:00 a.m., and we start our day here. We have 14 dressage horses here, plus [Lourie's] trainer Katie Johnson has five horses of her own that I help her on.
There's no way to fit them all in every day, so I try to scatter them all between the seven days of the week to get them all taught and ridden. I normally work with 10 or 11 horses each day, whether I'm riding or teaching. There are days when I ride all 10, and there are days when I ride six and teach riders on the four others.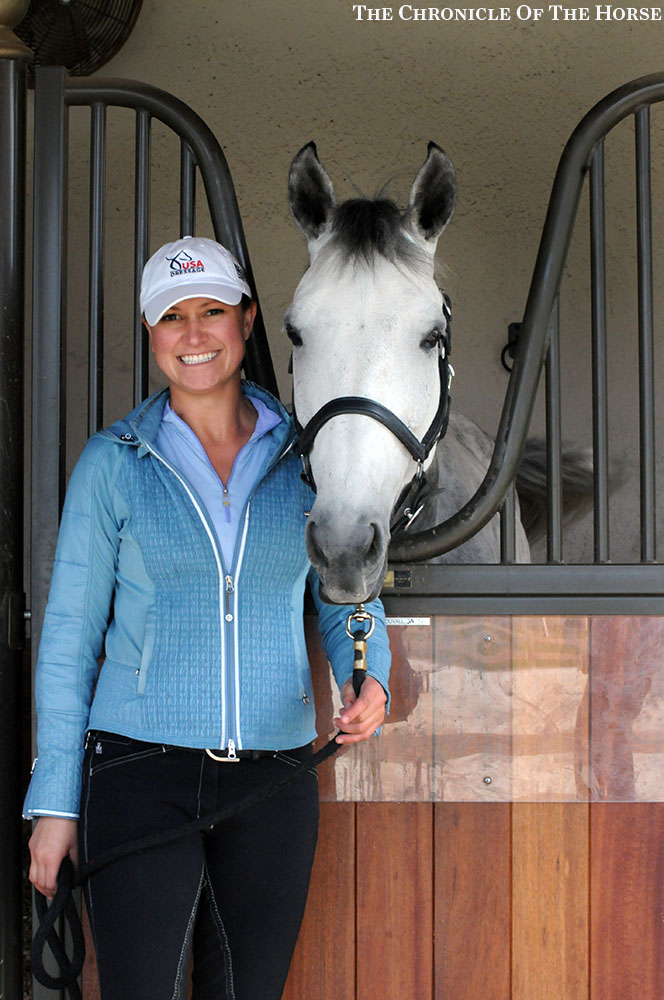 Lyle and Harmony's Duval. Photo by Catie Staszak
How did working on Perry-Glass's freestyle come about?
Getting to know Kasey has been really fun. She's such a wonderful person, through and through—just so humble and genuine. She came up to Idaho to work with Debbie last summer and stayed at our barn and rented a little house up there, so we became quite good friends. When she was working on her freestyle one night, she just called me and said, "If I give you pizza, will you come over and help me?" I said, "Absolutely,"—I've made a couple freestyles before, and she hadn't—so we sat down and ate pizza and worked out [a freestyle].
What does the future hold for River Grove Farm in Idaho, which is for sale?
We'll still go back to [Peggy and Parry Thomas'] River Grove Farm in Idaho after the final AGDF show in April. Parry will still be there. He's 94! He still loves the horses and will still come to the barn every day when we're there. He particularly likes to watch Salvino go. The Thomases are still involved, but they're not buying any more horses because of their age.
We've thought about probably 500 different scenarios [should the farm sell]. I don't think we would base in Florida year-round, but we're probably going to plan to stay here longer, probably for about six months of the year.
I really like Idaho, even though it is probably the most inconvenient place to travel with 17 horses like we are! I love the lifestyle, and it is nice to just get away. I'm thinking, if possible, we'd find another place in Idaho. We have all these plans—A, B, C, all the way down to Z.
What's next for you?
[After AGDF ends], I will be heading back to Idaho, and Debbie will be staying in Wellington for about another month to coach Laura and Kasey and probably Olivia [LaGoy-Weltz] and whoever else stays down here. I will be starting back with our four loads—we fly the horses back through FedEx, so it's going to take four loads to get them all home.
We will be in Idaho this summer, and there are a couple qualifying competitions that I might take Harmony's Duval to, to try to get him qualified [for the Developing Championships] if I think he's ready for that. Hopefully Horizon will also qualify and head [to Illinois] in August. Then we'll pack up at the end of October and come right back down for next year, and I hope to bring out [Salvino] at Grand Prix.
Then, everything gets rolling, you talk about going to Europe, maybe, and everything else that happens. This year, we're sitting at home, but if everything goes well, as we hope it does, with Salvino, then your life starts to change a little bit.