Kelly Prather took the 7-year-old D.A. Duras to France for the FEI World Young Horse Eventing Championships at Lion d'Angers as a talented young horse she still had a few questions about, and brought him home from the Oct. 15-18 event as a serious contender for her future.
Prather and D.A. Duras placed ninth in the 7-year-old CCI** division, finishing on their dressage score of 50.4. The division was won by British rider Laura Collett on Mr. Bass, with French rider Thomas Carlile in second on Upsilon and Belgian Vincent Martins in third on Eiskonig.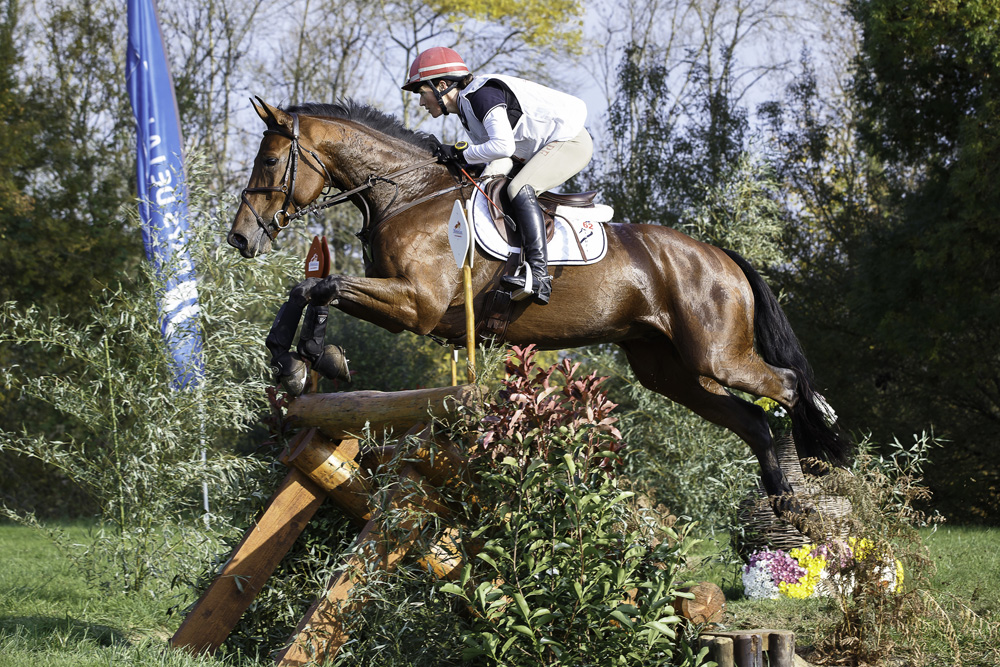 D.A. Duras answered all the questions on the CCI** course at the FEI World Young Horse Eventing Championships for Kelly Prather. Photo by Libby Law.
D.A. Duras is a Dutch Warmblood (Numero Uno—Medoc, Quattro) owned by longtime eventing supporter Debbie Adams, who imported him from the Netherlands as a 4-year-old. They traveled to Le Lion d'Angers with help from the Holekamp/Turner YEH Lion d'Angers Grant through the U.S. Eventing Association.
Prather has brought Duras up from novice in 2013 to advanced, placing fifth with him at the YEH East Coast Championships at Fair Hill (Md.) in 2013. They placed eighth in the CCI** at Bromont (Quebec) in June and third in the CIC** at Richland Park (Mich.).
Prather came up to the four-star ranks in 2011 with her horse Ballinakill Glory, then spent a year working for William Fox-Pitt in England in 2012. This spring, she sold Blackfoot Mystery, her confirmed three-star horse, and Boyd Martin finished sixth in the Dutta Corp. Fair Hill CCI*** with that horse the same weekend Prather was in France with D.A. Duras.
The Chronicle caught up with Prather about what she learned about D.A. Duras in France:
Chronicle: So, how did the FEI World Young Horse Eventing Championships go for you and D.A. Duras?
Prather: It was a good trip. I was really pleased with the horse and it was a fun event. My plan was to go and do our best. I thought he was a good horse and a good jumper, so I was looking to finish on our dressage score, wherever that put us.
We had two little mistakes in the dressage test, but I was pretty happy with him overall in it. It was a big, challenging course, so it was a good experience for him to go and do it. It was great for me to get some exposure over there, too.
It was a test for him with a 10-minute course, so we got to see how much stamina he has. He's a bigger warmblood, but he proved that he plenty of run in him, so that was the most exciting part about it.
What knowledge did you bring home?
It's always great to go overseas and compete on the playing field they have over there. The best riders in the world are all there. Just to compete against those guys and see what they're producing and how my horses measures up, does a lot.
I learned that the horse I'm sitting on is as nice as anything over there. The training program and fitness that I had seemed to hold up as well as any to how competitive the field was. So, I'll just keep going. But it's things like watching Michael Jung and knowing how those guys ride their tests just gives you that little extra push to be competitive.
How did the cross-country go for Duras?
He's a really brave cross-country horse. He's a phenomenal jumper. It was a big course, with a ton of people there watching. There were thousands of spectators there, so there were people pressed up against the ropes the whole way around. They're all screaming; you can hear people at every complex and even at the gallop fences, screaming 'Go!' I was pleased with the fact that he didn't get distracted at that.
He's jumped around some big tracks before, so going out of the start box I had a lot of confidence in him that he'd be able to answer all the questions. The exposure to the length of the course and the amount of people who were there was really the questions for him.
What did having this opportunity, with the Holekamp/Turner YEH Le Lion d'Angers Grant, mean to you?
He competed in 5-year-old Young Event Horse Championships, which put him in the running for the grant. Then it comes down to those horses who, when they're 7, have the most points. He had the most points [on his U.S. Eventing Association record], so he was given the first opportunity for the grant.
He didn't win the full grant because it's supposed to promote U.S. breeding and producing of young horses in this country. He wasn't bred here, but he has been produced in the States, so he got rewarded with a partial grant for that. His owners were very excited to head over for the championships, so they put together the money to fund the rest of the trip.
Last year, we kind of had an idea he might be in the running for it. I ran him at Fair Hill last year in the fall two-star, which qualified him for Lion. And that put him on top of the leaderboard for points. So, it was last fall that we started to realize it could be a possibility. We figured we'd see how his spring season went, and throughout the year it became apparent that he would be a great horse to take over and do this.
Do you think Duras has a big future?
I think he's a very athletic horse. He's bred to jump and he finds that part of it quite easy. Now I know that he can run around a 10-minute course; I didn't have to kick him.
You never know, when they get to 8 minutes, if they'll want to stop running or keep going. I was very impressed with the fact that he pricked his ears and kept going and was happy. It wasn't a struggle at all for him to come inside the time. That proved to me right there that he could be a top horse.
In the dressage, he's just coming into his own. He's finding his strength and learning how to sit on his hind end. I think that will improve in leaps and bounds, and I think eventually he could be a very competitive team horse. He has a pretty impressive record in show jumping since he moved up to intermediate last year as a 6-year-old. He hasn't had a single rail down, and I don't know that there are many other horses that can say that, or that I've ridden anyway.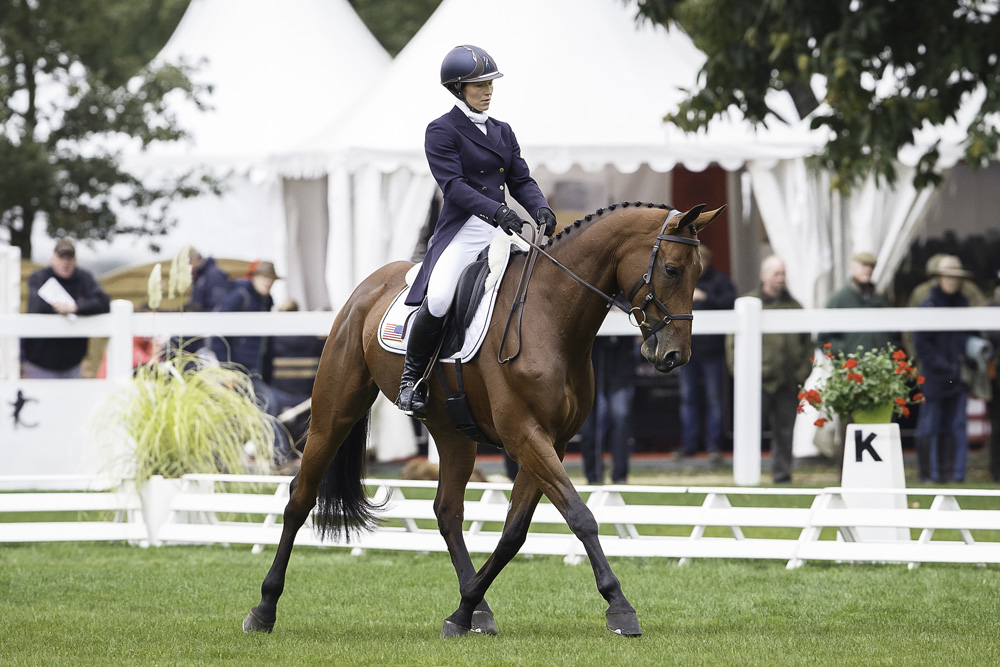 Kelly Prather and D.A. Duras in the dressage at the FEI World Young Horse Eventing Championships at Lion d'Angers. Photo by Libby Law
What's the plan for Duras for the next year?
He gets a very well deserved break now. Once he's out of quarantine, he'll have some time out in the field to get fat and hairy.
In the spring, I'll give him an easy run and then look to step him up to advanced if things go well. He was pretty much ready to move up to advanced this fall, but he is just 7 and this opportunity came along, so he stayed at intermediate and ran another two-star.
I was happy to keep him at the two-star level. I just think that as a 7-year-old he didn't need to move up. There's a lot of building to do in the dressage, and I'm happy to wait for that. And the jumping at the two-star level, he's by no means bored with it, so I'm happy to wait to move up.
What does it mean for you to have such a talented young horse?
They don't come around every day. I think one of the biggest qualities he has is that he has a big heart. He's never said 'no' to me, so he's a pretty special horse to have.
[Owners] Debbie and Tony Adams truly love the sport and they love traveling to the shows and being around it all. It helps to have someone who's real keen on the sport and loves to be part of the action in your corner.
What other horses do you have?
I have some talented young horse, some sale horses, and an advanced horse [Truly Wiley] that I own that is doing nice things. I skipped his fall three-day because I was in France. He would have run in the three-star at Fair Hill. But that's fine, he'll work on his dressage and show jumping over the winter and he'll come out in the spring and hopefully do two three-stars next year.
He's only 9 next year, and I'd like to get two three-stars in with him before he aims for Rolex Kentucky. He's a very talented jumper and he finds the galloping easy. Dressage is probably his hardest suit, so to give him another year at the three-star level will greatly benefit him, I think.
I have another talented 9-year-old who did a two-star last year and he's been doing dressage this year, so he'll come back out at the two-star level and step up to advanced next year. I have some nice young horses to produce, too.
Where are you based now?
I'm in the Unionville, Pa., area for the summer six months and in Ocala, Fla., for the winter six months. I've been bouncing around on the East Coast a little bit, trying to figure out where home base is.