Jan Ebeling is starting the 2014 season with two mounts for CDI Grand Prix classes—his Olympic Games competitor, Rafalca, and a new Grand Prix horse, FRH Rassolini.
Ebeling's year is already off to a strong start; at the San Juan Capistrano CDI-W, March 21-24, he finished second in the Grand Prix freestyle with the 11-year-old Vantage Equestrian Group LLC's Hanoverian Rassolini (70.77%). Then he came back the next weekend, March 28-30, to win the San Juan Capistrano CDI*** Grand Prix Special on the 17-year-old Rafalca (71.29%), an Oldenburg (Argentinius—Ratine, Rubinstein) owned by Amy Ebeling, Ann Romney and Beth Meyer.
We caught up with Jan, Moorpark, Calif., to discuss his plans for both horses this season, other exciting prospects in his barns, the benefits of jumping a Grand Prix horse and the difference between riding mares and stallions.
How does it feel to have Rafalca back in action? Were you happy with her tests in San Juan Capistrano?
I was really happy with both tests. [Rafalca also finished second in the Grand Prix on 69.50 percent.] Her time off wasn't completely off work. It was just no competing and not so much schooling movements. We do a variety of long and low, lots of transitions, keeping her mentally in a state where she wants to perform.
It's not that we're not doing movements when we're taking a break, but the emphasis is on transitions. I have the frame a little lower, and we're working the back. One day I'll do a little piaffe; the next day a few tempis. But I'm not schooling tests a lot, and that's what has worked in the past with her. She's not a horse who needs to show lot. I think she shines if we don't show.
We do trail riding, and I go to a neighbor's farm and jump her a bit—just small stuff. It's really paid off. She was pretty amped in the class.
This was the first time she's been out since the Aachen CDIO*** last summer. She's already qualified for Gladstone. This was one show we wanted to do, and we'll probably do the Del Mar CDI*** [Calif., April 24-27], too.
Rafalca is 17 now. Do you find her age impacts her at all?
She knows her stuff now. As far as movements go, it's gotten so much easier—the one tempis and the piaffe and passage. She knows what she has to do.
Her piaffe I find extremely easy. It used to be I really had to work for it to prepare, and now I can do it anywhere at any time. It's nice to see how she's learned and how confirmed she's gotten. Mentally, I think she's really ready to go. We took some horses to a show recently, and she wasn't one, and she was pretty mad.
What are your plans with her for the rest of the season?
I've been riding in high performance clinics with [U.S. Dressage Chef d'Equipe] Robert Dover, and then Christine Traurig has been helping me for several years. It's been a tremendous help to have her eye on me.
We won't do anything else before Del Mar. We're hoping for the selection trials [for the Alltech FEI World Equestrian Games] at Gladstone in June. Then we'll see how it all pans out.
It's very difficult to go on the Grand Prix rankings. People showing on the East Coast get different scores than the people on the West Coast. You have to go to a head-to-head race and then see who comes out on top.
It would be my dream to make the team with her one more time. We just have to wait and see how the other horses are going. But certainly that's my hope.
How did you find Rassolini?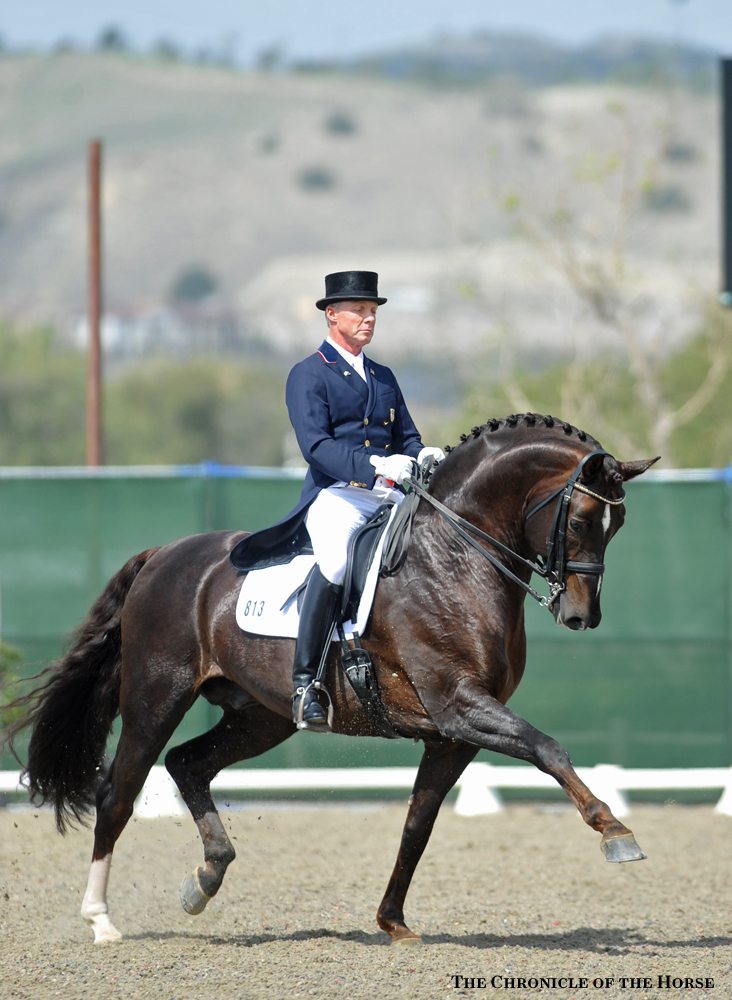 Jan Ebeling on Rassolini
He's a horse who was very successful in the Prix St. Georges in Germany, and he won the 2010 Nurnberger Burgpokal Championship [with German rider Kathrin Meyer zu Strohen], and we came across him by accident. We were looking at other horses there, and those didn't work out. But he was there, and we tried him, and we loved him. Hopefully he's the one who fills Rafalca's shoes.
I think he's an extraordinary horse with fantastic talent for piaffe and passage. He has an amazing walk. It's a 10. The judges have also really liked his canter work.
But he's still green. This was really his first Grand Prix, and we went right away into a CDI. We kind of threw him into the cold water. He made a few mistakes, but he's a young Grand Prix horse.
How is he different than Rafalca?
We had one ribbon that didn't fit around his neck! He has a huge stallion neck. He's a breeding stallion, and he behaves like one, which is very different from Rafalca. You can't just have a horse standing next to him. You don't tell stallions; you ask them. But he's very attentive, and he wants to please.
He's a combination of hot and a bit colder, and I'm still learning how he'll be at the shows. In San Juan Capistrano, we had really no idea how long the warm-up needed to be, what to do when he's hot, what to do when he's cold. We haven't had him long enough to know these things.
After we bought him, I rode him in Germany with Kathrin and her husband, who trained him, Hans Meyer zu Strohen. Since we bought the horse from them, we decided it would be best to keep him there a couple weeks and learn the ins and outs of the stallion—how he needs to be ridden, how he needs to be treated. He's had really fabulous training, and it's really fun to ride one like that.
I'm learning, but it's a process. The horse certainly is good enough, and it's up to me now.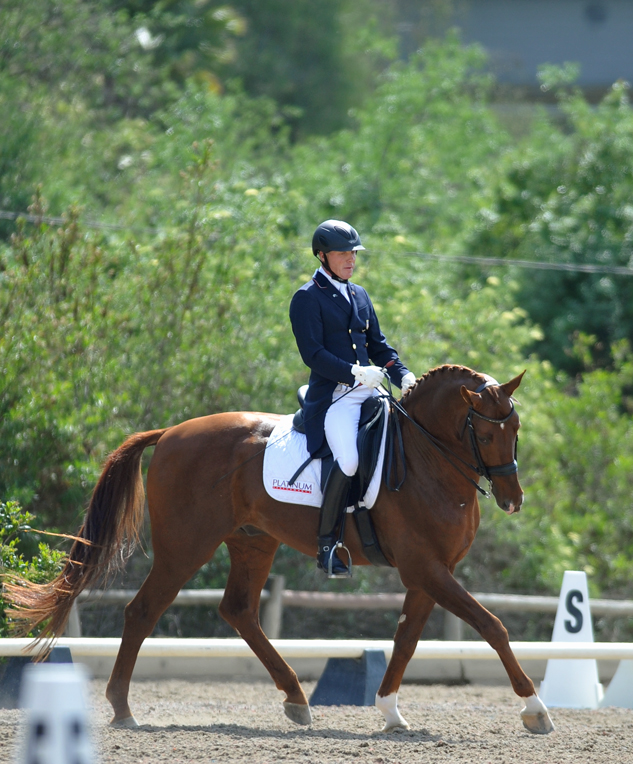 Jan Ebeling and Breitan
Who else do you have coming up in your barn?
There's another stallion, Breitan, and he's coming along. [Breitan is a 9-year-old Hanoverian (Breitling W—Carrera, Cavan Blue Hors) also owned by Amy Ebeling, Romney and Meter.] We bought him when he was 2 and let him grow up in Germany. We imported him at 5, and he hasn't done a whole lot of competing. He just did his first Intermediaire II.
He's also a completely different horse than Rafalca and Rassolini. He has a very different temperament. He's an extraordinary mover, but in a different way than the others even. Having the two stallions coming up is hugely exciting.
We also have an 8-year-old, 6-year-old and a 4-year-old coming up. We've kind of staggered the horses, so they're all two years apart. The young mare might end up being a horse for my wife, but we have a whole bunch of exciting things cooking.