Last year, Jacob Pope wrote his own fairy tale come true, as he rode to the top of both the ASPCA Maclay Finals and the Platinum Performance/USEF Show Jumping Talent Search Finals-East. A working student for Andre Dignelli, he rode borrowed horses to the title and did much of his own grooming work.
Pope, of Columbia, Md., definitely didn't have the budget to buy a few amateur jumpers and continue to work toward his ultimate goal—the grand prix classes—that way. So, what's he been doing since his equitation triumphs?
Now 18, Pope is in his freshman year at Rollins College (Fla.) and he balances schoolwork with a fledgling professional riding career. He still clips his own horses and takes a curry-comb to a muddy creature. His Twitter feed not only reads like that of any dedicated horseman, but also shows just how nice he is.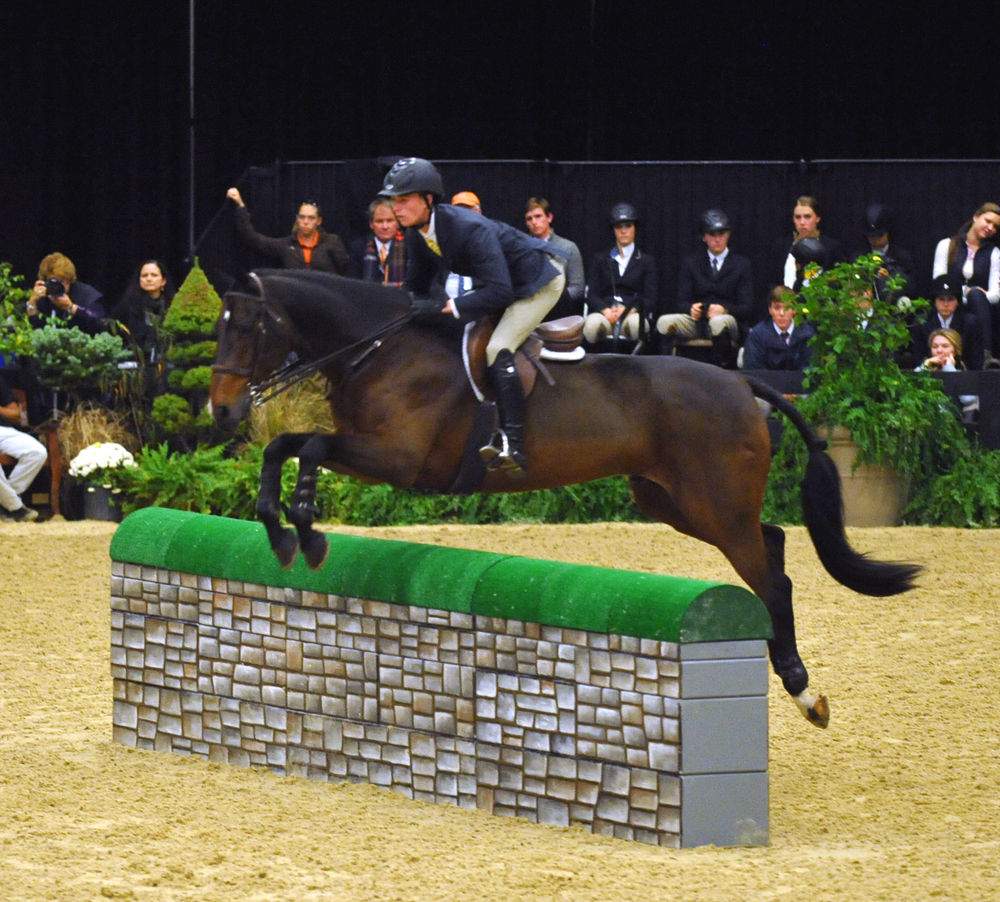 Jacob winning the 2012 ASPCA
Maclay Finals.
Photo by Molly Sorge
"I love random acts of kindness. Thanks to whoever cleaned all of my tack while I was clipping Tyler! #yourock #gooddeeds," "You know you ride when you do the laundry and there's hay in the lint collector," and "That test… [I don't know] how anyone even remembered it let alone do it so perfectly. But @LillieKeenan did! Congrats on winning Medal Finals!"
We caught up with Jacob, who is looking forward to seeing who takes this year's ASPCA Maclay Finals title on Nov. 3 at the Alltech National Horse Show (Ky.).
What have you done, riding-wise, in the last year?
I finished high school, and then I went and was a working student with Andre [Dignelli] over the summer.
Last year, Judy Richter had given me a place to stay while I was a working student for Andre and we built a relationship. She's letting me show one of her horses, Blink, and I've done a few grand prix classes on him.
[Pope and Blink placed fifth at the $25,000 Fairfield County Hunt Club Grand Prix (Conn.) in June and seventh in the $30,000 Grand Prix of Princeton (N.J.) in September.] I got to show him at the $25,000 Howard County Community College Columbia Classic (Md.), which is a show that's 10 minutes from my house. I've been going to watch that one since I was little, so that was really cool.
It's pretty exciting. I've always wanted to show in grand prix and never thought I'd get there. Judy is very generous in letting me do that.
There's also horse owned by Heritage, Tyler, that I've been riding. Andre sent him to [the McDonough School] last year to give him a little bit of vacation. He started coming back pretty nicely and Andre didn't really have room for him, so he stayed at school and the trainer at school, Streett Moore, let me take him to college with me.
Here at school, I keep him at Crown Pointe Equestrian (Fla.). The owner of Crown Pointe, Anne Bingler, actually has a bunch of very nice horses she's been letting me ride, and I've been getting to show one of her jumpers, Cassidi. She's given me so much. I didn't know if I'd be able to do any bigger classes since Blink is all the way up in New York, so having a few horses here to show a little bit has been amazing.
I'm staying busy between Tyler, who's a hunter, and two jumpers and a hunter Ann has. I've also gone up north three weekends since school started to show Blink with Judy.
How has your riding evolved since last year?
I've made a lot of progress transitioning into the jumpers. The equitation definitely gave me a huge advantage. Rather than just going from hunters straight to jumpers, equitation was a great bridge and connection to the jumpers.
Especially in doing the [George H. Morris Horsemastership Clinic in January in Wellington, Fla.], I think I've come a long way from the equitation and I've transitioned into more of a jumper style.
Judy does help me. She really focuses on training the horse at home so it's easier at the show. We work on not always making the distance perfect and not always helping the horse, but letting them work it out. It's a lot of the traditional, classic way of training. We go out on her grand prix field, we do the crazy natural obstacles and then when it comes to just a big class at the horse show, it doesn't look so tough.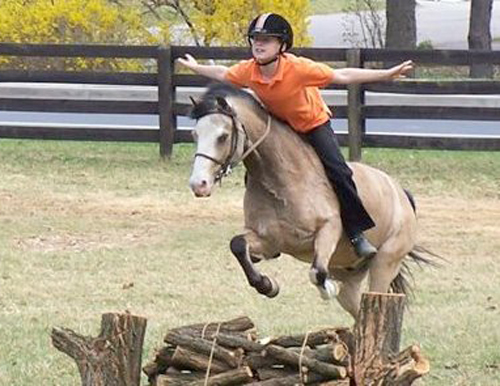 Jacob grew up caring for and riding ponies
in his back yard. Ashland Puzzle was given to him by
Streett Moore—Jacob showed Puzzle in the short-stirrup
and he lived with Popes for eight years.
Photo by Andy Pope
Is this where you want to end up?
Oh my gosh, this is what I dreamed of! I never thought I'd be here, but I'm pretty excited about it. It's always been a goal of mine to do the jumpers and get into some grand prix. I've landed in a pretty nice spot with this barn and very generous people watching out for me.
How is school going?
I'm really enjoying it. I loved it at first, then it got into 'it's a lot of work,' then we had fall break and everyone's come back and I just love it here.
My schedule is great. I start at 8 a.m.—I'm a morning person so I don't mind 8 a.m. classes!—and I'm done every day by noon. So I can head out to the barn and ride a few. It definitely keeps me busy and I'm up late at night studying, but I love it.
I am probably going to major in international business with possible minor in Spanish. I took German all through high school and I know it well, but I think Spanish would be a very useful language to know.
Do you have time for a social life?
It's been pretty surprising how much I've been able to cram into my days. I do school from 8 a.m. to noon, and then go to the barn until 5 or 6 p.m. Then I get all my homework done and I'm able to do other things.
I've made a lot of friends and we've been going out. It's been a lot of fun. I wouldn't say I've been living the "typical" college life, but I've definitely tried to fit some normal college things in there.
What are your plans for the future?
My dad is all about planning ahead and he's worked with me to figure out how we can plan things out. I'd like to keep balancing school and riding, but I am focused on getting my college degree. I really think that it's important for me to have that education. So, I'm all about trying to get good grades, ride every day and improve.
This winter, I hopefully will be able to get to [the FTI Winter Equestrian Festival (Fla.)] a bit. Hopefully I'll have a couple of horses to show, but if not, I'll help Andre. I'll do show some at HITS Ocala (Fla.), which is close to Rollins.
Do you ride on the Intercollegiate Horse Shows Association team at Rollins? (Rollins's team is an intramural recreational sports team.)
I would love to do it; I think it would be so much fun to be on the team. I signed up for the team, but I haven't really gotten involved yet. It's not too intense, it's more of a fun thing, which is why I'd like to do it. But I haven't found the time yet—hopefully in the future.
Do you still do a lot of your own horse care?
I do everything. We don't have grooms at the barn. I just clipped Tyler the other day so he'd look presentable at the show. When I ride, I get them all ready, bring them in and groom them, and bathe them after. I help Anne out at the shows with some grooming, too.
What does it mean to you to have the support of people like Andre, Judy and Anne?
It's so special to me. I'm so thankful to have all these people watching out for me. They really have my best interests at heart, which I so much appreciate. Having them as mentors and people to talk to about how they've made it has been really valuable. It's tough going from a working student to what people want to become, a successful professional, so I'm very thankful to have those people to mentor me.
What has winning the Maclay done for you?
I think the same connections would have been there, with Andre and with Judy, even if I hadn't won. But for sure, it boosted my career. I have that title to take with me forever. It's important to me and I think it will hopefully help my career.
Check in at www.chronofhorse.com all week for coverage of the 2013 Alltech National Horse Show, and on Nov. 3 for all the action from the ASPCA Maclay Finals.