Highs and lows don't begin to describe the year Caroline Roffman has experienced. She competed in her first international Grand Prix with her mare Her Highness O in February, then qualified for the U.S. Dressage Festival Of Champions (N.J.), and made the short list for the Alltech FEI World Equestrian Games, which took her to Europe with her potential teammates.
The youngest rider on the short list at just 25, Roffman, of Wellington, Fla., achieved good results at the mandatory outings in Europe, scoring 68.94 percent in the Grand Prix at the Fritzens CDI (Austria) and 70.40 percent in the Grand Prix at the Aachen CDIO (Germany). Her average from the selection trials and mandatory outings was 70.63 percent, which ranked her fourth on the list according to the U.S. Equestrian Federation Selection Procedures.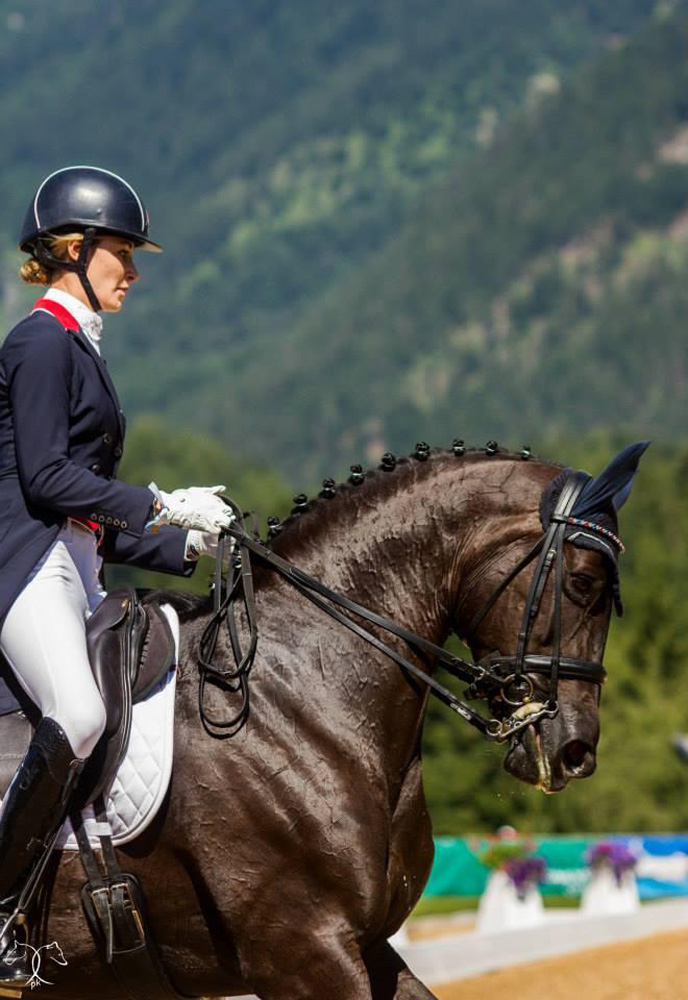 In their first season at Grand Prix, Caroline
Roffman and Her Highness O made the
World Games short list and traveled to
Europe to compete.
However, Her Highness O had an atypical performance in the Grand Prix Special at Aachen—which wasn't counted in the official procedures ranking—scoring 61.31 percent. Roffman then chose to compete in an optional CDI, in Verden, Germany, and scored 67.96 percent.
The procedures also listed that in addition to ranked scores, other factors might play into the selectors' choice including: "the overall performance and soundness of the athlete horse/combination, the demonstrated ability of the athlete/horse combination to succeed at CDIs and the prospect of the athlete/horse combination to win an individual or contribute to a team medal at the Event."
Another section of the procedures explained why an athlete might be removed from the short list, an one of those was: "Exceptional circumstances having a direct bearing upon obtaining the best qualified team for the Event, but only with the approval of the Technical Advisor and with the unanimous approval of the Selectors."
Roffman was removed from contention for the team on Aug. 14, and the USEF released a press release naming the team and clarifying: "It was felt that with just six months of competing at the Grand Prix level it was too soon to ask the talented combination of Caroline Roffman and her 11-year-old Hanoverian mare, Her Highness O, to contend with the World Championship atmosphere of the 2014 Alltech FEI World Equestrian Games."
We caught up with Roffman to discuss her experience.
Chronicle: What was your plan when you chose to show at Verden?
Caroline Roffman: I was given the impression that the Verden [results] wouldn't have any effect on the standings. After Aachen, I had lost confidence. When you have that kind of a ride, you say to yourself, "OK, is this a training issue that is now showing itself, was it an anomaly where something happened, or is this the new standard for us?"
So I rode the first set of piaffe-passage extremely carefully, wondering what she was going to do. She was perfect. The second piaffe-passage and the third on the centerline were on par with where we were before that. When I watched the test on video, it was the best zigzag we ever did, it was the biggest two-tempis we ever did, and it was the best entrance, turn left and extend.
There were a lot of good things, but it was not our typical confident fashion, and that's why I did that show. If I'd made the team, I would've come out of that show saying, "OK, now I can give gas again, and we're fine."
In hindsight, I should've done a national show in Belgium so I could get that confidence back [instead of the CDI at Verden]. You live and learn.
What happened when you were asked to remove yourself from selection?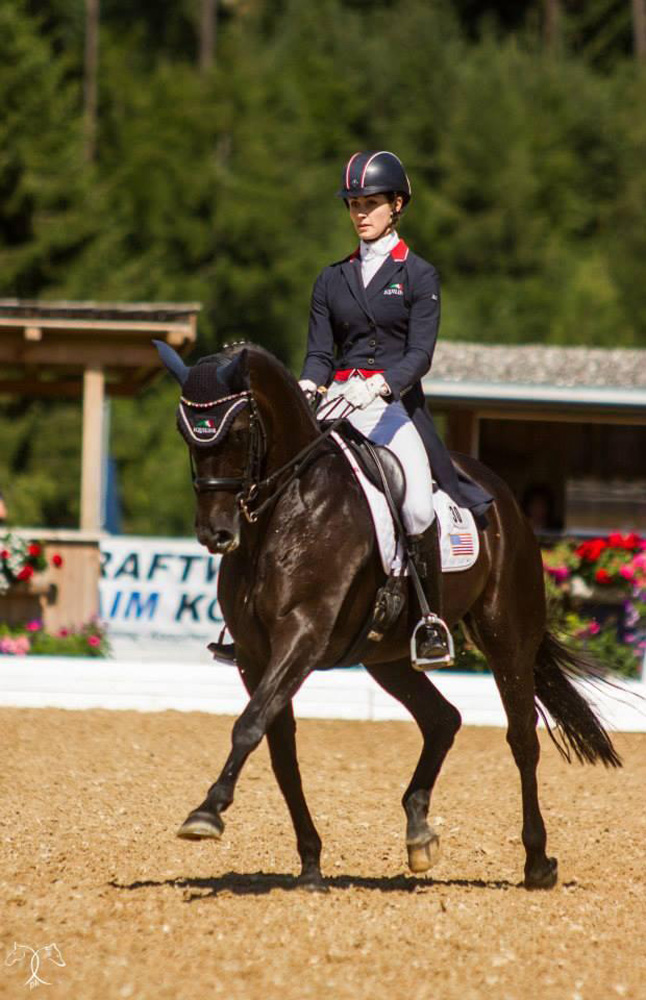 Roffman respects the World Games team
that was selected, but thinks the selection
procedures could be more transparent.
It was on Wednesday evening, Aug. 13. Shelly [Francis] and Lisa [Wilcox] were leaving in the morning at 9 a.m. to get on the Dutta flight. Jenny [van Wieren-Page, the USEF Director of High Performance Dressage] and George [Williams] told me the selectors had met, and they'd asked that I withdraw from contention.
I asked if it was for veterinary reasons, and they said no. I asked, "Is this for Aachen?" And they said partially. They feel the preparedness of the horse is not where it should be. And [they considered] the results at Verden.
They gave me 24 hours to decide if I wanted to withdraw or be removed from contention. I wanted some time to think about it and to consult with a few other people. It was a very tough decision. I'm a business person. I run a sales barn. I've turned down offers on my mare to get through the WEG because I was under contract to USEF. If I withdrew from the WEG, everyone is going to think my horse is lame.
Other people added additional reasons not to withdraw. How would my sponsors feel when I called them to say, "I withdrew from the WEG"? Another friend said, "You are an athlete and a competitor. Do competitors quit and withdraw?" No. They're going to have to remove me. That's why I did it.
Why did you choose to speak to the media about this process and decision?
I haven't called anyone and said, "I want to give you my story."
Every press agent still calls me. You have two options. I can say nothing, no comments. But when they call you, they fill in the blanks.
If I don't say anything, everybody is going to speculate. What's the story? Maybe the horse is lame? Maybe she's sick? If you leave that blank, people fill it, and they fill it with things that could be worse than the truth. That's the first reason.
But I also believe this is all stuff that should be public, and people should understand. If this was a private matter, if I'd withdrawn because of personal illness, I wouldn't comment. It's my business. But this wasn't just my business. This was a public business issue. This is not a private matter. This isn't why I choose not to eat meat and I'm a vegetarian. It affects a country and a decision.
I wish this never happened. I wish I could've just gone home quietly. But that wasn't going to happen.
What's been the public response?
It's been unbelievable. I have 100 emails and hundreds of Facebook comments. People are writing things in support like: "It's heartbreaking, but I see you changing the sport," "I don't think we've ever met, but I wanted you to know that your story this week has touched the hearts of many across the country," "I don't know you personally but I've been following your career from Australia. I just wanted to say how sorry I am that you are not going to the WEG. I feel devastated for you."
And from your fellow riders?
That entire group of seven people, six women and one man, were so supportive. They were there that night after that meeting. We all sat there and shared some laughs and some tears. I don't think many teams in the world would have done that. They were all very supportive.
I truly came out of this selection with some new friends. I go to know and really like Lisa Wilcox. I didn't really know her that well before. I got to continue my friendship with Shelly Francis. I got to know Adrienne [Lyle], and I can call her a friend now. That was the great thing about this.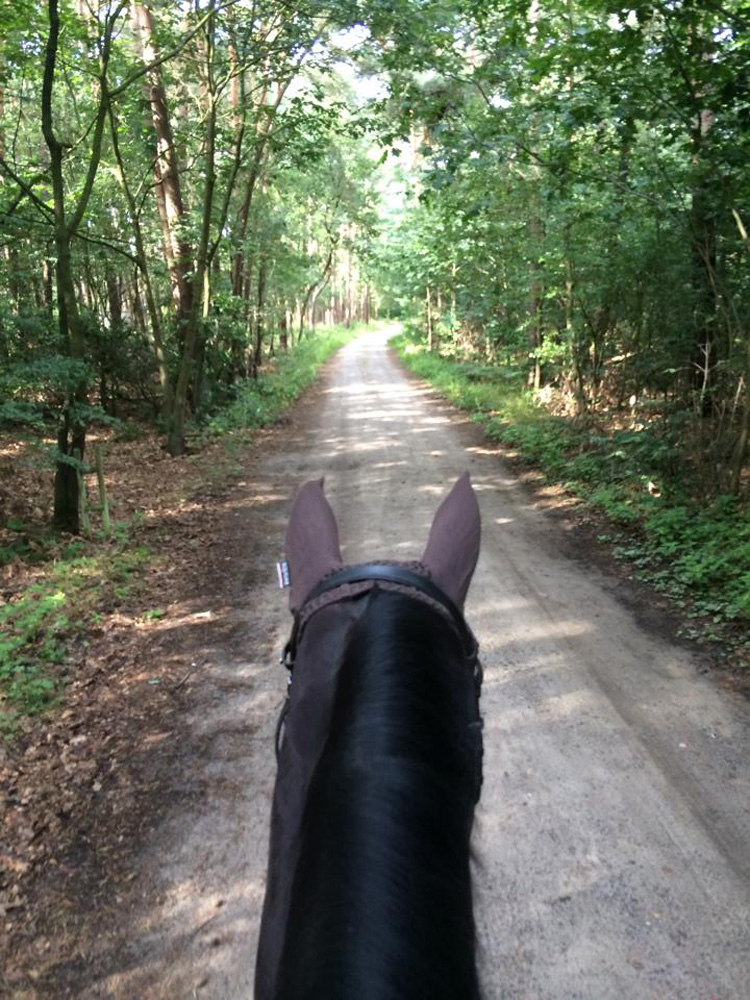 Roffman is looking forward to getting back
to quiet rides with Her Highness O.
What's next?
I'm honestly trying to get this over with and close this chapter. My horse has five or six years [at her competitive peak]. She'll be very consistent by that time! I'm trying to find the best in this.
My plan is to keep going and keep getting better. We all start this with the love of the horse. I love horses. I love what I do. Sometimes these situations try to take that from you. I'm so happy to just be able to ride and enjoy my horses again.
Of course, I'm an ambitious person. I'm a little bit turned off right now, but I don't know what my life would be without this. I'm going to train my horses and enjoy my clients and my students and all the things I love about this. I'm going try to approach it with a fresh start in Florida.
Would you consider selling Her Highness O?
I was under lease contract with USEF; that's over now. You can't sell before the WEG [if you're in contention for the team].
There's interest to purchase the horse for sure. It's a hard decision to make. It's a horse with a very good future. It's a business. Unfortunately, she's not sponsor-owned with the intention to go as far as I can. So I don't know. When I start to look at it, it's a very hard call. I can keep her and wait around and try to make the 2016 Olympic team, but they're horses, and who knows what might happen. I might lose a huge opportunity to make a life-changing amount of money. So I'm up in the air.
Do you think the selectors made the wrong decision in naming the team?
No! They did not make the wrong call. If you're looking at numbers, I should be there, but that's the problem with the selection procedures. We're a country that's lawsuit happy and not necessarily willing to look at the bigger picture.
Because we don't trust our team coach—I'm not saying me, but in the past we haven't trusted our team coach to make the final call and say, "It's you and you"—this is why we have this procedure. I believe we need to have trust.
I believe Robert [Dover, the U.S. chef d'equipe] would've probably picked this team if you'd asked him at Gladstone, but he couldn't [because of the selection procedures]. I think it's a great team.
I stand by the team. I understand the decision. I don't understand how it was done or why it was done in the timely order that it was done. But I only want American dressage to be all it can be. I believe Robert is probably the man who can help that happen. But some things [about the selection process] need to change.