Thousands of riders from around the world flock to Wellington, Fla., every year for the FTI Winter Equestrian Festival. But over the last seven years, another hunter/jumper show circuit in town has been gaining steam and followers at Nona Garson and George D'Ambrosio's The Ridge Farm at Wellington.
What started as monthly schooling shows seven years ago at their Palm Beach Point farm has morphed into a full-fledged series with serious jumper, hunter and equitation classes. D'Ambrosio's quick to point out that the shows are meant to complement, not compete against, the international festival up the street.
"We're not that level of show management," said D'Ambrosio. "We're trying to do something that people want, and there seems to be a need for it."
D'Ambrosio and Garson, who are based at The Ridge at Tewksbury in Lebanon, N.J., the rest of the year, sought a more relaxed atmosphere than the huge event up the street. D'Ambrosio explained he made the show more economical by going back to a more grass roots model of horse showing. There are no vendors, save his personal friend artist Beverley Bryant, and they put a premium on a friendly, hospitable vibe.
"We believe we're developing better riders," said D'Ambrosio. "It's half the cost to show in equivalent classes, with free food for everyone, which is something we'll do no matter how big it gets. We don't nickel and dime people. No ship-in fees, no nothing. Just pure show jumping and rider development."
Filling A Niche
The first year, Garson and D'Ambrosio hosted a day of hunter schooling shows and a day of jumper schooling shows, targeting developing riders and what D'Ambrosio called "the Littlewood niche," referring to the Littlewood Farm horse shows, a smaller series which used to run concurrently with WEF but were incorporated into WEF in 2008. Standing by the side of the equitation ring at WEF made D'Ambrosio realize there was a gap in the market.
"The first five weeks of [WEF] there would be 65 kids competing, and the top eight ribbons were handed out to the same top 10 or 11 kids for the first eight weeks until they're qualified," he said. "Then the other level of riders would have the chance to collect some points. Everyone was getting more and more tense as the season went on, and the horses were getting pounded. We decided to create an alternative, so those kids who were suffering the most could come compete over equivalent courses and judges, with good jumps and footing, without the pressure of a million people watching."
The Ridge started hosting USEF-recognized equitation-only shows on Tuesdays during their second year of shows in Wellington. These days they host qualifiers for ponies, adults and children in addition to the major junior national equitation classes. D'Ambrosio estimates he gets between 14 and 28 entries in the ASPCA Maclay and Pessoa/USEF Medal classes.
They also organize weekly jumper shows held on grass on Wednesdays and Fridays, which rotate between their farm and several local facilities. The Wellington Turf Tour offers 1.30-meter and 1.35-meter classes on Wednesdays, and a $15,000 1.40-meter grand prix on Fridays. The 11-week Turf Tour series culminated in the $24,950 Invitational Grand Prix on March 22 at Deeridge Farm. Ainsley Vince of Canada topped that class on Frieda.
"I think this series is fantastic. These classes provide such a good atmosphere for both horse and rider," Vince said. "Last year when I was here we used the series to get the horses ready for Spruce Meadows. You don't have very many opportunities to jump on grass anymore, so it is so nice to be able to go to these different venues."
The Ridge also added some USEF young jumper classes, and held two days of competitions during the season with classes for for children's, adult amateur, junior and amateur-owner jumpers.
A Low-Key Venue For International Riders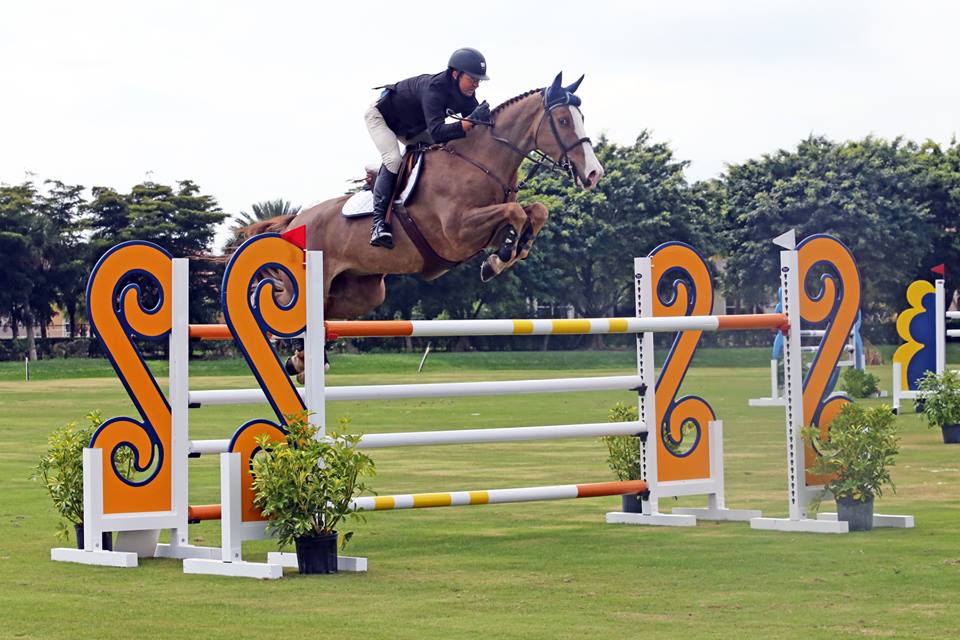 Jeffery Welles topped the Turf Tour series heading into the Turf Tour Finale thanks to lots of wins on Bilion.
Photo courtesy of Kendall Bierer/Phelps Media Group.
The series attracts international riders liked Rodrigo Pessoa, McLain Ward, Daniel Deusser, Marie Hecart, Charlie Jacobs, Darrin Dlin, Mario Deslauriers, Candice King, Joe Fargis and Debbie Stephens. Jeffery Welles topped the Turf Tour Leading Rider standings, thanks to great performances aboard Bilion, among others.
"He's a very careful horse, and he's very aware of his surroundings," said Welles of the 8-year-old Dutch Warmblood (Emilion—Iberlina, Amethist) who won the East Coast Young Jumper Championship (N.Y.) as a 5-, 6-, and 7-year-old. "It's been good for him to go to different venues and the grass is great. It's brought him nicely to this level."
It's possible for riders like Welles to fit the Turf Tour into their schedule as the classes run with an open gate, so he can squeeze in those rounds around his horses' and clients' schedule at the Palm Beach Equestrian Center.
"It's nice to be able to jump on the grass," he added. "We don't have many opportunities for young horses in this country to do that. The shows can be a very productive steppingstone for horses. If you have one that's awkward in the schooling area, it can be tricky at [WEF]."
This year D'Ambrosio added two days of USHJA derby competition to the calendar this year as well. Each day featured an international and national-level class, run with a modified open-gate format.
Peter Wylde, who won the second $15,000 USHJA International Hunter Derby at The Ridge on Smoking Gun, has been a regular on the Turf Tour as well.
"I'm a big supporter of The Ridge and all their classes," he said. "It gives different options and it works great for a lot of horses and a lot of people. I don't think it takes anything away from WEF; it only adds to the winter experience down here."
Finding A Work-Around To The Mileage Rule
GR308, the so-called "mileage rule," generally prevents new competitions from popping up near established shows on the same dates. It's one of the most debated sections of the Rule Book.
The Tuesday equitation shows avoid that problem as there are no classes at WEF on that day. The Turf Tour started last year as an unrecognized event. But in response to the new Fédération Equestre Internationale prohibiting those riders from competing in events that aren't sanctioned by national federations, the shows in the Turf Tour are now run as USEF Jumper Level 2 events. That level of competition may run simultaneously without restriction near a major show like WEF, which is classified as Jumper Level 5 competition, according to the mileage rule. Jumper 2 competitions have prize money capped at $24,999, preventing D'Ambrosio from offering serious prize money.
Meanwhile the two standalone hunter derby days applied for and received special competition status from the USEF executive committee.
Up Next?
Five years ago D'Ambrosio and Garson bought another farm in Ashbury, N.J. They've spent most of that time revamping the facility, putting in 5 miles of fencing, an Olympic-sized arena and an oversized grand prix field with natural obstacles. The Ridge at Riverview has already hosted some multi-day schooling shows, and D'Ambrosio hopes to add rated shows to the calendar as well.
"It's the most beautiful facility I've ever seen," he said. "It's an Aachen [Germany] or Spruce [Meadows (Alberta)]—just that amazing. There's a huge river that runs right through it where you can catch two-foot trout. We've really put some time into it, and we're hoping this will be our future when we're old and gray."