Some people are lucky enough to witness greatness in their lifetimes. Those of us in equestrian sports are lucky to have witnessed greatness in the form of one of our fellow horsemen, Gene Mische.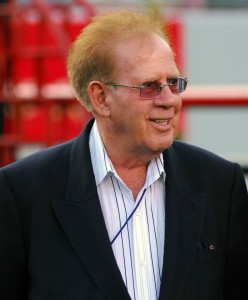 When I heard that "Uncle Gene" had passed away, I was filled with a mix of emotions. I'm glad that my friend is no longer in pain, but I'm sad that I will not be able to see him or speak with him. Whenever someone such as Gene departs our world, it leaves a void that cannot be filled. Sure, others will come along, but there is only one of each of us, and there is certainly only one Gene Mische.
Most of us think of Gene as a competition organizer, but he was so much more. Horseman, visionary and entrepreneur—Gene was all of these. Gene spent almost all his life with horses in one way or another. Before turning to full-time competition organizing, Gene was a full-time trainer of hunters, jumpers and their riders. Starting in Cleveland, Ohio, and eventually settling in Palmetto, Fla., Gene brought champions to the ring time after time.
Back in the day when our industry was more a sport, Gene traveled the circuit producing top horses such as Let's Dance, Beau Mac, Model Cadet, Nanicote, Touch The Sun, Mighty Ruler, Houdini, Grande and Sloopy for such renowned owners as Harry Gill, Patrick Butler, Eddie Bourbeau and Mrs. R.J. Reynolds. Gene influenced riders such as Steve Stephens, Michel Vaillancourt, and most recently his great nephew Michael Morrissey.
Gene brought his expertise as a horseman to the world of competition organization. His eye for a horse and his ability to see a problem and resolve it proved vital to his career as a competition organizer. Gene broke new ground with his innovative ideas and passion for competition.
A Visionary In The Horse World
In 1965, Gene introduced the "grand prix" to U.S. horse sports when he and Jerry Baker held the Cleveland Grand Prix in Chagrin Falls, Ohio. He worked to organize the first winter circuit of competitions in Florida, which was a traveling road show in its early years before eventually settling in Wellington. Gene and his partners created what we now know as the Winter Equestrian Festival and the star of the winter circuit, the American Invitational.
A tireless worker, he spent every moment making his competitions better and dreaming of the future. Gene's vision was so far advanced that most people couldn't even imagine what he envisioned. Thankfully, that did not deter Gene in his mission to produce the best competitions in this country, to bring international competitors to the United States, and to introduce equestrian sports to the mainstream public.
Gene guided support for equestrian sports in new directions through the sponsorships he cultivated and created. His ability to make the "ask" and his skill at designing a benefits package that gave our sport the support it needed, while satisfying the needs of the sponsor, was the right approach to attracting mainstream corporations to the equestrian world.
Through his endeavors Gene made friends around the world. He was known and respected everywhere he traveled, and many sought his expertise in developing their training and competition organizing philosophies. I remember standing with Gene in a field schooling horses in Valkenswaard, the Netherlands, when he summed it all up in just a few words: "Keep training simple and be patient to let the horse and rider learn." He had a knack for summing up a lot of ideas in just a few words.
A Lucky Man To Know Him
I feel so fortunate to have known Gene these past 17 years. I think I first met Gene while attending Stadium Jumping competitions in the winter in Florida. Right away, I knew we would get along well, and he would prove to be a great influence on my life. The opportunity to talk to someone with so much enthusiasm and such history in our sport was a truly incredible experience. His knowledge has helped me in creating my path as both a horseman and in governance. Like so many others in our sport, I always knew that if I needed a favor, Gene would be there to help; I only hope he felt the same way.
When I was more actively attending competitions, Gene and I often found ourselves in the same places: the usual haunts of Wellington, Lake Placid and South Hampton. Each year in Lake Placid, Gene and family hosted a wonderful evening on the Fourth of July. He had a great way of making everyone feel like family. I guess that's why we all called him "Uncle Gene."
Some of my fondest memories are the trips abroad to compete with Michael Morrissey and Paige Johnson. We were all like one gigantic family, everyone traveling together, staying in the same hotels, sightseeing and, of course, showing horses. Gene arrived at breakfast every morning ready to meet the challenges of the day. There was no way to feel any different around him. He constantly saw opportunity, and that inspired everyone in his presence. Where others approached the day with caution, Gene approached the day with a sense of adventure. I will miss his regular greeting to me of "Hi William."
I served on several organization boards and committees with Gene, and the same attributes he demonstrated as an organizer and horseman, he demonstrated in the boardroom. Gene had infinite patience, but also, once he got angry, he let you know it. He taught me to listen first, take in what others are saying, get your facts in order, and then present a logical solution to problems.
I will always be grateful for the lessons Gene taught me and the knowledge he passed on to me. Not being one to sit idle, I just know he is organizing a competition between all the great horses and horsemen he is with right now.
Gene's life is a lesson to all of us: What a man can dream, he can also make into reality. We should all be so fortunate. Thank you "Uncle Gene."
---
Bill Moroney, Keedysville, Md., is president of the U.S. Hunter Jumper Association, a member of the U.S. Equestrian Federation Board of Directors and a USEF R-rated judge. He started writing Between Rounds columns in 2004.
If you're a Chronicle subscriber, you can log into www.coth.com and read all of the Between Rounds columns that were printed from 2010 to the present.