Saugerties, N.Y.—July 19

To kick off the Adequan/FEI North American Junior and Young Rider Championships, four dressage Young Riders from Region 3 took the team gold medal—with the help of their team anchor, who had the highest individual score of the day.
Barbara "Bebe" Davis, Marline Syribeys, Katrina Sadis and Rachel Robinson rode to a combined team total of 209.68 points, which was slightly shy of 8 points ahead of Region 2, who took team silver and Region 3, who tailed with team bronze.
After the top three teams galloped to victory, they climbed the FEI podium with bouquets in hand and medals around their necks. Each of the riders grinned with their teammates, but others breathed in relief after successfully upholding pressures as the team anchor.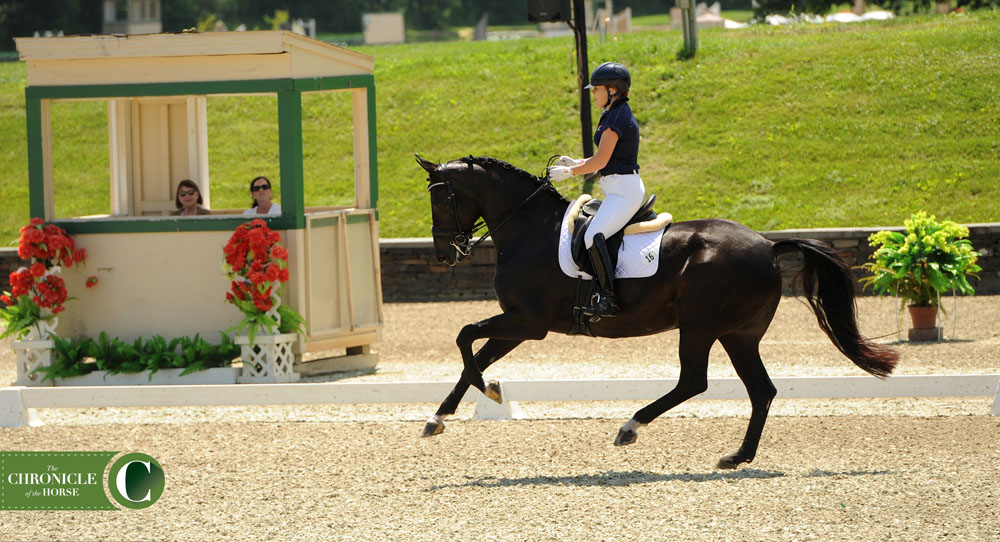 Davis handled the pressure well as Region 3's anchor. Of the 28 entries, she topped the scoreboard, leading with a 73.92 percent aboard a newer mount Fiderhit OLD (Fidertanz—Fleur), who she started showing just this winter. Aside from praising her Oldenburg mare, she attributed her team's success to their mutual support.
"Our team has a special relationship, because we've all known each other for a long time," said the 20-year-old from Wellingon, Fla. "It was just like seeing old friends. You feel like you're coming home in a way by seeing all these people. We go to schools on different coasts, so we don't really get to see each other, but this week we get to see a lot of each other."
All the Region 3 riders placed in the top 12 individually—Syribreys claimed third aboard Hollywood (68.92%), Sadis claimed seventh with Zepelim (66.84%) and Robinson was the drop score in 12th with Indira (65.28%).
The riders from Region 2—Callie Jones on Don Phillip, Sophia Schults on Farley 4, Rebekah Mingari on Allure S and Jacquelynn Mackie on Weltrubin 5—didn't know each other as well before the competition, aside from an ongoing group text, but immediately grew a bond between their jog outfits, matching team gear and meeting everyone else's horses.
"For me having a team is like having a backbone," said Mingari. "You have people there standing in the arena watching you, people in the barn helping you—it's just a really great feeling to know that someone else has your back and if you're not having your best day you have a couple people to bring you up or you can be there to help the rest of your team as well."
Individually, Chase Shipka from Region 1 had the second highest score of the day (69.92%). Marline Syribeys was third and Callie Jones from Region 2 came in fourth.
The Junior dressage team event runs on July 20, with the Young Riders returning to ride for individual titles on July 21 and 22.
See full individual results of the NAJYRC Young Riders dressage team competition.