Mill Spring, N.C.—July 15  
Andrew Ramsay and Cocq A Doodle earned victory in the $86,000 Tryon Resort Grand Prix CSI** at the Tryon International Equestrian Center in the final international grand prix of the Tryon Summer Series.
"We have spent the past year just developing her and moving her up and she has been fantastic," Ramsay commented. "Doodle is a very explosive horse and she has a lot of power. After the first three fences in the jump-off tonight, I kind of got a shot of adrenaline like 'I'm on it! I'm on it!' and it keeps you going," Ramsey added with a laugh.
"Heading to the last fence she just picked up a full gallop and luckily she backed herself up and it worked out for us tonight," he concluded.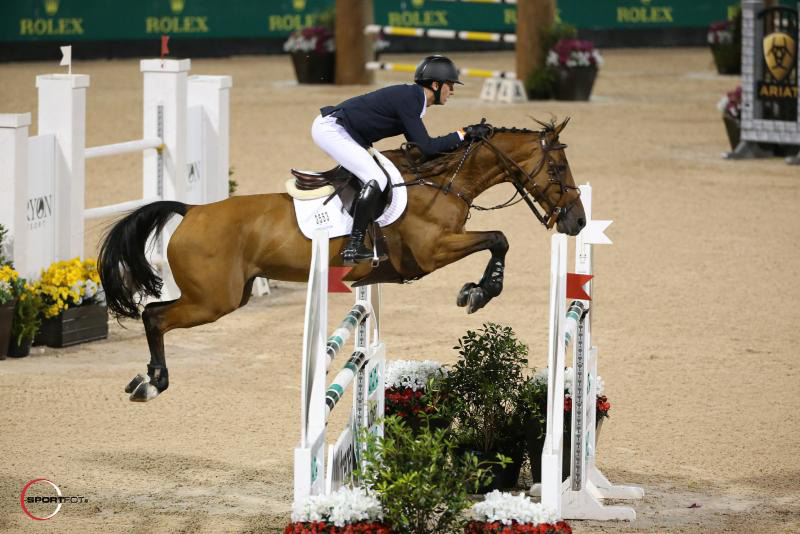 Ramsay and "Doodle" blazed to a clear jump-off round in 35.81 seconds, while following closely behind was Marilyn Little and Clearwater with a time of 36.34 seconds for second place and Kristen Vanderveen with her trusted mount, Bull Run's Faustino De Tili, took home the third place position with a time of 36.56 seconds.
The highlight class of the week at TIEC boasted 54 total entries, and saw 16 of those return to test their abilities around the jump-off track set by Martin Otto of Germany. Ramsay had two horses qualified for the jump-off, the other being California 62, who finished in the fifth-place position.
"It was nice to have two horses to jump-off and have an idea of the track and how it rides, although they are two very different horses," Ramsay said. "I went third in the jump-off with California 62, and she is naturally competitive and fast. We just wanted a solid round. I was thrilled with her. Then Cocq A Doodle came in and I think this jump-off suited her a little more."
Ramsay added that Cocq A Doodle, better known in the barn as "Doodles," is an appropriate name for the mare saying, "She came with the name and it really fits her personality. She's a fun mare and she is full of opinions. When things work out, it is almost like we are 'doodling' about the course. The more I stay out of her way, the better she jumps. It is an amazing feeling."
Cocq A Doddle, a 10-year-old Belgian Warmblood mare (Tolan R x Niagara) owned by The Doodle Group, and Ramsay have been partnered for the past year and a half, securing multiple top placing's across the country before landing the big win at TIEC.
Ramsay is excited about the future with the talented mare, and plans to stay in the FEI classes for the rest of the summer. "We will see where she decides to take us!" he said.
"I was told I could not leave TIEC without a win! The class tonight was really a blast. The jump-off was entertaining when the lead kept changing hands, and I am glad I could have the result I did with Doodles. I am thrilled. Hopefully there will be more to come and we will keep at it," he said.
See full results of the $86,000 Tryon Resorts Grand Prix.
Watch Ramsay and "Doodle's" winning jump-off ride: