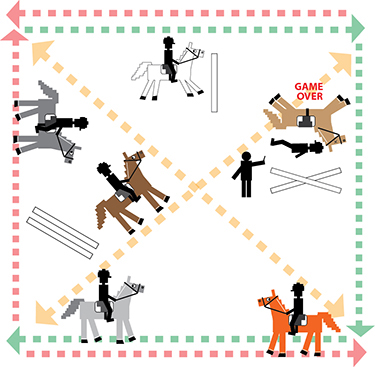 I don't play video games. Not computer ones, anyway. I played the kinds that were popular back in the 1980s—the ones found in arcades and bowling alleys and pizza places.
They had names like Donkey Kong, Pac-Man and Frogger. They were played on big, vending-sized machines that took quarters and tokens, and were nothing like the sophisticated, 3D-realistic games of today.
But modern video games and their archaic ancestors do have one thing in common. In an onslaught of alien invaders, ghost-bombs and subterranean dragons, the object of the game is to stay alive.
This has also been the primary goal when riding in our covered arena this winter.
Under the best conditions, winter riding is a game of survival. This year, the relentless rainfall made it even more so. The horses went over two months without being turned out, because the turnouts were under water. Two months is not long enough for them to evolve into a species with gills and webbed toes. It is, however, long enough to turn them into fire-breathing, hell-raising quadrupeds of doom.
Then, with each storm, the wind drove the rain a little further into the ends and sides of the covered arena, creating a mucky, sucky, mess. We cordoned off those areas with ground rails and plastic blocks. Eventually, only a small, egg-shaped section in the middle was left.
An egg-shaped playing field surrounded by tar pits isn't challenging enough, so we put in some additional hazards (jumps) to navigate, arranged so that a player could not jump one without crossing the path of somebody jumping another one.
To complete the scenario, a random collection of horses, riders and trainers are loaded. Then, as they say, we are ready to Let The Games Begin.
To play, you must first select a steed. All mounts begin with an equal level of difficulty, since none of them have been turned out since October. However, each expresses its idiosyncrasies differently.
Who would you like to ride today?
Batpoop-crazy Bay
Psychotic Chestnut
White Whack Job
Dappled Demon
Loco Little Pony
Rodeo Roan
Murderous Mare
I feel lucky! Pick one for me
You can increase your level of difficulty, and your scoring potential, by choosing options from the following categories.
Choose eccentricities
Extra horsemanship points will be awarded for selecting one or more items from this list.
Spins and bolts from oncoming traffic
Bucks after long distance to single oxer
Scoots in random direction at any noise, even those
coming from his own body
Weebly-wobbly spooky-wooky stunts
Performs unannounced airs above the ground
Won't jump anything white
Attempts to side-pass out of arena at each gate
Breathes fire (only available if you chose Murderous Mare)
Select spur type & length
Level of expertise required increases with each successive spur type / length
Type
No spur (choose this options for lowest scoring potential, but greatest survival probability)
Pencil eraser
Tootsie pop (how many sticks does it take to get to the center??)
Ballpoint pen
Fork (makes it easier to eat dirt)
Pizza Cutter
Ninja star (extra idiot points if combined with Rodeo Roan or Murderous Mare)
Length
Is That All You've Got?
Did You Just Ask Me Something?
Would You Repeat That?
Sure, I'll Get Around To It.
Oh, You Mean NOW
There Is No Need To Shout
STOP SCREAMING AT ME
I'll Break In Two If You Touch Me With Those (extra idiot points on all mounts for choosing this length)
Choose a Magic Wand
These specialty items are usually referred to as "crops" or "whips." However, anything that can reliably compel forward motion from a recalcitrant lesson pony must certainly have some magic in it.
Each successive wand type increases both scoring potential and Fall-off Factor.
Note: While the mere act of carrying a magic wand will raise your Badass Quotient, you must actually use it to accrue additional points. Riding around with it stuck down the back of your pants isn't enough.
Regulation leather crop
Crop with glittery star on end
Dressage whip
Tree branch
Tire tool
Nine iron
Standard bat
Baseball bat
Lucille
Note: A Magic Wand will disappear if you put it down on the rail, even for a moment. It may randomly reappear in the hands of another player. Or, you might never see it again. We told you; it's magic.
Carry Insurance
These devices will increase your odds of safely navigating the playing field, but will take away from your overall point potential. You are not required to select from this list, but if you do, choose carefully. The wrong combination of items may result in unpredictable consequences.
Standing martingale
Running martingale
Earplugs
Seatbelt
Rollbar
Bubble Wrap
Peril-Sensing Horse Goggles – Better than blinders, these wrap-around goggles turn completely black at any sign of danger so that your horse won't see anything that might upset him
Safety Vest – Single use only. Impact with any solid object will cause safety vest to explode, rendering it ineffective for the remainder of the game
Calming Supplement – also known as Beer
Liquid Courage – Exponentially increases your Fearless Factor. May also make you believe that you ride better than Beezie Madden, and spark the desire to sing karaoke and text-your-ex. Only one bottle of liquid courage is available per game. It appears in a random location in the ring, in the shape of a large Margarita. First rider to grab it gets it, and must consume it to activate.
Note: while powerful, the effects of liquid courage are temporary and diminish over time.
Add Extenuating Circumstances
To increase level of difficulty for all players, any or all of the following may be put into play. Select at least one, or we'll select it for you.
Wind and rain on roof
Pigeons in arena again
Cold snap
Kids on ponies
One-eyed trainer riding crazy baby
That woman that can't steer is here again
Dogs playing outside arena
Invisible monsters in corner
Plastic bag invasion
Zombies
Designated Instructor:
One player in each game must take on the role of Instructor. The Instructor does not have a mount.
He or she accrues points by moving from place to place in the arena, repositioning ground poles and setting jumps without getting steamrolled by one of the mounted riders (Google the video game called "Frogger;" it's pretty much like that).
Extra points if the instructor can execute the above while checking Instagram on their phone.
Unlike actual video games, you can't win an 'extra life' here for skillful play. But you can survive to escape with your current one, and live to ride another day.
As with anything, the only way to become proficient is to do it over and over. You may not be up to playing Quadrupeds of Doom every day. But while you're steeling your nerves for your next misadventure, finding one of those old Pac-Man or Space Invaders games to practice your hand-eye coordination won't hurt.