I have been a rider for most of my life. I started as a 6-year-old with Coke-bottle glasses on rank ponies, falling off more times than I had fingers or toes to count on. One of my earliest memories on horseback still brings on guilt and shame when I recall the look of disdain from the master of the hunt as he peered down at me clinging to the side of my runaway pony as I galloped alongside and then passed him and the hounds, a grave crime to commit in the hunt field.
I graduated up the ranks to a hardly trained Appaloosa found in a field, and together we made it to the advanced level of eventing. It's a story that is all too common in the horse world: I had a generous trainer who let me work off lessons by mucking stalls after school. I was disinterested in school because I was obsessed with horses. I graduated high school with poor grades and no hope for college, not because I was lazy or unintelligent, but because school could never make a better case for my time than the horses.
Upon graduation, my parents and I set out east from California so that I could take a working student job with a well-respected professional rider. There I learned plenty, and though I had to sell my horse in order to fund the trip, I rode plenty as well. As I packed up my bags to head back home as the temperatures and my bank account dipped in to negative territory, my mentor said something to my mom that became a defining moment in my career with horses, and ultimately laid out the approach I would take to my riding for the next 15 years.
What he said was not meant to be mean or dismissive—I'm sure he was just laying out the harsh realities of the horse world for a teenager who was probably way too idealistic, and probably a little full of himself. But it stamped me nevertheless. Now I can't quote him exactly, because it was a long time ago, but the essence was this: "Matt's a good rider, but he will never make it to the top of the sport because your family doesn't have the money."
This was all true. My dad sold his house and moved in to an apartment to pay off the debts incurred by supporting my riding, we would not be able to afford a string of horses or a farm to work out of, or frequent trips east to compete against the best. Though there have always been inspiring examples of riders from humble means making it with that one special horse, the odds were certainly not in my favor.
I returned home, and accepted this fate. I loved horses, so I decided to dedicate my life to them, even if it meant I never made it to the top of the sport. I started a business that focused on training young and problem horses, and 15 years later I had developed a nice little business with a couple of nice horses to ride, and a great group of amateurs and kids that were dedicated to learning. I made it back up to the one- and two-star level with a few horses that I had either started myself or had re-purposed after they had trouble in their previous careers. I figured that at some point, one of the horses that I would start or fix would be good enough, stay sound enough, to make it back up to the advanced level, and that would have to be good enough.
I was even lucky enough to have found a great girl who shared my passion for horses, and we worked side by side each day riding and teaching. I was doing fine, and it certainly beat the job at the machine shop that I had taken when I had needed a break from riding 10 years earlier.
One day that girl and I were driving home over the Golden Gate Bridge after a reasonably successful horse show and she asked me why I didn't push myself more. She told me that I could be so much better than I was, as good as any of the riders at the top of the sport, and she questioned why I wasn't studying the best in the world, immersing myself in the craft of upper level eventing, and reaching for more.
My wife is blunt, and sugarcoating things is not her strong suit, but I surprised myself by reacting more defensively than I had meant to. It was a valid question, and I didn't know why it bothered me so much.
I told her that I would never have the money or the horses to make it to and stay at the top, and that trying and failing would be far worse than just being content with where I was. If I admitted that I wanted something more, then everything we had built up to that point would suddenly feel like not enough, and then I might be destined to never feeling satisfied with the life I had. So, we dropped the subject and kept going as we were, enjoying the little victories and the truly wonderful group of clients that we had gathered.
Maybe a year later we were watching the London Olympics and something changed for me. For the first time I was watching those horses and riders and they didn't look so different from myself. It looked like something I could, and wanted to do. I happened to have a great client at the time with a farm where I would go and teach once a week and then we would sit down together with her husband after a day of teaching and enjoy a little dinner before I headed home. We were on the subject of the Olympics and I let it slip that I thought that I might actually be good enough now to try to do that. My client asked what it would take, and I listed off a number of things: An exceptional horse, a lot of travel, a huge investment of time and money. She asked how much a horse with that potential ability might cost, and I threw out a number that was exponentially more than anything I had ever spent on a horse up to that point, which practically made me blush as the words left my mouth. She said, "Well why don't we do it?"
That conversation set in motion a series of changes in my life that have opened my eyes to some truths that I had never considered before.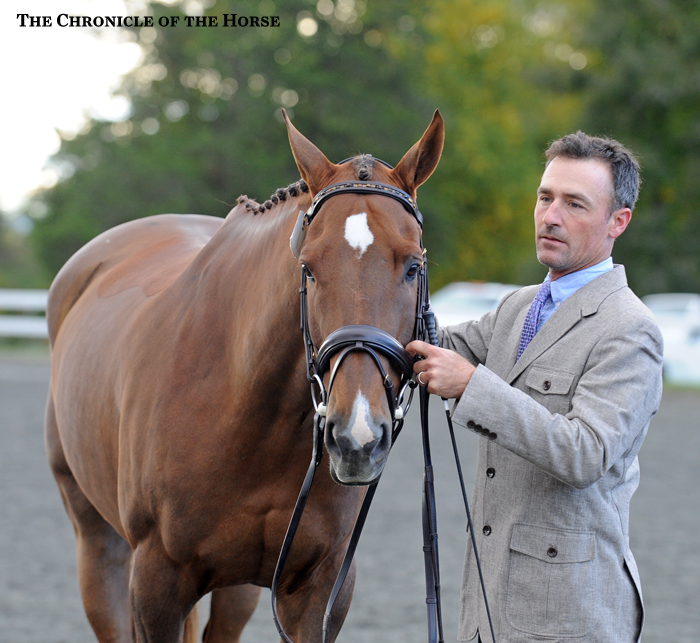 Matt and Super Socks BCF. Photo by Sara Lieser
As I write this, I am sitting in a little RV parked at the back of a barn in Pennsylvania that I'm renting, looking out on to some deliciously green pastures where I have three CCI*** horses grazing. My wife, our incredibly dedicated and tolerant working student, and our two dogs are smooshed like sardines into a tiny RV while we travel for shows to make a bid for the Pan Am team and beyond. Our business in California has been left in the capable hands of our assistant, our working student and many capable friends and colleagues who have generously stepped in to help while we travel, and while our clients are incredibly patient and supportive of my efforts, they are also more than understandably frustrated with our absence.
We just got the news that I am an alternate for the Pan Am team, which all at once is a huge disappointment, an honor, as well as my biggest accomplishment to date. As we grapple with taking in all that we have learned and observed over the past eight weeks, and begin making new goals and setting new benchmarks that I hope to reach in order to be more than an alternate on next year's Olympic squad, some tough realizations and decisions are looming.
We've come to the understanding that in order to make needed improvements in my riding and gain experience at the top level of the sport, both of which are clearly necessary to compete with the incredible riders that are dominating the sport today, we need to close down our business in California and lay down some roots for a time here on the east coast where the events are a matter of minutes rather than hours or days away, and I only have to hack down the road to see some of the best riders and horses in the world working away.
This is a scary, bittersweet, and exciting step. I will miss my incredibly loyal clients in California who have truly been the reason I have been able to accomplish what I have so far, and who have been a daily inspiration to me. I'll miss my family and friends, and the oak-studded, golden landscape that has been the backdrop of my life so far. In order to set up shop here, we have to start from scratch, which is scary for someone that has been established for some time now.
We have obligations, in the form of a mortgage, car payments, etc., that cannot go unpaid, so essentially choosing to skip a paycheck for an unknown period of time seems not only terrifying but fairly ill-advised. But I know what needs to be done in order to have a chance at reaching my goals, so I'm going to take a huge risk and go for it.
This choice is made easier because of the support I have from my sponsors. That decision to try to fulfill my Olympic dream on their part has fostered a relationship that has become incredibly cherished and meaningful to me.
I realize now that I started my business in California with my limitations, rather than the possibilities of what I could become in mind. And then what was created out of that, was, unsurprisingly, limiting me.
I choose now to move forward towards my goals with what might be possible as my defining and motivating factor. I will work to challenge and overcome my limitations rather than let myself be defined by them.
I finally have the courage to do this because of those who have seen me fit enough to believe and invest in. My wife, my sponsors, my family, my students, have all built me up and given me the strength to bet on myself and my abilities.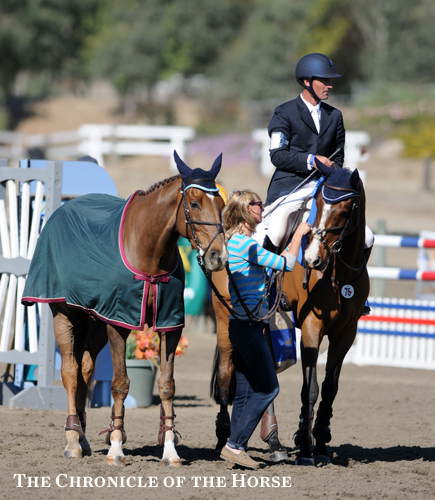 Matt and Cecily Brown at Galway Downs in 2013. Photo by Lindsay Berreth
Over the past days I have had some contradicting experiences that have led me to ponder how the people in our lives can affect our path. As I grappled with a series of tough blows inflicted by someone who seemingly criticizes me at any chance they get, it was easy to come to the conclusion that people can just be awful, and like to wield their power over you like a weapon. When they see an opportunity to be critical or take the air out of someone's lungs, they take it.
As I considered all of this, and decided to take action that would take this person out of my life, but at the same time would make some incredible opportunities disappear as well, I had the ironic fortune of having a new friend stop by unannounced and unsolicited to help me mow around the property I'm renting. He did this because he saw a need and wanted to help. He did this because he is clearly the type of person that sees an opportunity to be generous and takes it.
Later that same day, I answered a call from my sponsors who said they wanted to double down in their support of me in order to help me make this move and the next step in my riding. They have invested much more than any of us had originally bargained for up to this point, and instead of feeling overwhelmed by their commitments, they are excited that I am beginning to see my potential and want to do more to help me realize it. I told them I would never be able to repay them and they simply said, "when you get back on your feet and are in a stable position, you'll repay us by being generous with yourself to someone else."
And this has made me realize and understand that we can all be two types of people: Those that take away from others, or those that give to others. With our words or our actions we can either drag someone down or build them up, and things will snowball in either direction. If you've had people take away from you for most of your life, it is more than likely that you will be inclined to take away from others. But if you have been the lucky recipient of those who have given their time, or their money, or their kind words to you, then that will no doubt inspire you to be that to others when given the chance.
We have to seek out opportunities to be generous. Being generous, or negative, is a choice. We can either let the snowball gather momentum down the hill, or we can work together to push that snowball uphill, and end up with a monument to hard work and generosity at the top.
So, to the young riders that are getting ready to embark upon their journey, try to build your path in the direction of what you dare to dream you could become, what might be possible. Don't allow your path to be narrowed by your limitations. Work hard, harder than those around you, harder than you think you can. Make good, realistic choices, fulfill your obligations, but also take risks. Surround yourself with those that believe in you, and don't let those constant doubters or takers in to your life for long. Be generous with your time, your words and your actions when there is the opportunity to be, and be the person that believes in those around you.
To those who are already established in life, when you see someone embarking upon a journey, think about what you can do for them, even if it's just letting them know that you believe in them, helping them mow their pastures, or helping to support a dream.
Life will always find ways to reveal our weaknesses and limitations. There will always be people that will jump at the opportunity to drag us down, or highlight our mistakes. Doubting ourselves will never be difficult, there is no need to be the person that makes additions to someone's list of "why not."
You can't push a snowball uphill by yourself, but surround yourself with people that want to add to your list of "why's" and "how's," and then you just might get to the top together.
The Talmud says something to the effect of: "We don't see things the way they are. We see them the way we are." What you let in to your life will have a direct effect on how you see yourself, so be mindful of who or what you let in. How you see yourself will have a direct effect on what you do, and where you go in life.
As I start this new journey, full of unknowns and risks, I will try to see myself as those who believe in me do, and I won't be limited by defining myself by my weaknesses or challenges, instead I will work to overcome those weaknesses and meet those challenges head on. Though I will be dedicating every part of myself to my work, I will, when given the choice of being the giver or the taker, I hope I will choose to give.
I will try to remember to seize those opportunities to be generous with my time and myself, and I hope I will have the chance to give many others the courage to see themselves the way they are, which is full of possibilities.
Matt Brown began riding at the age of 6 with BHS instructor Andrea Pfeiffer. As a young rider he competed through the advanced level with his horse Maximum Speed, and together they represented Area VI in the North American Young Riders Championships at the two-star level in 1993. As he built his career, Matt continued to gain education and experience under the expert coaching of trainers and clinicians including Denny Emerson, Pierre Cousyn, Beth Ball, Steffen Peters, Christine Traurig, Beth Clarke, Axel Steiner and Sue Blinks.
It was also during this time that Matt was greatly influenced by the horsemanship of George Kharl. Matt spent time on George's Montana Ranch learning a new approach to horses from George, in which observation, patience, and clear communication became the foundation of his training and relationships with his equine partners. Matt and his wife, Cecily, started East West Training Stables together in 2004. Matt has been achieving consistent results at the three-star level this spring, including placing fifth and 10th at the Jersey Fresh CCI*** with Happenstance and BCF Belicoso and winning the Fair Hill CIC*** with Super Socks BCF. He was named an alternate to the U.S. team for the 2015 Pan American Games eventing with BCF Belicoso.