Two Canadian Olympians were among the five finalists who performed their dressage freestyles for an appreciative crowd at the FEI World Cup qualifier at the Royal Agricultural Winter Fair on Nov. 13 in Toronto, Ont.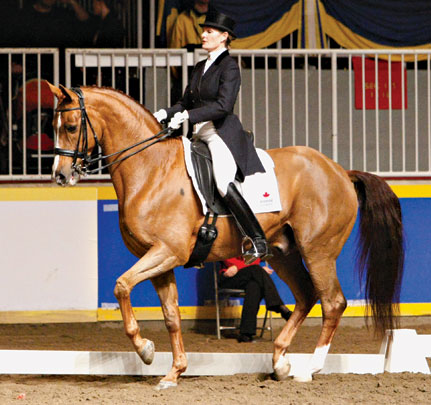 Despite an uncharacteristically explosive Grand Prix test the day before, there was little doubt that Ashley Holzer and Pop Art were going to capture the top honors in the freestyle.
"Poppy" was clearly back on his game as he entered the ring, and Holzer made the most of it, showcasing his exceptional piaffe, pirouettes and razor-sharp tempi changes. Their music, drawn from Disney, lent a sense of drama to the class finale and garnered them 74.74 percent.
Anne Gribbons, who served as president of the ground jury, said that "Ashley's piaffes could be 10s with just a little more lift and articulation. The horse sat well and was right on the spot. He really didn't move at all, and the jury saw that and rewarded him accordingly."
Said Holzer, "This was the same freestyle I did in Hong Kong, but I made it a bit more difficult at the end. I did a piaffe pirouette in one direction, then did a 180 [degree turn] and piaffe pirouette in the other direction, and then I turned back on the centerline for a piaffe and passage up the centerline.
"He has not been in this ring before, and he was just terrible yesterday!" she added. "He was just scared, and normally I don't ever get that reaction from him. Bless him for trying as hard as he did, but he just did not want to go forward. Today, luckily, they dimmed the lights on the spectators so it wasn't so overwhelming, and he was much better."
Holzer and Pop Art finished 14th individually at the 2008 Olympics in Hong Kong in August, where they tied
for 12th in the freestyle. The Canadian team of Holzer, Jacqueline Brooks on Gran Gesto and Leslie Reid on Orion placed ninth.
For Holzer, winning at the Royal capped the year. "It's such a great way to end the season, and to have a partner that wants to work with me, that is so happy doing what he is doing, is such a joy. At the end of the day I'm lucky to have a horse like him," she added. "They don't come around all that often."
Rookie Denielle Gallagher had the unenviable task of being first in the ring on Gallaway's Abrikos, whose greenness at this level was evident after several small mistakes in the piaffe, tempi changes and canter pirouettes.
Nonetheless, they presented a pleasant picture and should be a pair to watch for the future. Judges Gribbons, Brenda Minor, Marian Cunningham and Maribel Quinzanos awarded them 60.65 percent for their efforts.
Fellow Ontarian, Tina Irwin, was next to perform aboard Amicelli, who, unfortunately, found the atmosphere in
the coliseum a bit too intense for his liking. Irwin struggled with his tension throughout the test and had to settle fora score of 60.05 percent.
Simone Williams coaxed some excellent extensions in both trot and canter out of her Wunder Ein, but she also had to contend with some tension and resistance, especially in the canter pirouettes and the piaffe. Her lighthearted selection of Calypso and Spanish guitar music suited her horse well, however, and she came away with 65.80 percent.
Brooks and Gran Gesto needed little introduction to the Royal Winter Fair audience; they have been popular participants in this class since its inception. The highlight of their freestyle was an extremely clean set of one-tempis performed on a circle, along with some noteworthy canter pirouettes and an expressive passage. The judges rewarded the pair with 67.95 percent for second place behind Holzer.
Karen Briggs