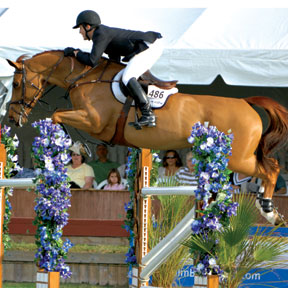 The two grand prix classes that comprise the Rolex/U.S. Equestrian Federation National Show Jumping Championship are just about the only ones Kent Farrington and Up Chiqui have entered and not won this year.
But second place in the $25,000 National Horse Show Jumper Classic and fourth in the $100,000 National Horse Show Grand Prix CSI-W brought them the national title on Dec. 5-9 at the National Horse Show in Wellington, Fla.
McLain Ward won the title last year on Sapphire but this year rode a new star—Phillipa—to the top of the $100,000 National Horse Show Grand Prix CSI-W, while Eric Lamaze captured the $25,000 National Horse Show Jumper Classic.
The $25,000 first leg of the class, held under the lights of the Internationale arena, saw nearly half of the 32 starters go clean over a Pierre Jolicouer course that some described as "soft."
It made for a long and exciting jumpoff, however. Ward, the defending champion, was eager to retain his title. He poured on the speed with Larioso, but his time of 42.01 seconds—the fastest in the 15-horse tiebreaker—came at a price. A fence down put him eighth, which would be low enough to cost him the title when the points were added up on Sunday afternoon.
But Friday evening belonged instead to the No. 1 one rider on the USEF computer list, Lamaze, who, ironically, is a Canadian.
He was swift but not reckless with Narcotique de Muze II. Going near the end of the jump-off gave him an advantage that was not enjoyed by Farrington, one of the favorites to take the championship on Up Chiqui, who has won 11 grand prix classes in 2007.
But Farrington was fourth to ride, right after Ward, and he was wary of making the same mistake—going too fast and risking a rail.
"At the time, the [quickest clear round] wasn't that fast, so I was trying not to go all-out and save him a little bit maybe for Sunday," said Kent, explaining his strategy and his clocking in 45.06 seconds, rather
conservative for the speedy Up Chiqui.
"I left it a little bit open, and I just got beat. If I had gone later, I might have pushed him a little bit more," Farrington reflected.
Lamaze faced a different scenario. He rode fourth from the bottom of the jump-off order, with no horse behind him whose speed equaled that of Narcotique de Muze. He went for it, and his clocking of 44.02 seconds did the trick.
"It was an open, gallop-type jump-off with a very few turns," said Lamaze. That meant foot speed could prevail, and Nar-cotique had it.
"It's almost easier when you've got nothing to lose and you've got to go as fast as your horse can go. I was lucky enough that the rails stayed up," commented Lamaze.
The situation was quite different two days later in the $100,000 finale of the championship, however. The fact that it offered double points for the national title and was a World Cup-qualifier prompted Jolicouer to ramp up the level of difficulty.
That was compounded by a tight, 88-second time allowed. Nearly half of the 27 starters had time penalties, with 12 adding to their totals after failing to beat the clock.
Ward switched horses for the $100,000 class, permissible under the rules. Phillipa, Ward's new and sensational mount, got the nod for the big class. Despite being only 9 and relatively inexperienced, the winner of the $75,000 Budweiser World Cup of Syracuse CSI-W (N.Y.) in November showed her mettle.
The oxer-vertical-vertical triple at 12ABC was a little risky as she tried to get ahead of her rider, but Ward kept her under control and scored the first clear first round in 86.57 seconds.
Ward was eighth to go, and at that point, there had been only one other rider free of jumping faults, Canada's Keean White on Vienna Rouge, who had 2 time penalties. Nonetheless, the crowd was eager for a showdown, figuring that someone—most likely Lamaze, Farrington or local favorite Margie Engle—would be able to match Ward and jump off against him.
It was not to be. Lamaze had a rail halfway through the course. Engle was clean on Hidden Creek's Quervo Gold but taking extra instants to set him up for the verticals cost her. She was just a fraction over the 88 seconds, with a single time fault.
Attention now turned to Farrington. Up Chiqui was jumping well, and hopes were high for a repeat of the duel he fought in Syracuse with Phillipa. But at the next-to-last fence, an oxer that was part of a pair of options off a turn after the triple, Up Chiqui lost some impulsion around one turn. He
bellied the jump and had it down behind.
"I felt bad because my horse was jumping his heart out today, and I made a mistake," said Farrington, noting that the distance got too long to the fence he had down. "He was a split second behind my leg."
There were no other possibilities for a jump-off remaining, and the crowd started to drift away. Ward had won it without a jump-off.
Ward was disappointed not to keep the championship honors but took solace in his $30,000 first prize and the fact that he was taking off the next morning for a honeymoon in Hawaii with Lauren Amsterdam, whom he had married three weeks earlier.
"I love winning without a jump-off," he said. "This was a big class, an important class. I was at the gate when Kent turned the corner, and I have to say, my heart was beating hard because I knew it was more likely he was going to jump a clean round and if he did, he's really a pain in the neck in the jump-off. It's certainly nice when the day's work can be a little shorter."
Engle was second, White third and Farrington fourth. Up Chiqui's first-round time of 84.27 was the best in the class, and thus the quickest of the 4-faulters. It was just enough to give Farrington the National title by a single point.
"It's great for us to have a national championship and an honor to win," said Farrington, who just wished the title had come to him differently. "But it really doesn't make up for a bad mistake."
---
Where Will The National Go Now?
It felt like the end of an era at the 124th National Horse Show, as it wrapped up a five-day run at the Palm Beach Polo Equestrian Club in Wellington, Fla., on Dec. 9.
The highlight was the Rolex/USEF National Show Jumping Championship, a two-part competition that drew enthusiastic crowds for both the Friday evening competition and the Sunday afternoon finale.
But the mood among those involved with the show was subdued. Board members of the National, which moved to Wellington, Fla. after the 2001 edition in its traditional home, Madison Square Garden, are considering the fixture's future, and it may not return to Florida.
The Equestrian Club is now part of the Palm Beach International Equestrian Center under new ownership led by Wellington Equestrian Partners, which won a nearly year-long battle over the showgrounds with Stadium Jumping Inc. WEP bought the dates for the Winter Equestrian Festival, so Stadium Jumping no longer will run shows—including the National—in Wellington.
Mark Bellissimo, the managing partner of WEP, said during the show that he would make the National board an offer to stay in Wellington, since that show wasn't included in the WEF deal. If the National doesn't bite, he plans to run a show of his own in the same time frame.
A search committee of the National's chairman, Mason Phelps Jr., Allen Shore and Leo Conroy has been mandated to explore alternatives. Phelps said the board would like the show, if possible, to be reunited with its ASPCA Maclay Final, slated to be held for the next two years—as it has been for the last three—at the Syracuse Invitational Sporthorse Tournament (N.Y.) in early November.
The Maclay needs to be staged in the same time frame as the other fall equitation championships for the convenience of riders who come from around the country for the fall indoor circuit, which means that the National's current early December date doesn't work in that regard.
There has been some discussion about running the entire National at Syracuse. Other possibilities include Las Vegas, Nev., where interest was expressed in talking about the concept, and the Kentucky Horse Park, though probably not until after the latter's 2010 World Equestrian Games.
The National's major classes this year were held, as usual, in the Internationale arena. The grass field, which was a sandy mess by the end of the 2007 WEF, had been replanted. While it held up for the show, despite some comments that it was a little too firm and a tad slippery at the beginning of the competition, its condition beyond the final awards ceremony was moot.
Hours after the National ended, most of the grass was being pulled up, to be replaced with all-weather footing by Bart Poels, who is also involved with the footing for the 2008 Olympics in Hong Kong. Grass will remain as a border around the ring.
"It would be great to jump on grass [at WEF]," said rider Kent Farrington, "but I don't think for the amount of showing we do and the amount of horses that compete on this field that this type of surface would hold up with the present schedule."
---
Dauphin Grows Into A Winner In Young Jumper Championship
Spectators at the National Horse Show had a chance to see some of the country's most promising up-and-coming show ring stars in the Young Jumper Championship International. The climax of the divisions came, appropriately, right before the $100,000 National Horse Show Grand Prix CSI-W, the type of competition in which the youngsters' owners and riders hope that they will compete of someday.
In the final class for 5-year-olds, Darragh Kerins won with Dauphin, a 17-hand gray stallion he purchased in Holland as a 3-year-old with Sam Edelman. A son of Laredo out of a Polydor mare, he is a 3⁄4 brother to Ian Millar's mount, Redefin.
Dauphin wasn't shown as a 4-year-old because he was big and still growing. But his talent is obvious, even in a brief exposure to the show ring. After he competed lightly at the 2007 WEF, he was purchased by Double H Farms.
"We've given him so much time because he hasn't developed 100 percent yet. In a year's time, he'll show us his real potential," contended Kerins, who also was third in the class on another Double H horse, Frisco.
An American-bred triumphed in the final class for 6-year-olds, where Devin Ryan rode No Worries to victory. Ryan broke the dark brown Selle Francais gelding by D'Accord II (by Olisco) and has continued to develop him for owner Barbara Rowland, his friend and neighbor down the road in Long Valley, N.J.
Ryan rode with Barbara's children in Pony Club and went to school with them. She has a small breeding program whose foundation is Animation, a mare she rode in the jumpers who is No Worries' granddam.
He is out of A Magic Show, a mare by Galoubet.
No Worries got his name after Rowland's kids went on a trip to Australia the year he was born (his nickname is Syd, for Sydney). He is "a very careful, very competitive horse. He's not one of those European scopey warmbloods, but he is so quick off the ground and has so much heart that's going to give him the scope," said Ryan. "It makes a big difference. He's a winner. He's like a Thoroughbred, old style."
The last class for 7- and 8-year-old horses went to Distant Star, ridden by Roberto Teran, a native of Colombia and Pan American Games veteran who is based during the winter in Florida and in Canada during the summer.
Teran rode the second-placed horse in the big class as well. Like the homebred Distant Star, Double Diamond is owned by the King Ridge Stables in Canada, where he serves as one of the breeding stallions. The Belgian-registered offspring of Nabab de Reve is out of a Chin Chin mare, Black Diamond.
Distant Star, also the 6- and 7-year-old Canadian champion, is being eyed as an Olympic prospect by Teran and already has won four grand prix classes. She is by Class Action, a Dutch-bred son of Libero H, out of a Thoroughbred mare.
"It was a great competition and my two guys were unbelievable," Teran said enthusiastically of the Young Horse finale.

Nancy Jaffer