Wellington, Fla.—Feb. 11
Steffen Peters is used to leading the victory gallop in the Adequan Global Dressage Festival stadium, but with his top horse Legolas 92 now being piloted by Dawn White-O'Connor this weekend, and his Grand Prix horse Rosamunde finishing second and third in the CDI*****, he got the chance to do it on a new horse.
With Four Winds Farm's Bailarino, Peters topped the CDI*** Prix St. Georges (72.71%) on Thursday. He also finished third in the Intermediaire I (72.36%) yesterday and second in the Intermediaire I freestyle today (75.10%).
Bought to be the ride of his owner Akiko Yamazaki, Peters has been campaigning the 9-year-old Oldenburg gelding on the small tour for nearly a year.
"He's a very, very laidback little guy. He goes in there every single time, he does his job, he doesn't give you 100 percent, but he always gives you 90 percent!" he said with a laugh. "It's a lot of work! He's not the most motivated horse, but I appreciate that he does it every single time."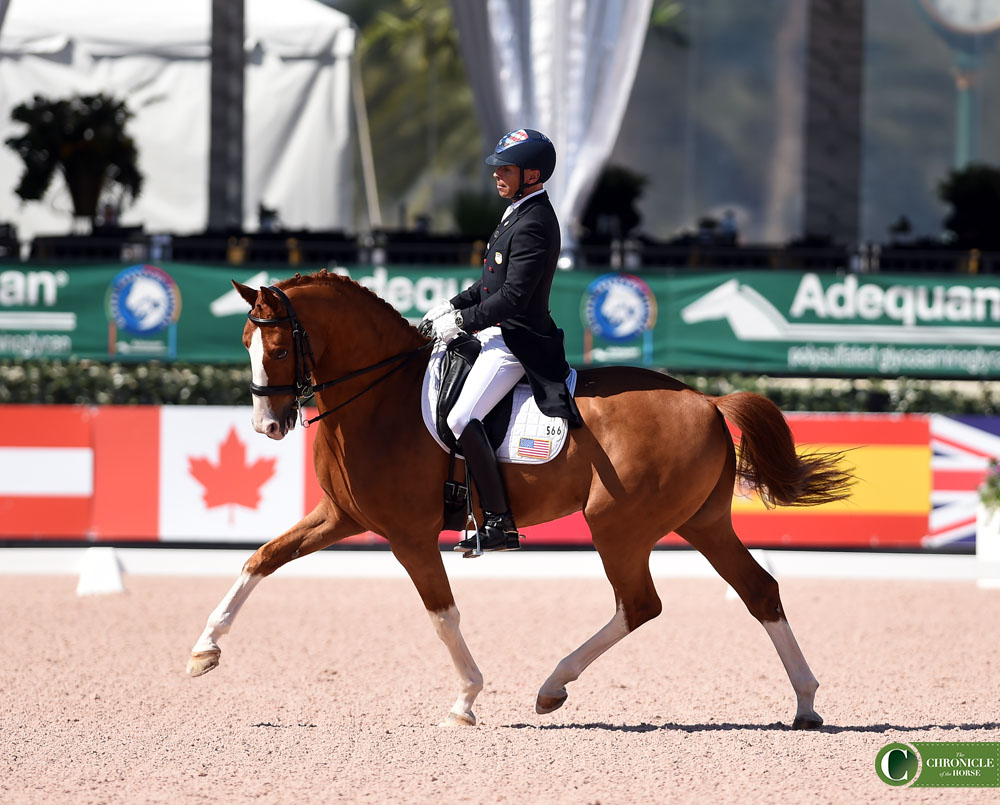 Steffen Peters and Bailarino. Photo by Lindsay Berreth.
Peters described Bailarino as kind and gentle. This weekend was the gelding's first time showing three days in a row.
"The good thing is he's such a kind horse, and he's so wonderful in the bridle, that [Yamazaki's] kids have ridden him. They learned to do a flying change with him. He's that kind of horse—he's such a wonderful teacher," he said. "Three tests for him in a row is a stretch. I told Akiko before that I can run a marathon, but I'm not sure it can be an Ironman!"
Peters was sporting a helmet in his CDI rides this weekend, a different look for him since he's always worn a top hat.
"That's it, 2017. My teammates were hinting at that direction—never gave me trouble about it, but they were hinting about it. I almost stand out with the top hat, so it's the helmet from now on," he said of his New Years Resolution.
Peters isn't sure how long he'll keep the ride in the ring, but he's enjoying every minute.
"We constantly play it by ear. That's the neat thing with Akiko. Everything is discussed so openly, and we're always on the same exact page," he said.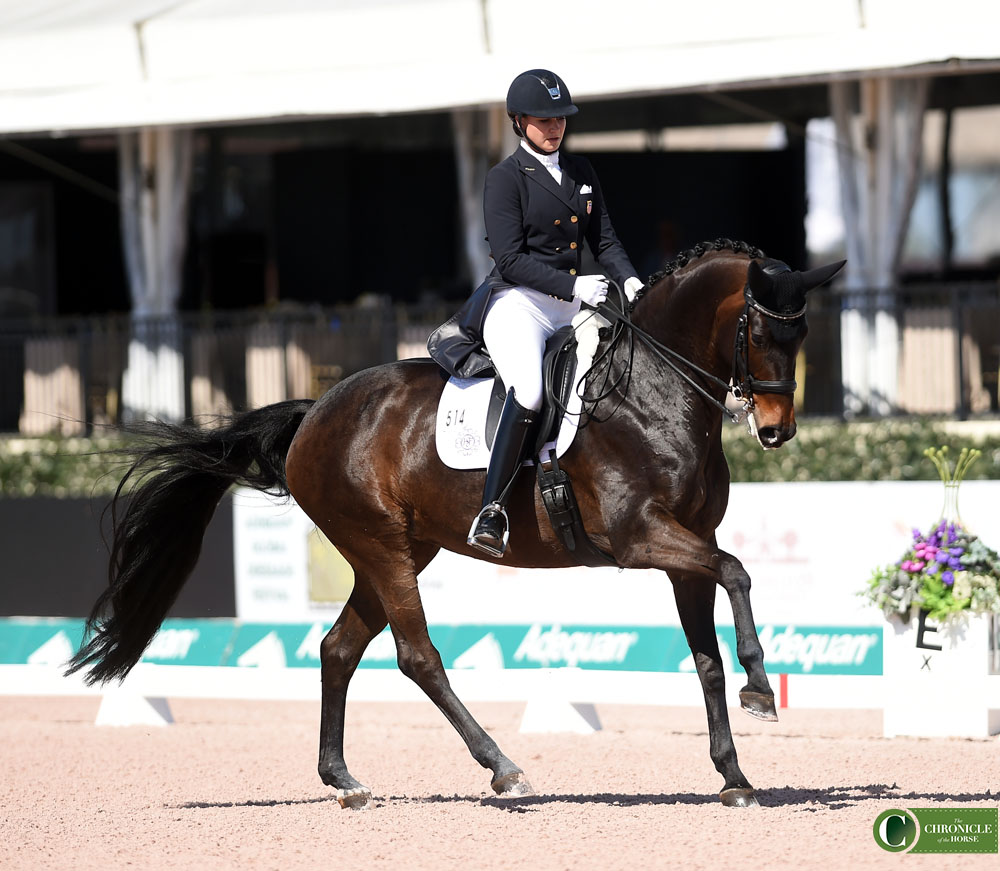 Adrienne Lyle and Horizon. Photo by Lindsay Berreth.
While Peters and Lyle were neck and neck this weekend, it was Lyle who took home the win in the CDI*** Intermediaire I (73.55%) and the Intermediaire I freestyle (75.32%) with Betsy Juliano's 10-year-old Oldenburg mare Horizon.
"I asked Adrienne to take it easy on me. I even pulled the age card since I'm twice her age, but it didn't work!" said Peters today after the freestyle.
It's been three years since Lyle cantered down centerline in a CDI class after the retirement of her Olympic partner Wizard.
"It's really nice! I've been really, really missing it, so it feels good to be out there for sure. It's fun to watch your friends, but you want to be out there yourself," she said. "We've been bringing up a lot of younger ones, so we've actually been very busy cultivating our own string."
Lyle and Horizon competed in the CDI two weeks ago, and the mare is learning to enjoy the main stadium with all of its atmosphere.
"This is our first time in the big stadium, and it's been really fun. I was curious how she would handle it all because she can be a hot little mare, but she seems to be enjoying herself. I couldn't have asked for anything more from [all] of the rides," said Lyle.
She went for a clean test in her Prix St. Georges, and was able to be a bit bolder and steadier yesterday for her Intermediaire I test.
Lyle admitted she pulled together the freestyle, her first with Horizon, at the last minute. "When I entered I realized, now I'm going to have to ride a freestyle, so once we got to the show, I called some friends and Katherine Bateson Chandler lent me an old freestyle. It's the first time I've actually ridden through the whole thing together! I was really happy, and she was really good, and she stayed right with me and was there for me for winging it!"
For full results, click here.
Check out more from the AGDF CDI***** in the Feb. 27 issue of the Chronicle.