Wellington, Fla.—March 5  
Kasey Perry-Glass and Goerklintgaards Dublet not only achieved a win in the FEI Grand Prix Freestyle CDI-W during Week 8 of the Adequan Global Dressage Festival's Palm Beach Dressage Derby, but they also booked their ticket to the FEI World Cup Final in Omaha, Neb., at the end of March.
"I am so excited for Omaha," said an emotional Perry-Glass. "I get to hopefully go with two of my Olympic teammates, and this is my first FEI World Cup so I'm over the moon about it. It wouldn't be possible without Debbie McDonald, or my mom and husband and my dad. I'm just very lucky. I have a really good horse, and they all just make it a very positive experience for me."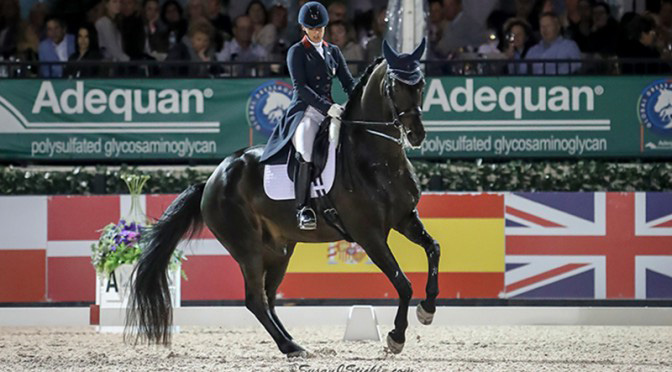 Perry-Glass and Goerklintgaards Dublet, a 14-year-old Danish Warmblood gelding (Diamond Hit x La Costa x Olympic Ferro) owned by Diane Perry, helped the U.S. team take bronze in the 2016 Rio Olympic Games. When they earned their winning score of 80.80 percent in the FEI Grand Prix Freestyle CDI-W, presented by Everglades Dressage, at AGDF, it clinched their berth at the World Cup Final.
"[My trainer] Debbie [McDonald] and I have been working really hard on his performance in the ring, and it just seems to get better and better," said Perry-Glass. "We are slowly getting there and I try not to pressure him too hard. He's still growing. But to win tonight, it felt good. It felt like I could finally breathe."
Watch Perry-Glass and Goerklintgaards Dublet's freestyle…
"My choreography was created by Adrienne Lyle," said Perry-Glass of her freestyle choices. "She did the whole thing, and I'm so blessed to have her as a friend. Tom Hunt did my music. He is also the creator of Charlotte Dujardin's music. I've been working with him for four years now. He just wanted something very special for Dublet, and I think he nailed it."
Second place in the FEI Grand Prix Freestyle CDI-W was awarded to Chase Hickok and Sagacious HF, an 18-year-old Dutch Warmblood gelding (Welt Hit II x Judith x Cocktail) owned by Hyperion Farm Inc. (75.62%).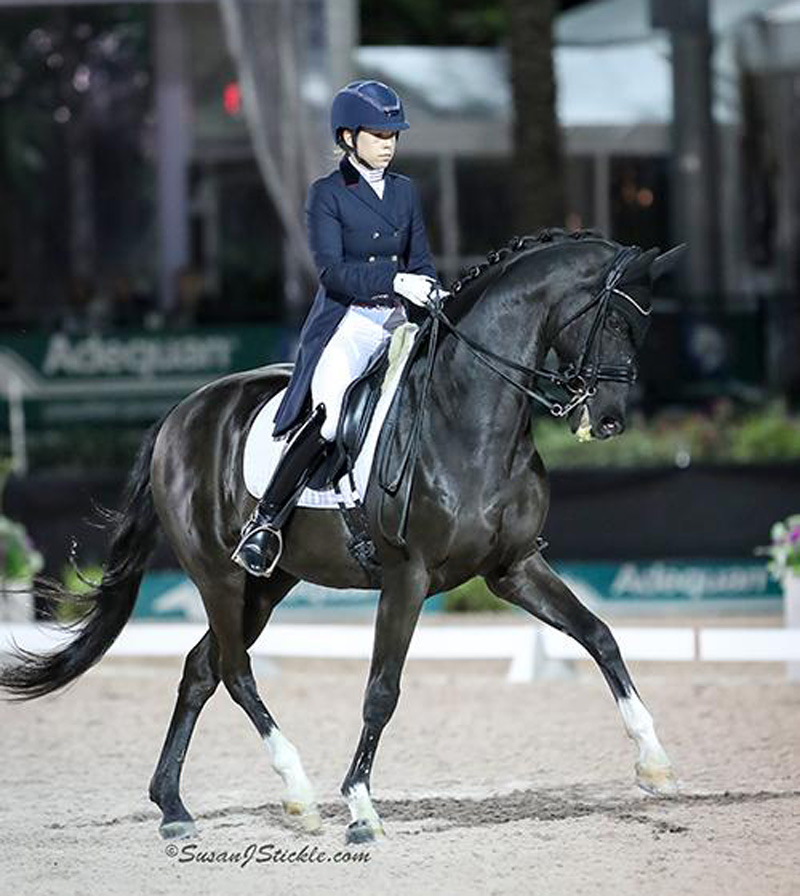 It was Hickok's first freestyle under the lights in the open division. "We really came into tonight with no expectations," said Hickok. "We just wanted to have a good, clean test, and I think we achieved that. To be sitting next to these two, whom I look up to so much, is just great."
Hickok described her freestyle music, "My music actually came with Sagacious, and it was put together by Marlene Whitaker. It suits him and varies from upbeat in the trot, to slower for the canter work. It highlights his strengths, so I'm very appreciative for whomever picked it originally."
Shelly Francis and Doktor, a 14-year-old Oldenburg gelding (Diamond Hit x Gurena x Renoir I) owned by Patricia Stempel, took third place (75.56%).
Commenting on her ride, Francis said, "It was a little interesting because he was a bit edgy tonight for some reason, a little more than normal. We had some interesting parts of the test. The right pirouette on the left lead, I think we should have gotten some extra points for that! He was just a little tight here and there. He was a good boy, even though it wasn't quite as smooth as I wanted it to be. He's usually very fun to ride."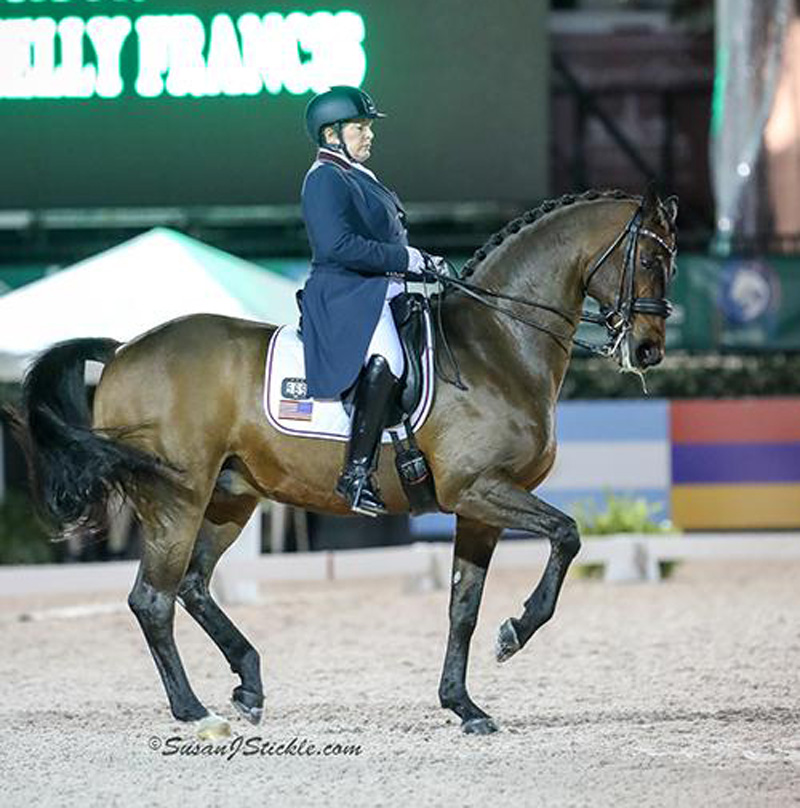 Francis also rides to a freestyle created by Whitaker. "My music is from the movie "Big". I helped with the choreography because my horse is kind of handy when he's not too nervous. The music suits him as well; it's fun."
Judge at C, Christof Umbach of Luxemburg, noted, "We had a very clear winner this evening. The other top four placings were very close, and all of the riders really fought for their marks. Compared to last week, all of the riders have improved. It was a super evening."
See full results of the Palm Beach Derby Grand Prix freestyle CDI-W.