Gladstone, N.J.—May 20
If you scroll through Adrienne Lyle's competition records with her small tour horses Horizon and Harmony's Duval, you'll notice that they're incredibly short.
Since she took over the ride on Horizon, a 10-year-old Oldenburg, two years ago she's shown in a handful of shows during the winter circuit before taking most of the year off. Same with "Duval". The 9-year-old Dutch Warmblood made his training level debut in two shows in 2013 before disappearing until March of 2016 where he showed at fourth level, and then it was back to the barn to work on his homework to debut at Prix St. Georges this season in Florida.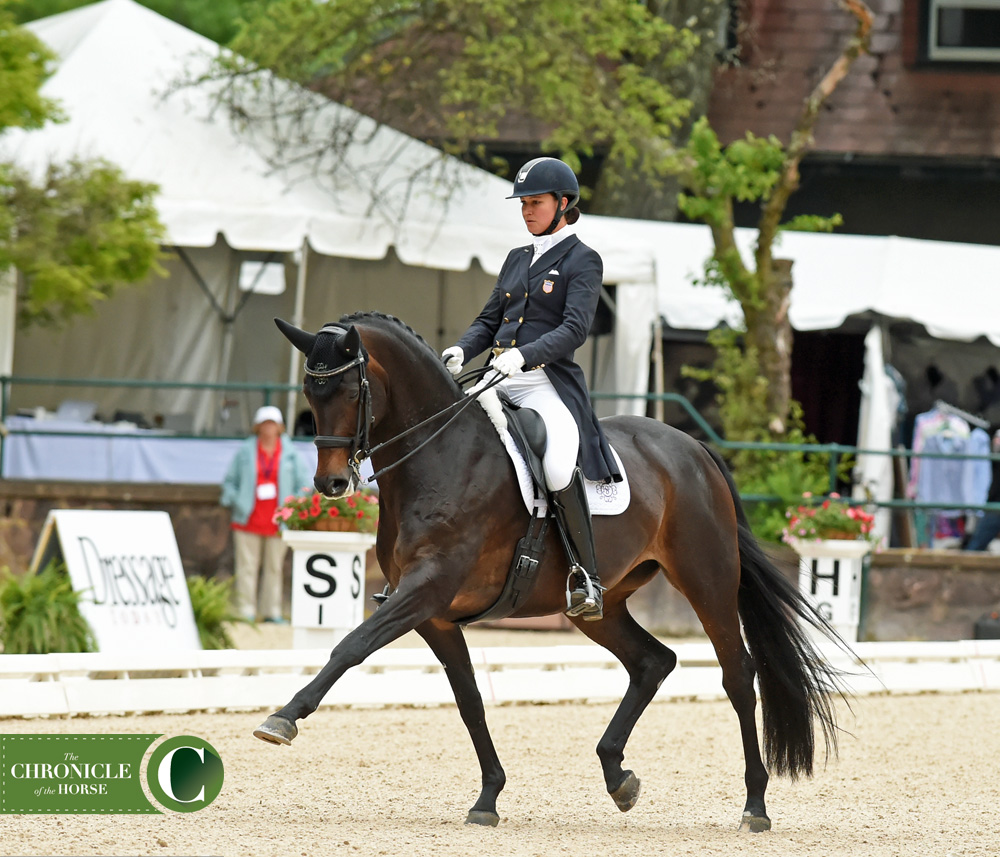 "As a 7-year-old [Duval] looked like 4-year-old, just a weedy, leggy late to mature, but they tell you when it's ready," said Lyle. "All of a sudden one day they're ready to offer it up, and if you push that, you're going to ruin them mentally if not physically, so that's very important that you wait for them to tell you they're ready."
The waiting game paid off with Horizon topping the Intermediaire 1 with a 70.52 percent and Duval taking third with a 70.13 percent. Her success helped her and Duval slip into the lead for the USEF Intermediaire 1 Dressage National Championship, which will be awarded after the freestyle on Sunday.  They don't have a lot of breathing room, as the winner of Thursday's Prix St. Georges Jane Cleveland and Monique are .01 percentage points behind them. Horizon sits third overall.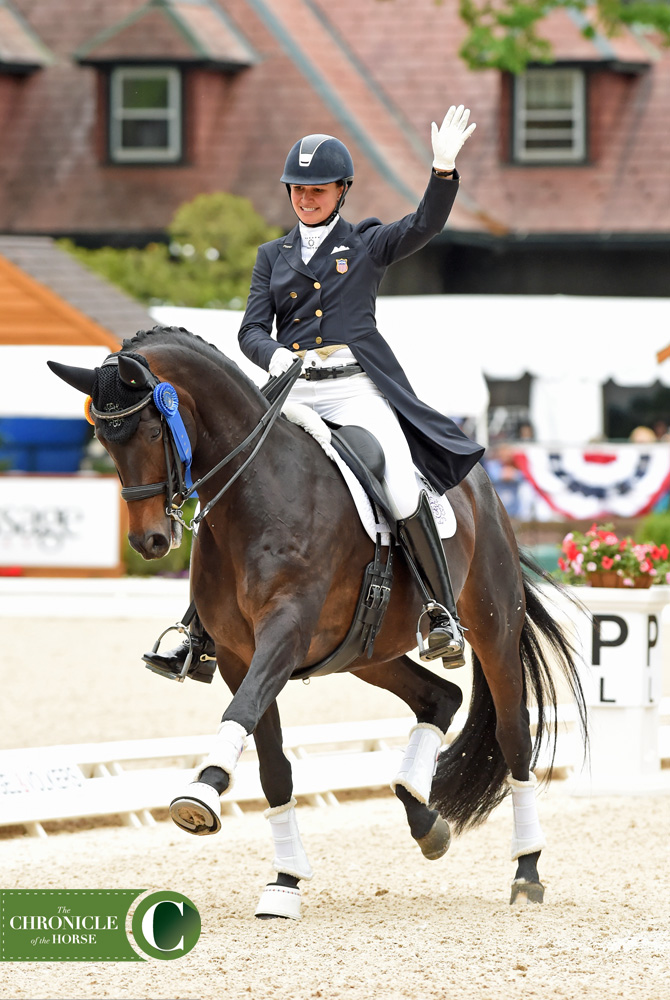 "Horizon is an overachiever," said Lyle. "That mare is so fun in the show ring. She has a heart bigger than any horse that I've ever ridden. She's right with you. She's a blast. What I loved about Horizon today was her harmony and her composure and her confidence and softness in the ring and I loved that. I really appreciate that from her."
Likewise, Lyle is proud of how Duval is handling his first season of CDI and championship competition.
"Duval is an incredibly talented horse. This is his first season competing at this level or the CDIs and everything. He's a little bit greener and in the harder tests it shows up," she said. "Duval, I was also really pleased with because he put in a really clean test. There are some balance issues that we can still continue to improve with him. He's a really big, powerful moving horse. To come out to his first championships and put in two clean test I was thrilled with, and then Horizon another clean test."
Slipping in between Lyle's two mounts was Nicole Levy, who rode Kate Sanders' 9-year-old Hanoverian mare Floratina to a 70.36 percent.
"We're always looking for a bit more collection, and she really fought for it with me today which is fantastic," said Levy. "She's a great mare. We still have a few little bobbles to work out in the test. We had a few little boo boos, but we're working on ironing those out. It was cooler today which really helped. Two days ago we warmed up a little too much, so she came out a little flat because it was hot."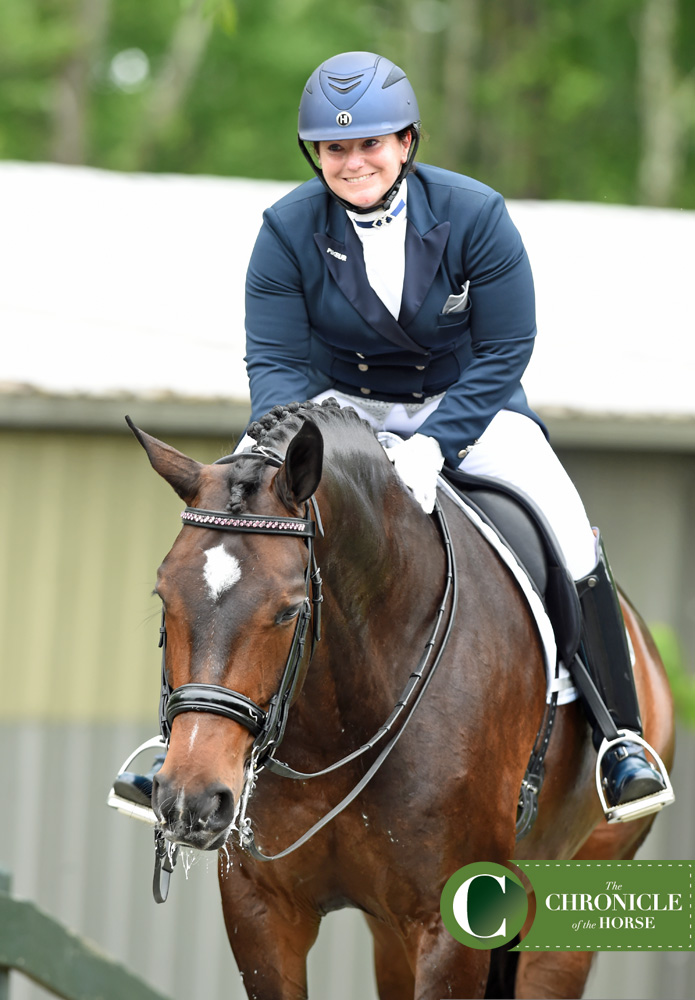 Levy found Floratina in Germany as a 7-year-old, and while the mare had a great foundation, Levy said it took time to really nail down the collection work.
"She's a bit of a late maturer," she said. "She didn't mature until she was 8. She was narrow, and I'm like 5'2″, so I loved that she was narrow. All of a sudden at the end of last year she just blossomed into a bourbon barrel, and we had to get a new saddle made and everything for her.
"That's when she kicked into a second gear of collection, and she was really able to start holding more stuff and really sitting for the pirouettes, much better, much tighter for the spot," she said. "Getting bigger flying changes and that kind of stuff, but it took her until the end of her 8-year-old year that she really blossomed."
See full results here.
To see all of the Chronicle's coverage from the Festival of Champions, click here. And make sure to read the June 5 issue of The Chronicle of the Horse (which is also the annual Dressage Issue!) for more in-depth coverage from the Festival.