Washington, D.C.—Oct. 25
Going into the jump-off for the $10,000 Washington International Horse Show Adult Jumper Championship, Paige Kouimanis knew she had to be fast. Ten pairs out of the 26 starters qualified for the jump-off, and Kouimanis sat fifth in the order.
Nobody had gone clean before her, but she didn't want to leave the door open for those coming behind her. As she whipped around the course, her mount Lexus proved that he's of the sports car variety, not a luxury sedan.
"For the jump-off we went in planning the eight [strides] which I got," she said. "I didn't get the first jump that I wanted, but I made it work. To the third jump I sliced it tighter than I thought, and he was dynamite over it.
"The in-and-out I couldn't have asked him to be better, that jump should have been down," she continued. "He was incredible through there, and then the rest of it I let him go and let him flat out gallop the rest of the course, and he ended up with a clear round. It was awesome."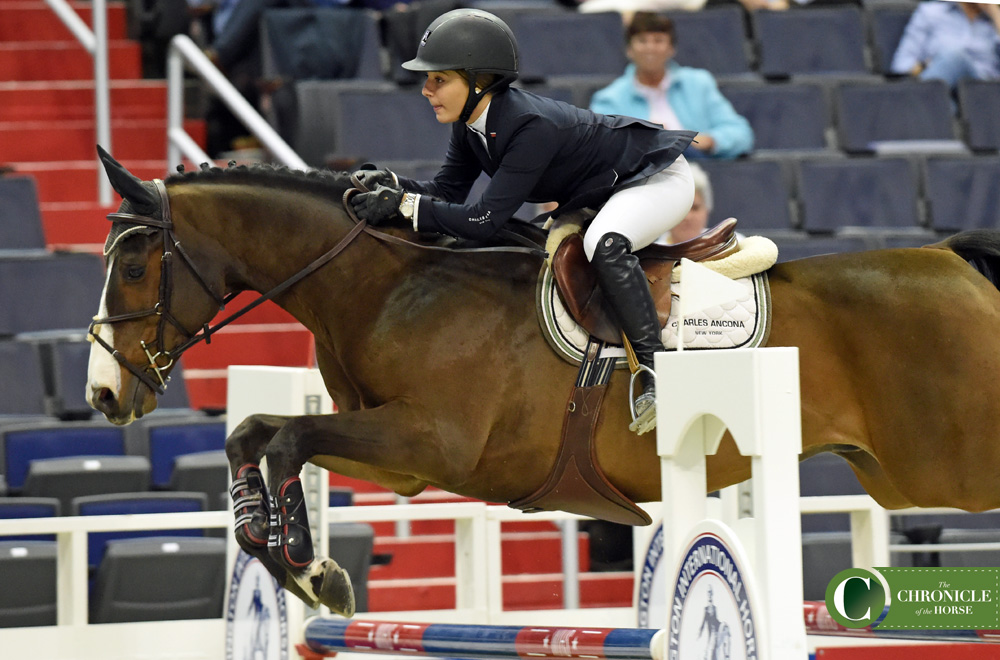 Ultimately, that ended up being the only clear round of the night. Kouimanis stopped the clock at 35.87 seconds, and even if her fellow competitors had gone clean over the fences, nobody came close to catching her time—the closest on the clock was still 3 seconds behind her.
"He's incredible," Koumanis said. "He always saves my butt. I owe it all to him."
Kouimanis purchased the 13-year-old Swedish Warmblood (Cardento—Mercedes) two years ago but admitted that she wasn't smitten with the gelding when she first got him.
"When I got him I wasn't really keen on him," said Kouimanis. "I didn't think much of him, I was very iffy. I kept riding him and I started to like him more and more and we just clicked. I owe it all to Susie Schoellkopf. She found him for me, and I'm so grateful for that."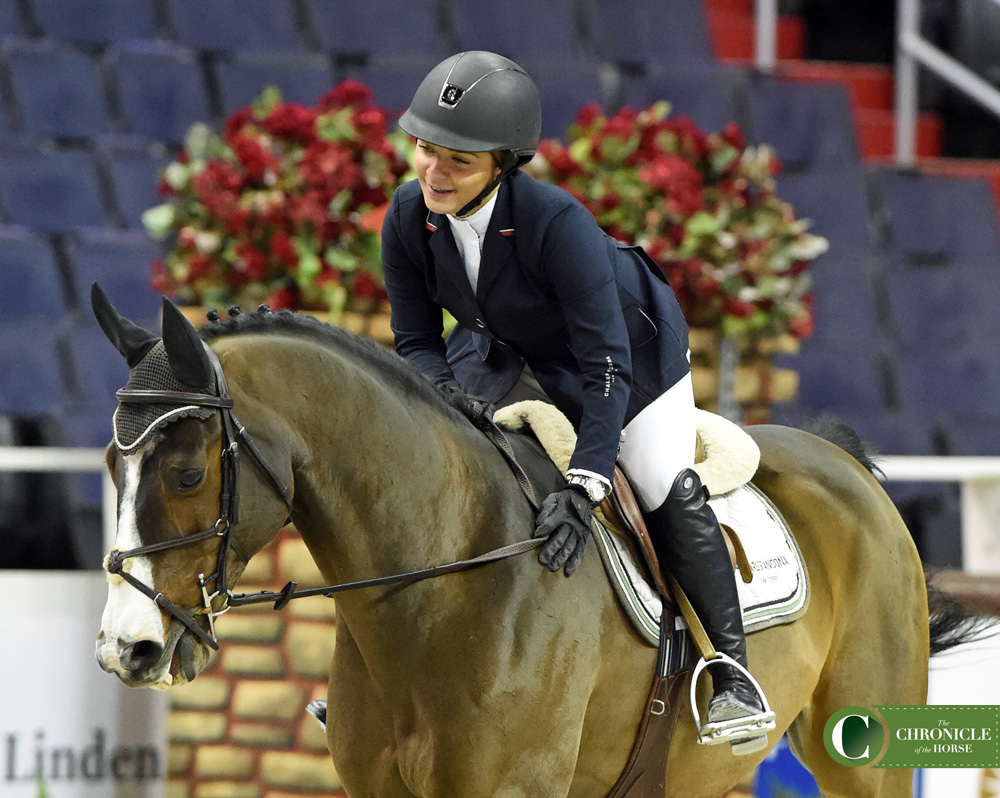 Koumanis, 20, is originally from Clarence, N.Y., and now splits her time between competing and going to school at Hobart and William Smith College (N.Y.). She took off a week of school to compete in D.C. and at the Pennsylvania National where she and "Lex" finished second in the $10,000 NAL Adult Amateur Jumper Final there.
"I was second last weekend in Harrisburg which I think kind of motivated me to push Lex a little harder," she said. "I could feel going right into the in-gate that he felt really on his game, and tonight we just felt good."
All For The Cupcakes
Carly Hoft was chasing the $10,000 WIHS Children's Jumper Championship for the glory, especially after her best friend Sarah Boston won the title last year, but she was also chasing it for the prizes.
"I've always wanted the red cooler, and I especially wanted the Georgetown cupcakes," Hoft admitted after going double clear with a jump-off time of 32.15 seconds on her own Available Ohio. The 18-year old from Raleigh, N.C. has competed at the Capital One Arena in the pony and equitation divisions before, but this is her first year in the jumpers.
"The jumpers are definitely my favorite," Hoft said. "And I love the city; the scenery and having the horses in the street is so cool."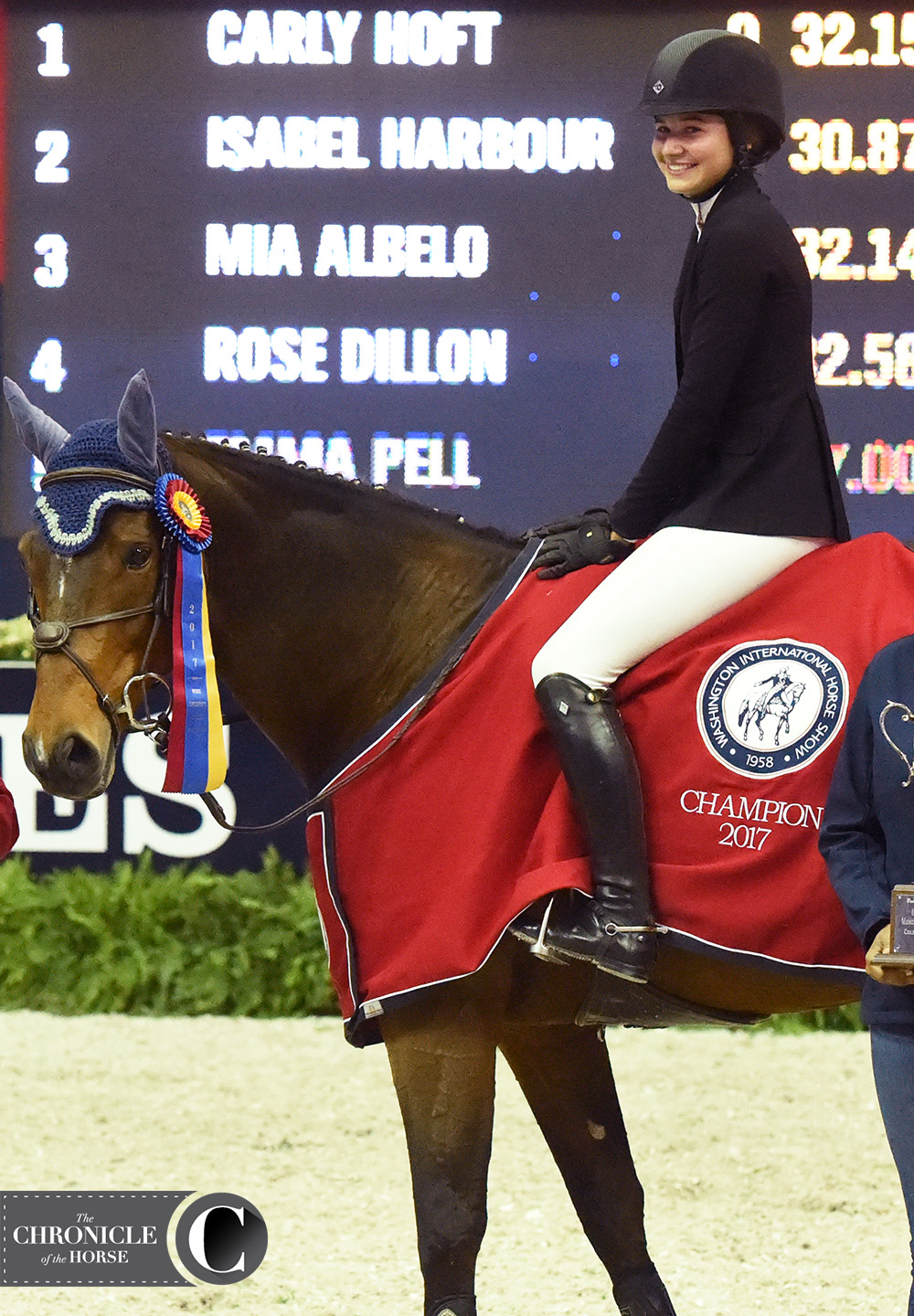 Hoft partnered with her 15-year-old Selle Francais gelding 1½ years ago after her trainer, Don Stewart, offered him as a mount to help her expand her riding abilities. Hoft was looking for something to "spice up" her pony and equitation experience, and she fell in love with Available Ohio immediately.
"Every time I go into the ring I just get to have fun and smile and know he's there with me," she said.
Hoft is a freshman at Auburn University (Ala.) and will return to school, where she'll reunite with the National Collegiate Equestrian Association equestrian team. Hoft doesn't have to worry about Available Ohio losing fitness while she's away though because her three older sisters are all equine professionals and help keep Available Ohio in training.
"Everyone at school is really supportive, and they make it easy for me to travel between school and horse shows," Hoft said. "And my sisters all ride. Riding wasn't expected of me though, I do it because I love it, and it's just great to have such a supportive family to help me."
IMPORTANT LINKS:  All the COTH Washington International  coverage  |  What You Need To Know  |  live results/order of go  |  live streaming  |  show website